Gulf Coast fishing: fully recovered from two disasters
Bob McNally 07.24.13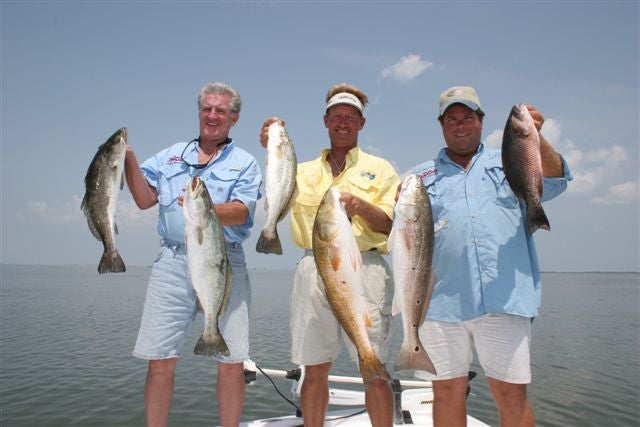 Not many people – especially coastal fishermen and those who make a living on and from the Gulf of Mexico – thought the region could possibly rebound so quickly, so incredibly, from the double environmental hells of Hurricane Katrina in August 2005 followed by the Deepwater Horizon oil spill in April 2010.
But the fishing throughout the northern Gulf of Mexico has come back in remarkable fashion. Inshore saltwater angling from Texas to Panhandle Florida is as good as it ever was. And while some beach and marsh areas may still occasionally show some signs of the oil spill (mostly small tar balls on a few beaches), coastal waters are clear and full of hard-fighting and hungry fish.
From far offshore tuna fishing around Louisiana oil rigs, to billfish, kingfish and snapper hot spots off Alabama, Mississippi and Florida, deep water fishing is excellent, too.
The destruction from Category 3 Hurricane Katrina was mind boggling, turning the coast from Louisiana to Florida to a shambles. It caused nearly 2,000 human fatalities and billions of dollars in damage. Even today many destroyed and gutted buildings and much metal/concrete debris is seen near shoreline areas from Louisiana to Mobile. But while debris clean-up has lagged in some areas, saltwater fish populations seem unaffected today.
The Deepwater Horizon (BP) oil spill recovery has been even faster and better. Rare is the sign of anything relating to the spill. In fact, oil rig angling and marsh fishing are excellent, perhaps offering the best and most diverse recreational fishing in America.
Indeed, Katrina and BP problems are largely old news for sport anglers visiting the coast today.
Most beaches are clean and white, water quality is good, tourists are abundant, and motels, restaurants and charter boat operations are packed with visitors.
Normal Gulf Coast life has largely resumed, though for a time there things seemed pretty shaky.
In 2005 I had fished the mouth of the Mississippi River just six days before Katrina slammed the coast. We had superb fishing for seatrout, huge redfish, and even caught small tarpon in the South Pass area leading to the open Gulf. A week later, the region was a federal disaster zone.
The Louisiana fishing rebound
In September, 2006 I fished out of Venice, Louisiana, roughly one year after Katrina. Destruction was everywhere, with oversize shrimp boats lying in marshes miles from deep water. Destroyed buildings with blown-out windows were more common than inhabited homes in the coastal region. Houses where friends of mine had lived near the coast were completely gone, with only bare concrete slabs showing anything had ever been on the location.
But the inshore fishing for red drum, seatrout and other species was awesome even just one year after Katrina. Today, it's even better in and near the Louisiana marsh.
Offshore fishing has recovered equally as well.
Last year I fished Louisiana offshore oil rigs with Capt. Mike Scardino on his 27-foot aluminum center console boat Hard Times (phone 985-787-3529) with friends out of Grand Isle. Grand Isle is located in Jefferson Parish at the southern tip of LA. Highway 1 on the Gulf. Only about 1,500 people live there year-round, but fishing tourism is a big business, and it's back in a big way now.
Gulf rigs off Louisiana and Grand Isle have transformed a basically featureless muddy bottom into amazing opportunities for anglers. The rigs also have made it safer for small boaters to venture offshore, as help is always near at hand with crew boats and helicopters going back and forth from shore to rigs.
At the first deep rig Scardino targeted red snapper, and the action was world class, easily the best snapper action I've ever experienced. We quickly limited on red snapper (two per person for our crew of six) in the 10 to 20 pound class. Plus we caught many huge mangrove (gray) snapper weighing 5 to 10 pounds, and some large lane snapper. In addition to snapper, our crew caught cobia, seatrout, Spanish mackerel, sharks, giant redfish, bluefish and other species – in just a half day of fishing!


Two days later I sampled inshore fishing in Cocodrie, Louisiana with guides out of Topwater Lodge (phone 985-594-9074). In the green-and-gold colored marshes (showing no sign of an oil spill or Katrina destruction) we had exceptional light-tackle action for redfish to 22 inches, as well as plenty of largemouth bass that hit the same spoons in the marsh.
Next I headed to Lake Calcasieu, a massive saltwater "lake" just off the Gulf of Mexico not far from the town of Lake Charles, Louisiana. No issues with water quality or hurricane destruction were evident. In truth, anglers on Calcasieu expect to catch limits of seatrout (15 per person, 12 inch minimum) every trip they make. Trout there voraciously hit top-water plugs and jigs, even slamming surface lures at mid-day. Lodging and guides abound for Calcasieu fishing, with Hackberry Rod & Gun Club (www.hackberryrodandgun.com; phone 888-762-3391) one of the larger operations catering to visiting anglers.
Fishing recovers in Mississippi and Alabama
Great Gulf Coast fishing also extends into Mississippi and Alabama, where recently I enjoyed several days of outstanding angling for seatrout, redfish, flounder and sheepshead.
In Biloxi, fishing with my son Eric and wife Chris, we made a good day out of an otherwise wet, overcast and windy one by keeping inshore, tucked to leeward spots protected by points of land, canals, bulkheads, bridges, and islands.
Eric wanted to run offshore to work several barrier islands that parallel the Biloxi coast. He and fishing buddies had been consistently catching big numbers of heavy redfish, seatrout, Spanish mackerel and large jack crevalle near the islands in the open, clear-water Gulf of Mexico. The islands are just a few miles run out of a number of Mississippi spots, such as Biloxi, Gulfport and Pascagoula. Grass beds, sand beaches and clear water are the targets there, and the fishing can be sensational when the wind is low and the sun is high.
But for our trip, high wind, rain and lightning prevented that. So instead we looked for flounder, casting grub jigs, live finger mullet and mini-menhaden around Biloxi. While the fishing wasn't non-stop action, we boated enough flounder, redfish, black drum and other species to keep the day interesting, and had plenty of fish for a family dinner.
Next we went to Alabama, where we fished with long-time friend and top Mobile Bay angler Jake Markris. Seatrout fishing had been truly world class for the past month, and Jake quickly put us onto trout to 4 pounds, redfish, and heavyweight sheepshead to 5 pounds. We tried for tripletail, but drew a blank, a disappointment for Markris who commonly catches "black fish" weighing to nearly 20 pounds around channel markers and buoys dotting much of Mobile Bay. He sees no lingering effects on Mobile Bay's fishing from the oil spill or Katrina.
Offshore fishing out of Alabama is similarly great, with red snapper, king mackerel, tuna and billfish available in numbers and sizes at least as good as ever. Beaches, coastal hotels and restaurants are all back in a big way as well.
Panhandle Florida has similarly rebounded, with inshore and offshore fishing excellent. Even tarpon and coastal-migrating cobia angling have returned to the way they once were. And the region's world-famous white sand beaches and coastal seafood eateries are as high quality as expected.
The bottom line here is if anglers and coastal visitors have been delaying making Gulf Coast trips, don't wait any longer. The fishing is great, the seafood world class, accommodations are outstanding. And the natives are friendly.