CamoTherapy: permit to hunt from a vehicle
Andy Hahn 08.06.13

Let's begin by clarifying that I'm neither advocating "road hunting" nor encouraging my readers to engage in illegal activity. Hunting/shooting from inside a car or truck, or from the saddle of an ATV, is widely prohibited; however, many states allow disabled individuals to hunt from a vehicle. I'd much rather sit in a ground blind and feel the earth under my boots, but sometimes disabled sportsmen benefit from the convenience or mobility of hunting from a vehicle. Although it's no guarantee that you'll kill game, this practice has helped me punch tags in Wyoming (pronghorn, mule deer) and Montana (mule deer).
Do the paperwork to keep it legal
The fact that you're handicapped doesn't automatically grant you any privileges. To legally shoot from a vehicle, you must go through proper channels and obtain official authorization from the regulatory agency of the state in which you'll be hunting. The nomenclature varies from state to state; in Wyoming I had a Disabled Hunter Permit, and in Montana I had a Permit to Hunt From a Vehicle.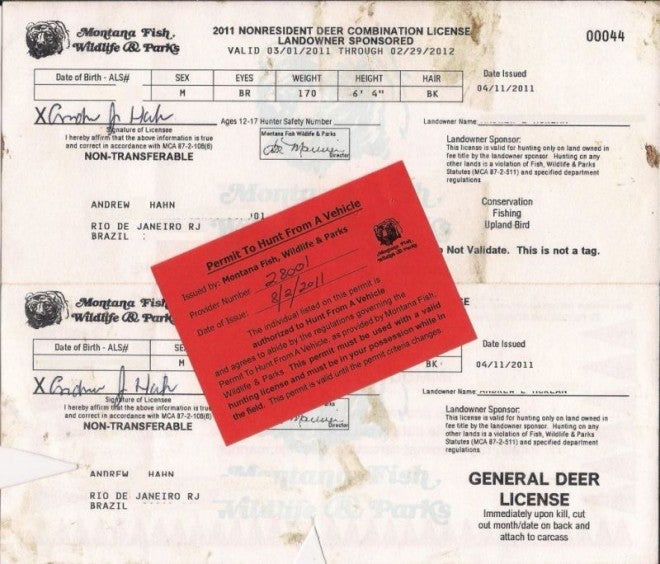 I went through similar processes to get my permits for Wyoming (in 2009) and Montana (in 2011). I had to fill out a form (available online for download) that required a description of my disability and a signed statement from my doctor. In both cases, I received my permit from the Game and Fish Dept. just two weeks after mailing the completed form. There was no charge for either permit.
While most states offer some kind of special permit and accompanying privileges to handicapped hunters, obtaining one isn't a run-of-the-mill transaction like buying a standard license. You may have to do a bit of digging to discover the application procedure.
Check state laws before heading out to hunt from a vehicle. In addition to a permit, you must have a valid license as well as any required tags for the region you're hunting and the species you're pursuing.
I came across an interesting detail while researching this topic: The Pennsylvania Game Commission considers an electric-powered wheelchair a "motorized vehicle," so if you use one to get around in the woods and then remain seated on it while hunting, you'll need a Disabled Hunter Permit in the Keystone State.
Common sense rules
A Disabled Hunter Permit does not authorize you to drive and hunt anywhere you damn well please. You must respect private property and obey rules governing the use of motor vehicles on public lands.
Each state has its own specific regulations and details, but generally speaking, a permit holder: may not hunt from a state or federal highway; may not shoot across a public roadway; may only shoot from a stationary vehicle with the motor turned off. All these rules make safety sense, and the last one also helps the shooter because vibration from an idling engine can make it difficult to aim.
In my next post I'll offer advice on shooting from a vehicle.