Hunt Comfort cushion lives up to its reputation
Dr. John Woods 08.06.13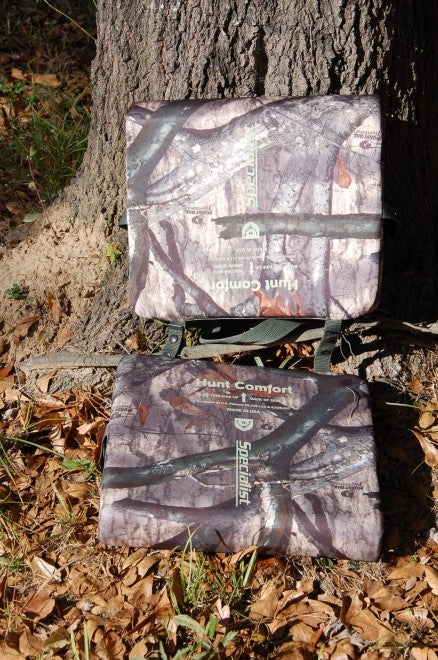 The older I get the more accustomed I am to my creature comforts. That has never been more true that in my hunting pursuits. Heck, used to I could walk woods trails for miles toting a rifle, a backpack, and a hunting stand. I could climb western mountains with some relative ease and slog through knee-deep snow. I could drag a deer from the woods by myself and sit on a hard hunting stand all day, but no longer.
So I recently turned my attention to finding the best hunting stand seat cushion I could find. That's easier said than done. I know I already own at least twenty assorted seat cushions of all types, hypes, sizes, and material compositions to keep my posterior warm and comfortable.
In my way of thinking about things at my age, once I learned to wear a good hat to keep warm, I figure the biggest part of my anatomy is where I must be losing all that core body heat. Besides that, as you age strange things begin to happen. Body fat spreads out like Jell-O, but the bony structure just seems to protrude. Hence I have noted how sore my tail bone gets after sitting anywhere for a long time, especially in a less than comfortable tree stand or shooting house seat.
Now in this case scenario sitting comfort translates into being able to withstand a longer period of time on the task of hunting. Sitting on a 2×6 board in a shooting house or up 16-feet in a tree stand on a tiny wedge of seat does not define comfort for me. I need extra padding in addition to all the natural rear end cushion I spent years developing.
One thing I have noted in this search is that either a seat marketed for hunting is too soft with mere lightweight foam slipped into a camouflage cover or the thing is way too firm for the long haul.
There have been some interesting seat cushions along the way, too. Like the one with a small rubber camper trailer tire tube sewn into a camo cover. You pumped it up to the inflation you wanted using a bicycle tire pump. The first time I sat on it, it blew out. The maker sent me another one and within days it developed a leak, too. I guess they should have included a tire repair kit. Too funny. It did not last very long on the market. I could have predicted that.
Another personal favorite of mine was a cushion made of an early form of the "miracle" foam. Except in this case when you sat on the seat and pressed in an impression it stayed there….forever. It mashed down flat as a flitter and never regained its miracle status. This left the center of the seat as hard as a rock. Worthless!
Well, sports fans I am here to give final notice that the booty rest quest is now officially over. I have found the best seat cushion ever bar none. It is made by a small entrepreneurial company in Alabama by the surprising name of Hunt Comfort. They must have thought of me when they named it since their main cushion is called the Fatboy.
This cushion design is a thick 3-inch firm foam with a gel pad inserted into the center of the seat. The tough exterior camo cover comes in popular Mossy Oak patterns. The seat has a 3-year warranty. It can be ordered direct from www.huntcomfort.com.
I have used the Hunt Comfort Fatboy for three seasons now both for deer and turkey hunting. Either in a tree stand seat, shooting house, or on the ground this cushion has given me the best rear end comfort and support of any I have tried. The gel insert is the trick. It also has a neat carry handle/shoulder strap for easy carry.
There is no shame in seeking out extra comfort when hunting. If you are in need of a little extra padding for a hunting seat or in the boat, then give the Hunt Comfort cushion a try.