Knifemaker profile: Jason Stout of JBS Knives
Aaron Shapiro 08.07.13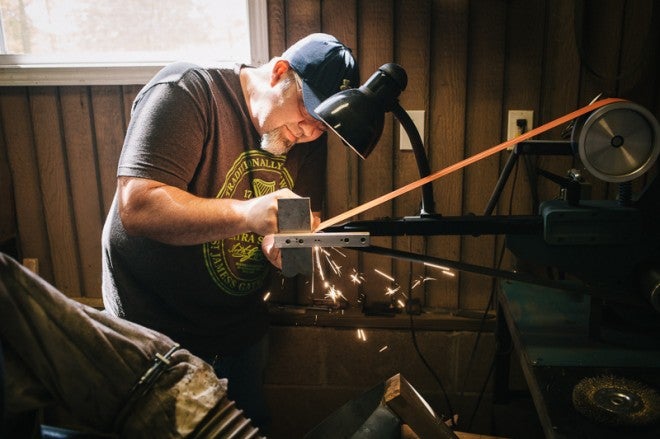 Jason Stout is a knifemaker who lives and works out of Martin, TN. He's become known for making overbuilt, yet refined and well finished knives. When I first met Jason he was making fixed blades and liner locks mostly. I placed an order with him after being quoted a 3ish month wait time (current fans of his will groan when they hear that, as his books are closed, and new spots are going to be lotteried off). Just before he started my knife he contacted me and said that he has started making Titanium frame-locks if I wanted to switch to that I could. So I did, this was the first Stout knife I ordered:
One of the things that Jason is really known for is his custom milling work, on all of his knives he tries to add some custom touches that set each knife apart from the last one he made. Each knife Jason makes are one of a kinds in their own way. He's got a "wheelhouse" of blade shapes and sizes, but he finishes each one differently.
Jason makes two primary models the 3.0 (3″ blade) and the 3.6 (3.6″) in many different blade shapes. Being a custom maker he can kinda do whatever he wants so you'll see Butcher blades, Wharnies, Drop Point, Tantos, and what not… He takes a lot of inspiration from traditional japanese blade stylings, particularly evident in his tanto shaped blades. My other Stout knife is the 3.6 Wharny Tac FL pictured below:
One of Jason's earlier blade shapes that garnered him some notoriety was the butcher blade. He still makes these although the word has been recently that he's trying to get away from the butcher aesthetic and is moving into a larger variety of blades. A Butcher is pictured below:
One of the newest designs that Jason has released is his Slimline folder, which put simply, is a skinnier version of his 3.0 folder. Slimlines are made from .128″ thick Titanium instead of the thicker stock that he typically uses (.156″). These knives ride a lot easier in the pocket and carry a lower profile all the way around. It's like carrying a small Sebenza (in my opinion one of the greatest EDC knives in existence) but you're getting a bigger blade in a custom package. Here's one of Stout's slimlines and coincidentally his first Harpoon blade.
And a comparison shot with his normal thickness:
So, to wrap this up… Get yourself one of Stout's knives. He is VERY quickly becoming one of the premier knife makers in the industry and his knives are getting harder and harder to acquire. As of the date this article was written (7/26/13) he is saying that he's going to do a lottery for SPOTS on his order list soon. That lottery will be held in his forum on the USN.