If you think about why people carry EDC knives–to help out with general utility tasks–its surprising that we don't all carry a multitool instead.  The multitool, in theory, seems just superior to a pocket knife, and for a lot of folks it is.  For a long time I couldn't figure out how anyone could carry and justify a simple folding knife instead of a multitool.  Having spent some time thinking about this and carrying a Charge TTi on a recent vacation, I realized why.  Multitools are, in the final analysis, a compromise.  The best knife on a multitool is never better than even a modest folder.  The weight is always a problem.  And the small, truly pocketable multitools are very, very limited.
The heart of the problem is simple–multitools are usually used as one of four things 99% of the time: a knife, a pair of pliers, screwdrivers, or a bottle opener.  But most multitools have tons of extra stuff that never gets used and all of that adds extra weight and extra baubles that cause problems.  The multitool is a good tool 90% of the time, but a great tool 0% of the time.  There is value in having all of that stuff together, which is why multitools are so popular, but most EDC tasks can be accomplished more easily with a dedicated tool.
That said, there are four multitools out there that are worth special mention.  In reviewing over a hundred products in the past two years, these four float to the top of the multitool pile.  These represent some of the most refined or clever designs and while they are compromise designs they aren't terrible.  In fact, these four are quite good.
BONUS FUN FACT: "Leatherman" is not just a rugged sounding name chosen as the trademark for the multitool company–it's the founder's last name.  Tim Leatherman invented the Leatherman multitool.  Looking back on it seems like fate, right?
Swiss Army Knives Alox Cadet
There are no pliers.  That much is pretty obvious, but what you have instead is the slimmest, most beautiful multitool design on the planet.  This is one of the few items I would recommend to anyone, regardless of what they are doing or what their needs are–it's that versatile.  To put it more directly–everyone on planet Earth should own a SAK Alox Cadet.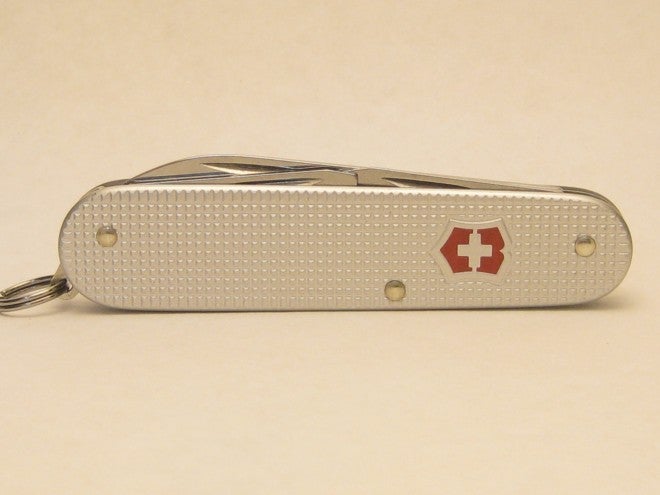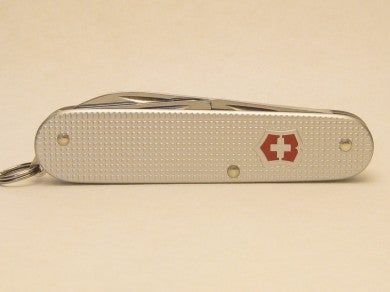 The tool complement is excellent, if you adjust your expectations to match the lack of pliers.  The fit and finish is otherworldly, especially when you factor in the price.  The blade steel is meh because of lackluster edge retention, but it sharpens easily.  The drivers and bottle opener work very well.  And here is the kicker–as just a knife, this is excellent tool.  If it were only knife and nothing else, it would still be EDC worthy.  The fact that it has all of these other functions and still maintains its under 2 ounce form factor (1.61 ounces, the SAK website is wrong, saying it weighs .7 ounces) is a huge bonus.
Oh and it costs $25.  Go.  Buy.  Now.
Leatherman Skeletool CX
So you need pliers, meaning the Cadet is a no-go?  Try the Leatherman Skeletool CX.  There are nice full sized tools, but just a handful of them.  The good thing is that all of the tools on the Skeletool CX are well-designed and are the tools you'd choose if you were designing a multitool from scratch.  No leather awl, wine corkscrew, or can opener–just a knife, a pair of pliers, a Phillips and flathead driver set, and a bottle opener.  And there is a nice pocket clip that makes this a better than average multitool carry.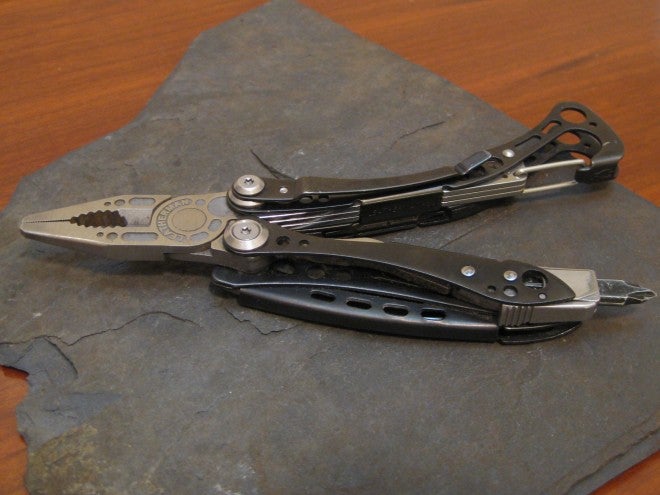 The CX is the one to go with there because of the blade steel, not the silly carbon fiber inserts (check the weights–they have no weigh savings benefit).  The regular Skeletool uses a  420HC blade, while the CX opts for far superior 154CM.  Also, don't be tempted by the carabiner/bottle opener free Freestyle.  The weight savings between it and the CX is negligible (4.9 ounces to 4.5 ounces).  Additionally the bottle opener is genuinely useful, not only to bust open a brew, but also to clip the CX on a belt loop with the pliers in the open position for easy access.
Gerber Dime
I hate Gerber stuff.  Not because I hate Gerber but because it is either overpriced, junk, or overpriced junk.  But as an avowed brand agnostic, I try to call 'em like I see 'em, and here we have a wonder stroke design.  This is the best keychain multitool on the planet, with a practically perfect complement of tools including my new favorite multitool implement–the clam shell cutter.
The Gerber Dime's tools are all very nice, all with a bit extra thought put into them.  The blade, for example, is a reverse tanto design with good penetrating power (for it size) and ample belly.  The bottle opener has a wide stance making it very easy to use.  Then there is the aforementioned clam shell cutter.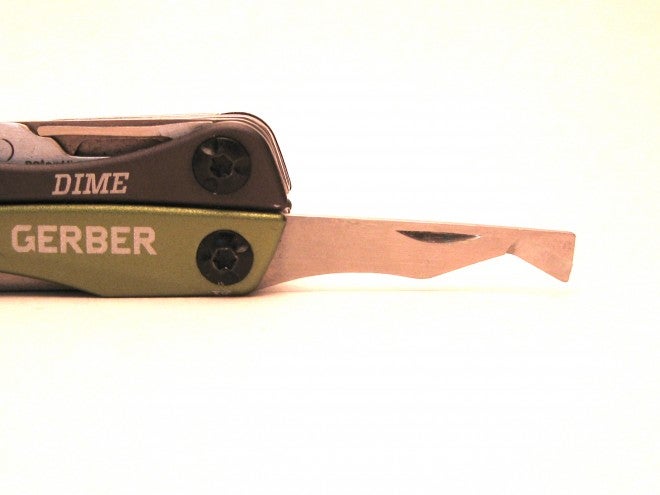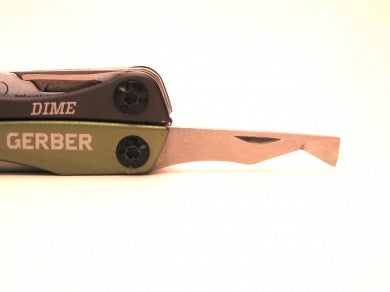 This little tool is designed to lay flat against a cardboard or plastic backer board, poke into the clam shell bubble with its single sharp point, and then using an inward sweeping edge to feed the material into the sharp chisel ground blade, slice open the package with ease.  It works exceptionally well.  All of these little touches show that the Dime design was not a me-too series of choices but an excellent, ground up approach.  You have to beware of the fit and finish issues that accompany almost all Gerber products, but if you hit on a good Dime then the design will make things easier on a daily basis.
TT PockeTTools Chopper
All of the multitools on this list are from major manufacturers.  The complexity of designing and making a multitool means that few one-man shops or custom makers take on the challenge.  But there are dozens of folks that make a special genre of multitools that I call One Piece Multitools (OPMTs).  The most famous OPMT maker is Peter Atwood, and his designs are both aesthetically pleasing and well made.  But they are virtually impossible to find without a massive mark up.  The secondary market for his stuff is insane.  But TT PockeTTools makes stuff just as nice, just as clever, with just as nice of materials, but they are cheaper (usually half the price of Peter's prices, not the crazy secondary market) and readily available.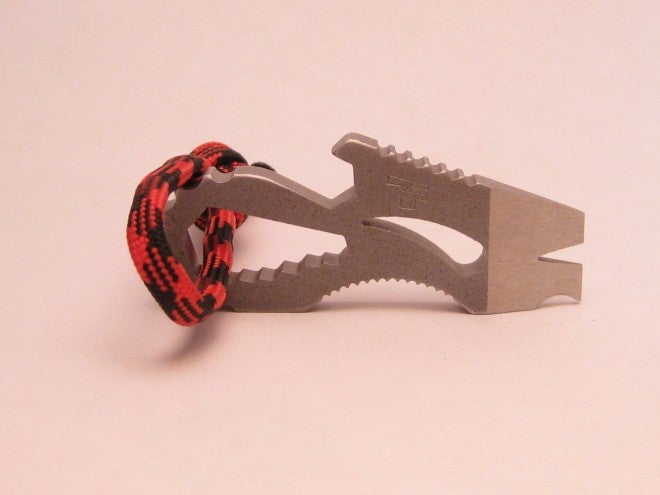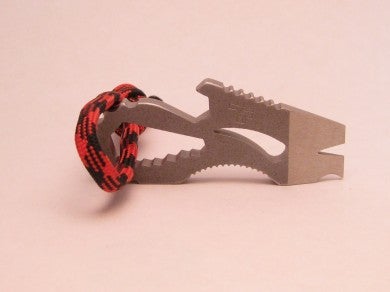 The TT Chopper is perhaps the zenith of OMPT design, incorporating the bottle opener, the pry tip, the wrench feature, and a brilliant "snag edge".  This little parrot beak hook is sharp enough to slice open packages but not so sharp that it needs a sheath or cuts up your leg when your keys are in your pocket.  The twist assist not only acts as a good run of jimping, it also helps with those beers that don't have a pop top.  As the only small maker on the list, TT PockeTTools Chopper is amazing and worth the time and effort to track it down.  Drop it on your keychain and you will never be sad it is there.
Conclusion
I like multitools for their intense gadget factor, but most of them are too clunky or heavy to really use.  They represent a dramatic compromise over individual tools.  But the four here are genuinely excellent and the most expensive of them is the Skeletool CX, which runs roughly $60.  If I were outfitting random people with EDC gear, the SAK Alox Cadet would be the place I start.  All are fun to carry and easy to use.  They all represent the bare minimum amount of compromise required by the multitool form.  If your looking to round out your stable of EDC gear or you are determined to go the multitool only route these are all excellent choices.  Special praise for the TT PockeTTool design–a little guy hanging in there with the biggest names in the gear world is really impressive.
SHOP NOW