MKA1919, the Rifleman's Shotgun
Oleg Volk 08.19.13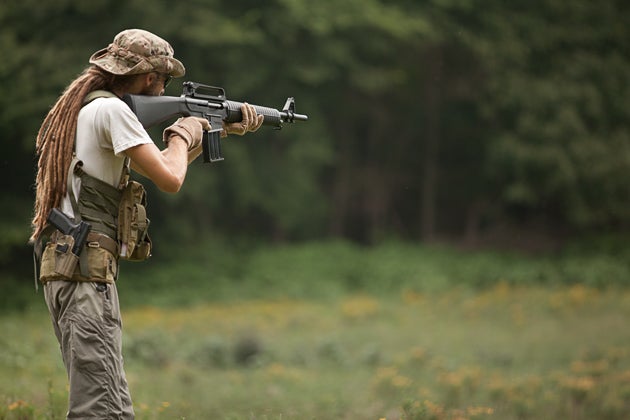 Like most of us, I don't get enough training even with my primary rifle. Shotgun, a secondary weapon for me, gets even less range and class time. As a result, my efforts to operate a Remington 870 or an 1100 efficiently run into the basic lack of familiarity born of insufficient training or practice. This is why I took such a keen interest in the MKA1919, a shotgun was designed with the AR15 users in mind. The right hand charging handle actually makes its manual of arms closer to Sig556, but the rest of the design, including sights, safety and stock all favor the most common sporting and defensive rifle in America.
The rear sight has two settings, aperture and V-notch. In practice, both work best for deliberate aiming rather than for point shooting. That's great news for firing slugs: at 25 yards, all five+one shots can be dumped into a small group, with all holes touching in less than six seconds.
It using the shotgun for clays or bird hunting, I would recommend removing the rear sight entirely and replacing it with a red dot sight such as Trijicon Reflex or an EOTech. The front sight also comes off easily, it is held with two set screws. If retained, the front sight provides a handy anti-cant reference. Firebird Precision makes fully customized versions of the 1919 and their rails allow a wider variety of front sights. Made with aluminum receivers, these guns are slightly heavier than the stock MKA1919. They have even less felt recoil and point, a least for me, better than any other 12ga I've ever shot. It's also legal to use magazines over five rounds in them.
While 12ga box magazine have been around for a while, this is among the best implementations. They are easy to load, can be dropped safely thanks to the thick plastic baseplates, and allow maintaining a high rate of fire. Standard vest designed for 20-round 308 magazines holds as many MKA1919 magazines. Under pressure, it's much easier to slap in another box magazine than to feed individual cartridges into a tube. There's a reason why no military rifle used tube magazines after the 1888 Lebel!


Rapid reloads with MKA1919 shotgun are performed by the first time user. In about ten seconds, he fires five shots, reloads and fires five more. Box magazines are also great for making the weapon safe quickly or for changing the type of munition just by swapping mags. 2 3/4″ or 3″ ammo may be used in the same magazine, though I've never been tempted to spend the extra money or endure additional recoil with the 3-inchers. Less lethal munitions like bean bags or plastic bird shot can also be utilized, but the gun becomes a manually operated straight pull.

In my experience, the gun ran cleanly and reliably, with no undue overheating or fouling. An extended range day of 250 shells can be done without cleaning in-between. Take-down is quite simple. It comes with a set of interchangeable chokes. My sole complaint is about the full-length AR-style stock that requires a bladed firing stance from the shorter users.