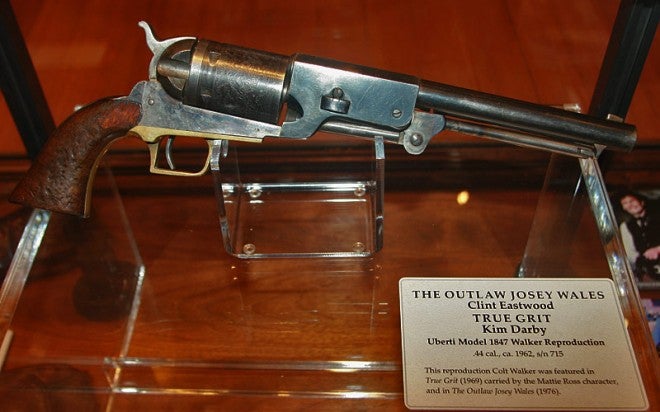 By: Posted  OutdoorChannel.com in Shooting by Mike Suchan
This article first appeared at OutdoorChannel.com.
SPRINGFIELD, Mo. – A century ago, President Teddy Roosevelt delivered a speech with a bullet in his chest, telling the campaign crowd in Milwaukee, "it takes more than that to kill a Bull Moose."
Jim Supica tells of the failed assassination attempt in the Theodore Roosevelt Conservation Room of the NRA National Sporting Arms Museum. As director of the museum, Supica knows the stories behind the stories of the artifacts under his supervision.
As Supica points out one of his personal favorite guns in the museum –the pistol Roosevelt kept on his night stand in the White House — self-protection of a sitting president comes up and the details of the 1912 attempt on his life emerges.
"He delivered an hour-and-a-half speech with a bullet lodged in his chest," Supica said. "He wouldn't go get treatment. The bullet went through a copy of the speech, which was really thick, and his steel glasses case, but it was lodged in his chest.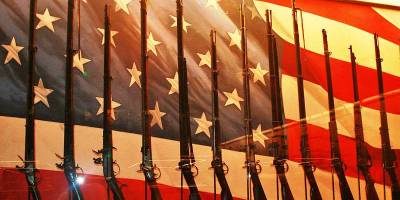 "They wanted to take him to the hospital but he wouldn't go … People have come to hear the speech. He got up and started with, 'it takes more than a bullet to take down a Bull Moose.' "
Along with that "pearl-handled, banknote scroll engraved, gold inlayed" FN Browning Model 1900, other Roosevelt artifacts include the Smith and Wesson Model No. 3 revolver he used while training the Rough Riders in San Antonio; the revolvers of Gen. Leonard Wood, his commander there; and his .450 double rifle with presidential seals on both chambers and Bull Moose on the side plate.
The only person to receive the Congressional Medal of Honor and the Nobel Peace prize, Roosevelt carries an entire room in the 7,500-square-foot facility.
Other single artifacts hold Supica's awe, like French emperor Napolean Bonaparte's Flintlock Fowler, "one of the most beautiful and historically significant guns in the museum. Inlaid with gold, silver and platinum. A beautiful gun, a remarkable gun, a historical gun, a very important artifact."
Supica said Napolean presented it to the Marquis Faulte de Vanteaux of Limoges, a general in his army. Also among the 1,000 pieces are two historic competition rifles, the first telling the tale of George Farr. At 62, Farr was the walk-up winner of the 1921 National Matches at Camp Perry. He walked in, picked up a Model 1903 Springfield Rifle and hit an astounding 71 consecutive bulls-eyes at a 1,000-yard target.
"Of course, everybody there is shooting these highly tuned custom rifles. They're using this very carefully developed, hand-loaded ammunition," Supica said. "He walks up, takes a military rifle off the rack, gets some GI issued .30-06 ammunition, sits down at the firing line and sets a world record for consecutive bulls-eyes and has to stop shooting because it's getting dark.
"He didn't have any money with him, so the other competitors took up a collection and bought him the rifle that he won with. And that's the rifle."
Another 1903 Springfield in the collection made the roundtrip across the Atlantic during World War II. Maj. John W. Hession used the rifle to win numerous competitions, but as Britain stood as the final hope of defeating Germany in World War II, he lent it out to help the effort.
"England had no tradition of firearms ownership and sent out a call to private American citizens to send personal firearms," Supica said. "He put it in the crate of firearms to go over and fight the Nazis."
Hession did add another plate to increase his odds of getting it back, and that stirred interest. It reads: "FOR OBVIOUS REASONS, THE RETURN OF THIS RIFLE AFTER GERMANY IS DEFEATED WOULD BE DEEPLY APPRECIATED."
An older firearm that might have prevented bloodshed was on display in a diorama with Lewis and Clark. Supica said the Girandoni Air Rifle was a real peacemaker on the Voyage of Discovery through Indian lands in 1803.
"You say air rifle, and everybody thinks Red Ryder 'You'll shoot your eye out kid,' " Supica said. "This is a .48 caliber — shoots a half-inch diameter lead ball with enough power to go through a one-inch plank at 100 yards. The butt stock is the air reservoir and holds 800 psi after 1,500 strokes with a bicycle-style pump.
"The incredible thing is the gizmo on the right side of the barrel. That is a 22-round magazine. This rifle could be fired as fast as you could cock the hammer and pull the trigger. You could put another 22 balls in there and fire it 22 more times before you exhausted the air tanks."
In the time of flintlocks, which the Indians had and used, that "unimaginable level of firepower" most likely deterred scalpings.
"How did these guys go across the country and only lose one guy? And that was to appendicitis," Supica said. "Every time they met a new tribe, they gave them the peace medals, the cookware and other gifts, but they made a point to demonstrate this rifle."
The demonstration of one Winchester prototype rifle probably caused its demise. This gun came out in 1955, shortly after the transistor radio was invented.
"The marketing guys at Winchester said what a deer hunter needs is a shiny chrome rifle with a radio built into the butt stock," Supica said. "You could sit in your deer stand and rock around the clock, that was the concept.
"So they made one of those and one only."
Two of the finest firearms ever made are here on display — Holland and Holland Double Rifles. Both the 600 Nitro Express and 700 Nitro Express are adorned with incredible relief artwork by Master Engraver Philippe Grifnee.
The museum also has secured the first 870 Remington along with the 10 millionth. It also has the 10 millionth 500 Mossberg.
Along the lines of big numbers, Supica said the Remington advertisement using Tom Frye's Blockbuster shooting exhibition in 1959 is something he fondly remembers. Frye was shown sitting on a mountain of wood blocks he shot down.
"I was so impressed with that ad as a kid," Supica said. "He had 100,010 wood blocks thrown up (over 13 days) and he hit 100,004 of them. And that's the rifle he used to do it right there."
The Hollywood display, with firearms used by John Wayne, Clint Eastwood, Charleton Heston, James Arness and Tom Selleck, brings the big and small screens into focus.
"I like that big Walker," Supica said. "That was used by Kim Darby, the little girl in the first 'True Grit' movie. It was also used by Clint Eastwood in 'The Outlaw Josey Wales.' In the prop house, it was just a another prop. They needed another big gun and just pulled it off the rack."
For more on the museum, read Blasts From The Past
The NRA National Sporting Arms Museum, inside the Bass Pro Shops at 1935 S. Campbell, Springfield, Mo., is open to the public every day from 10 a.m. CT until 7 p.m. CT. Admission is free.