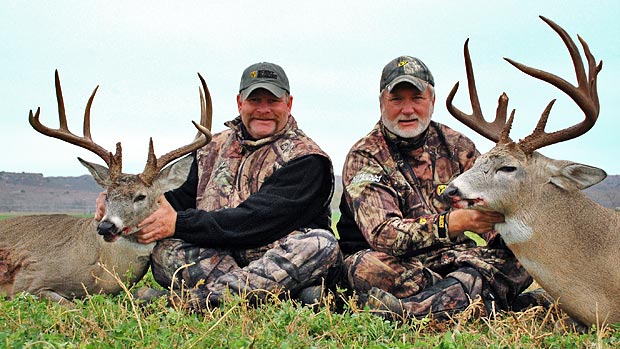 By: Posted 06-17-2013 OutdoorChannel.com in Gear by Mike Suchan
This article first appeared at OutdoorChannel.com.
Been there, done that. That's what Larry Woodward and Bob Richardson of Heartland Productions can boast.
"I don't think there's anything that can happen out trying to film wild animals that we haven't faced yet," said Woodward, co-host of "ScentBlocker's Most Wanted" and "Outdoors in the Heartland" with Richardson.
Just last month while hunting in Alberta, Woodward hand-fed a bear and then charged and treed another (Click here for story). He's had bears climb up the tree he was in and had an elk come in and touch him. Name it and they've probably done it.
Woodward, who grew up in northeast Missouri guiding hunters and fishermen, holds passions from smallmouth fishing and hunting big game, and he and Richardson continue their commitment to show outdoorsman where and how to pursue North America's fish and game.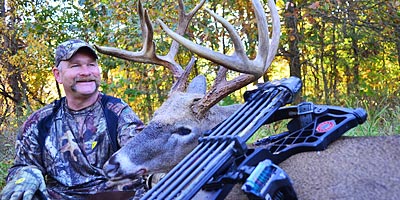 He said he's excited about their upcoming shows, a wide array from elk hunting in New Mexico and Colorado, to dall sheep in Alaska to an elephant in Africa.
"We'll have the typical good whitetail hunts" Woodward said. "Our format, we go to two or three places and we try to show different species. Sometimes, you have something so strong that we might make a whole show out of it. We try to mix it up each and every week."
On "ScentBlocker's Most Wanted," there's an CSI spin to hunts with avid outdoorsman Lauren Thomas introducing segments with fancy high-tech computer screens and info like they're detectives on a case. Thomas and ScentBlocker president Scott Shultz also are featured on outings as well as guests.
The approach is a sign of the times, and Woodward, who this spring completed his 35th consecutive turkey season in Missouri, said keeping up with the technology is critical in the industry. Woodward conducted seminars before imparting his knowledge on The Outdoor Guide radio show in the 1980s, which led to a TV gig in the mid-90s.
At that time, large Beta cameras were used, and Woodward said battery life was a huge issue on hunts. They found a way around it, but it wasn't easy on the crew.
"There were some times in the beginning, we were running up and down mountains with a car battery hooked up to a camera," he said. "Now, you don't have to use tape, the cameras are smaller and there's remote cameras so you can get different angles."
"Heartland Productions' first Avid editing system cost $50,000, and now hopeful show producers with an inexpensive high-def camera can try to break into the business for a fraction of that, although Woodward sure wouldn't want to be starting out today.
"I would definitely hate to be somebody right now who doesn't have themselves established in some way, who gets a camera and goes, 'OK, let's go film, make a show and get some sponsors.' There's an advantage to being around for a long time," he said. "We do have experience."
Viewers can tell by the way Richardson and Woodward handle themselves in the woods and the hunting expertise they provide. It also helps to be entertaining, and Woodward has that down, like his recent bear exploits.
"I like anything challenging and scary like that probably to a fault," he said. "I like catching poisonous snakes and anything — I like to look into their eyes."
While he always turns snakes loose, he can't say the same about bears. He's killed about two dozen and has had some odd exchanges along the way. Bears have climbed into the same tree he was set up in, and Woodward said he's actually tapped them on the head with his arrow so they would back down.
There have also been magical moments hunting elk, the species he'd pick if he was allowed to hunt only one.
"Yeah, it'd be elk during the rut with bow or gun," he said. "There's nothing like being out when they're close and it's quiet and they're bugling and chuckling … there just ain't nothing like it."
After getting the elk bug, Woodward has had interesting encounters, like the time a friend behind him called one to within mustache distance. He was decked out in ScentBlocker.
"I sat real still and he just walked up beside me but was looking beyond me," he said. "Then all the sudden he realized something was right there at his feet, then took off."
The 5×5 wasn't one he was not going to shoot, so he remained still as the bull smelled him and touched his shoulder with its nose before wheeling around.
"I turned, laughed and said, 'That was close,'" he said.
That same year, they walked in five hours on the last day of elk season in New Mexico and called in 25 bulls.
"We got great video of them drooling and snot running out their nose, that was pretty good," he said. "It wasn't in HD, so that's stuff that's kind of obsolete."
The Heartland Productions crew, though longer in the tooth and graying, keep on the move to make certain they don't become obsolete. Shultz is headed to hunt in Africa while Woodward is making his annual trek to Ontario for walleye and smallmouth, the species of fish he'd target if he only got one.
"Ontario is the best fishing in the world for smallmouth bass," Woodward said. "There's no better time than now, when they're prespawn and spawning and shallow, they bite like crazy.
"They just never stop pulling. You get them to the boat and you think you got them played out, and they dive again. They're awesome to get on video, especially on topwater bait as they just slam that thing and come out of the water and come down on top of it. They're acrobatic. They're the most fun fish to catch."
With his enthusiasm, experience and aim to have fun on the shows, Woodward makes viewers feel like they've been there, done that.
Click the links for the Heartland Productions show pages, 'ScentBlocker's Most Wanted' and 'Outdoor in the Heartland'