Despite the insanity of the gun market some manufacturers have stayed true to their roots. Walther has retained the long history of innovation while ushering in a completely new era of firearms. Sure, they still faithfully produce those great symbols of Bond 007 spycraft and have even expanded that line with new entries, but it is the new designs that caught my attention at this year's annual Shooting Hunting Outdoor and Trade show. Since the show, I've not only picked up a PPS in 9mm, but I've also ordered its big PPX brother. I believe the PPS is one of the best sub-compact concealed carry single-stack guns on the market.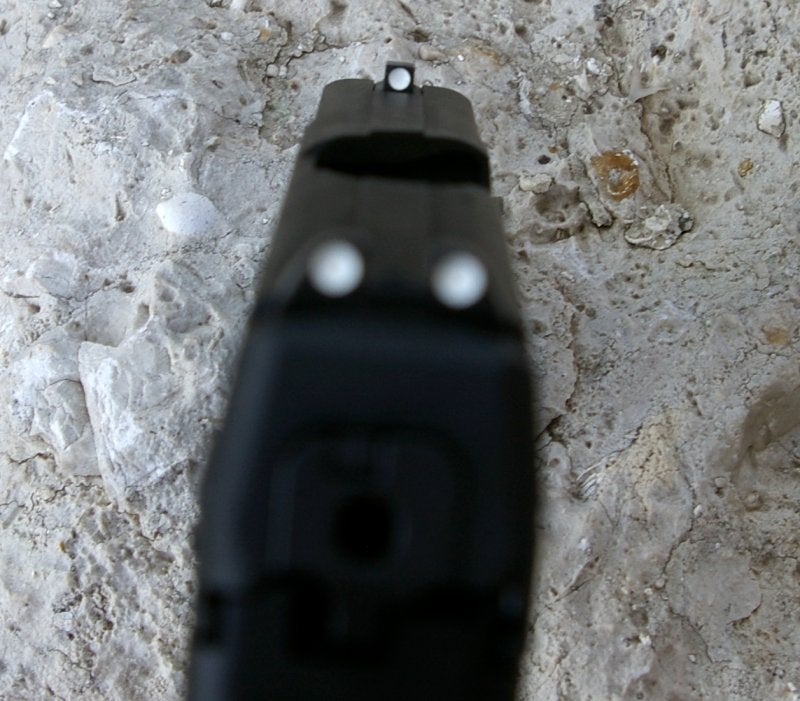 About Walther
Most people know the iconic Walther PPK from the bond films, but Walther is far more than that one gun. They have very long, storied past which dates back to 1886, when they created the first semi-automatic pistol. Today, over 130 years later ,they are a leader in manufacturing, design, and production of the most sophisticated firearms in the world. Walther has now merged with Umarex (makers of premium .22LR firearms and air rifles) while still continuing to manufacture products for other manufacturers such as Smith & Wesson. Its impossible to encapsulate the history of Walther in this article, but their history is more of an epic journey than just that the renowned .380ACP PPK design.
Fit, finish, feel, & features
The Walther PPS is a bit of hybrid in a sub-compact sized pistol. With the flush fit 6-round magazine your pinky is left dangling like it would with any sub-compact or micro-compact format pistol. Just a swap to the 7 or 8-round magazines to deliver a full-sized grip and control plus a few extra rounds of ammo. In essence, this allows the user to just swap out a magazine to transform the PPS from a full sized feel for home defense to a smaller magazine for concealed carry. The point of the PPS is not to be a high capacity firearm, but to deliver an extremely thin and slim profile for concealed carry that is small enough both men and woman can carry comfortably. The PPS accomplished that goal in a big way.
Walther did some serious ergonomics studies before moving the mouse pointer in the CAD software. From my perspective, this has to been the most comfortable sub-compact pistol I have handled, carried, and shot. I love my Glocks, however this fits the hand better and has a far better grip surface, all of which adda up to a more confidently handled gun. At this point over a half dozen male and female friends of mine have shot the PPS, and they all agree that it is one of the most comfortable compact/sub-compact guns available. In fact they all loved it.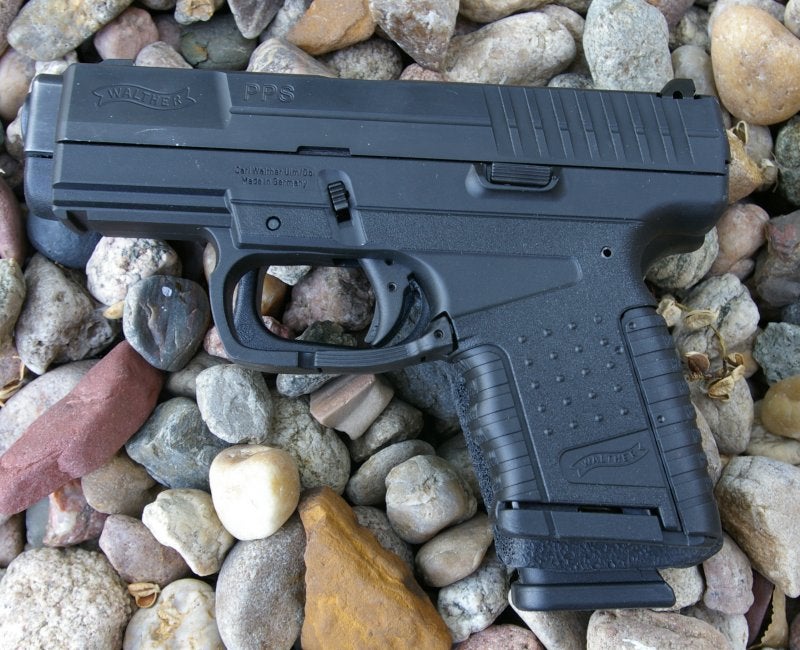 The PPS also has an additional large grip strap which can be swapped for those with larger hands. Though that larger grip strap does not align with the extended magazines it is still comfortable to shoot. From an ergonomics perspective, Walther decided to go for a trigger guard magazine release similar to what HK was offering. I really like this feature in a pistol of this size or even smaller, but it does take a little practice to get used to. This release can be faster to use on this sized firearm, is totally ambidextrous, and seems like it is far less prone to being accidentally hit.
The finish and fit are exceptional, the milling on the slides it well thought out with the serrated slide still providing enough bite to charge the PPS reliably. It is actually a bit amazing how they pack all the features into a gun this size and still make it so freaking comfortable.
The PPS has low profile, snag-free, three dot polymer combat sights, with the rear sight adjustable for windage (self-illumination and metal Tritium night sight options are available), a Tenifer coated slide and barrel for corrosion resistance, loaded chamber viewport, red cocking indicator at the rear provides both tactile and visible status, smooth beveled snag-free slide stop with a lock back on empty, and features one of these most crisp, smoothest, and lightest 6.1 lb trigger pulls I have tested on a factory gun. The short trigger reset is similar to a Glock reset window and somehow they even managed to sneak in a Picatinny accessory rail for a light. My Protec and Surefire weapon lights did not click in, but they did slip onto the rail.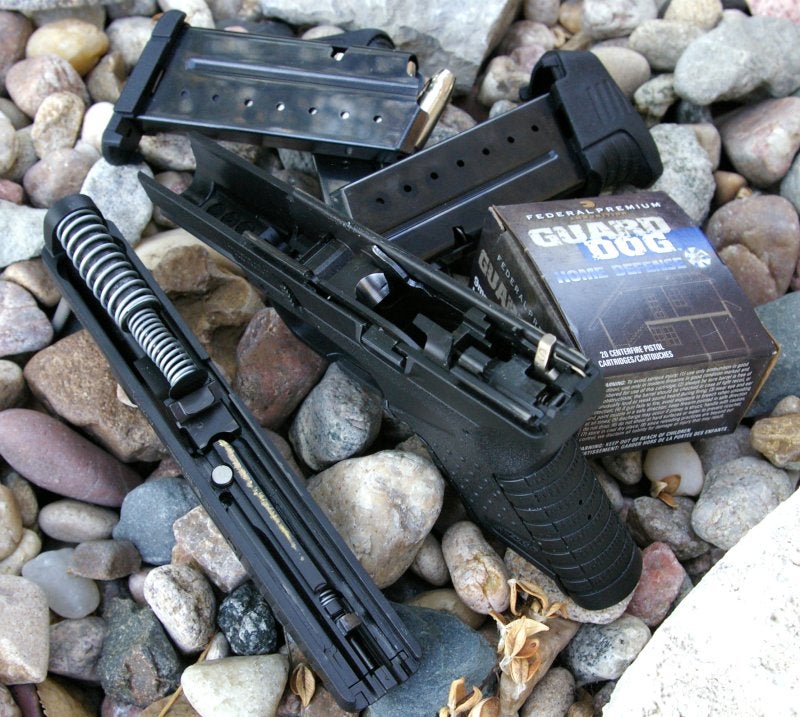 Some of the other details to enhance functionality are minor but I notice them. Rarely you will end up with an especially non-acrobatic piece of spent brass that will almost make it out of the ejection port. The PPS design has an angled front cut on the port, a bevel on the ejector size, and a ramped area at the top rear of the port on the slide which all work in tandem to lift, turn and push out brass attempting to cause a jam.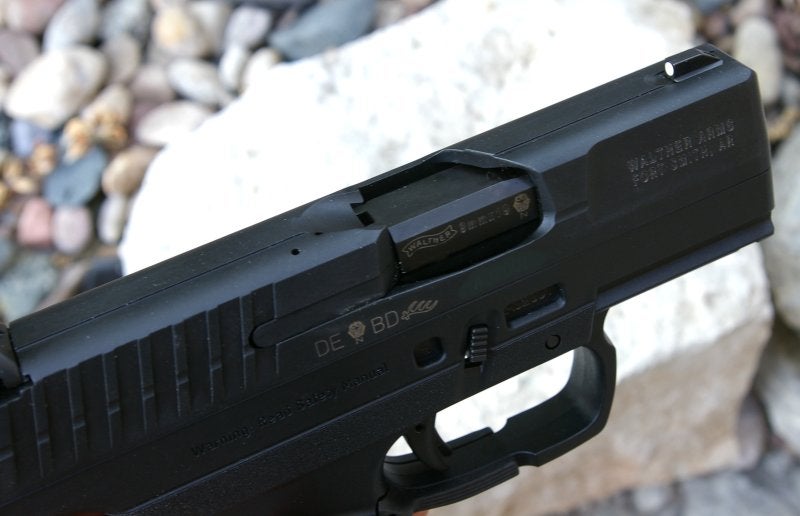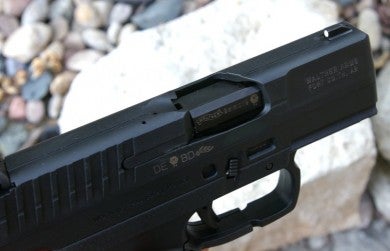 The design is really similar to the Kahr PM series of pistols, which I think are excellent, but the PPS is more ergonomic and has thinner feeling concealed carry profile.
Function & accuracy
Functionally, the inner workings of the Walther PPS is basically a Glock. There are certainly some difference and probably some patent differences, but to my eyes they look the same which is a great thing because its a proven design. In fact, the gun even takes down identically to a Glock: clear the gun, pull the trigger, pull down on the two take down tabs, and move the slide off the frame. Walther even has the double guide rod spring assembly we see in the newer Glocks.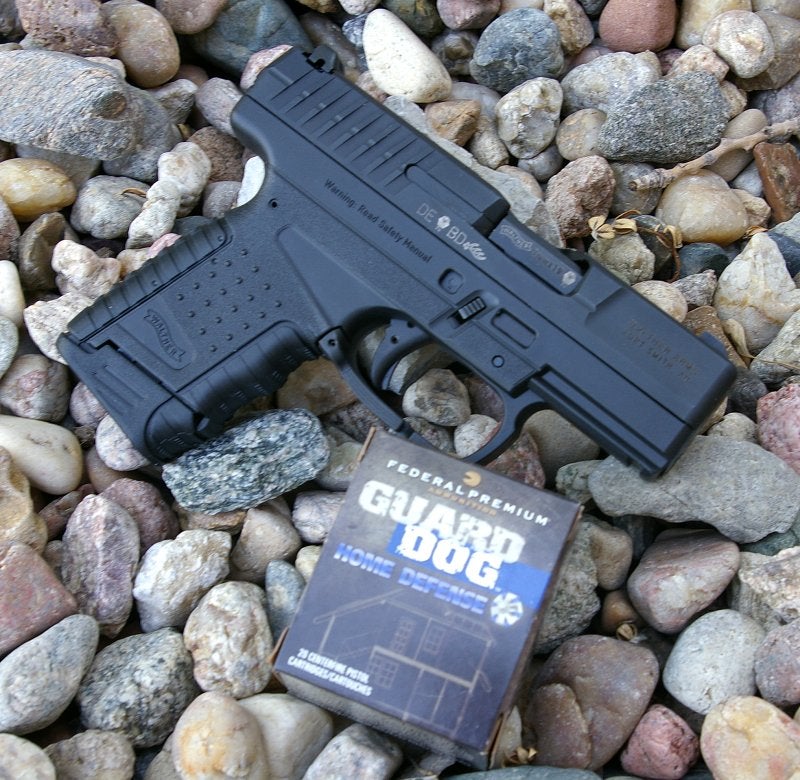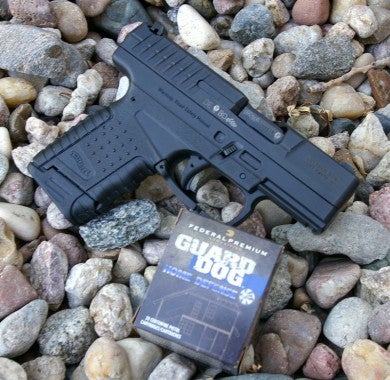 Accuracy was excellent for a gun this size, and it delivered 3.5" 25-yard groups with the Federal Guard Dog ammo used for testing. Technically I didn't measure them, but I could keep my small 3.5" centerfire handgun gong spinning five rounds in a row, so my assumption it is at least that accurate. Functionally I have no issues from the first round to the last shot before writing this article. Excellent reliability all the way around.
Instead of finding a holster, I went right for my parts drawer and installed a Universal Clipdraw to the right side of the PPS. This allowed me to enjoy the carry-ability of the PPS and clip it easily inside my waistband for carry. Its the best $29.99 accessory you can buy for the gun, and besides, James Bond definately would have had a Clipdraw on this gun to assure he could carry it without the added bulk of a holster.
Final thoughts
The trigger unit works like a Glock, with all those wonderful internal safeties, and there is even the joyous absence of a safety or decocker. Although it optically looks ergonomically different to a Glock 19, it is the same overall profile. It may sound like I am make a pretty close reference to this feeling, looking, handling, and shooting like a Glock, but bear with me because in all respects it is just as good and many respects far superior to my beloved Glocks. Also everyone will compare the PPS to a G19, so it's a great comparison point.
The fit and finish is better, the trigger is leagues better than anything Glock has ever delivered, there is more steel rail contact between the frame and slide, which equates to a smoother action, the grip actually offers "grip", it looks like someone with an eye for design actually had a crack at making a decent looking pistol, and it is even comfortable to hold, shoot and carry. Yes, I will say it, this is the single stack Glock 26/19 I have been waiting for ,and it is way better than anything Glock will likely produce or design. Well at least that is how I would compare it to a Glock if I was working the gun counter.
Comparisons to other firearms aside, the Walther PPS is definitely standing on its own from a quality, design, accuracy and functionality perspective, and the company has always delivered top quality firearms. In the PPS they have a great design that is realistically sized to offer compact power in a sub-compact size that people will actually be able to carry. The PPS is a top grade pistol that can easily fulfill everything from home defense to concealed carry, and magazine swap options to extend the grip make it that much more versatile. With 6-8-rounds on tap and one in the chamber, this is hopefully a new legacy that Walther will continue with and maybe… just maybe Bond could start carrying one of these instead of that retro PPK with the electronic trigger lock.
Specs
Model: 2796333
Caliber: 9mm
Finish: Black
Trigger Pull: 6.1 lbs
Barrel Length: 3.2″
Capacity S/M/L: 6/7/2008
Overall Length: 6.3″
Height w/Magazine: S/M/L – 4.4″/4.9″/5.3″
Width: .9″
Sight Radius: 5.4″
Weight (empty mag): 1.3 lbs
MSRP $599
Street $549