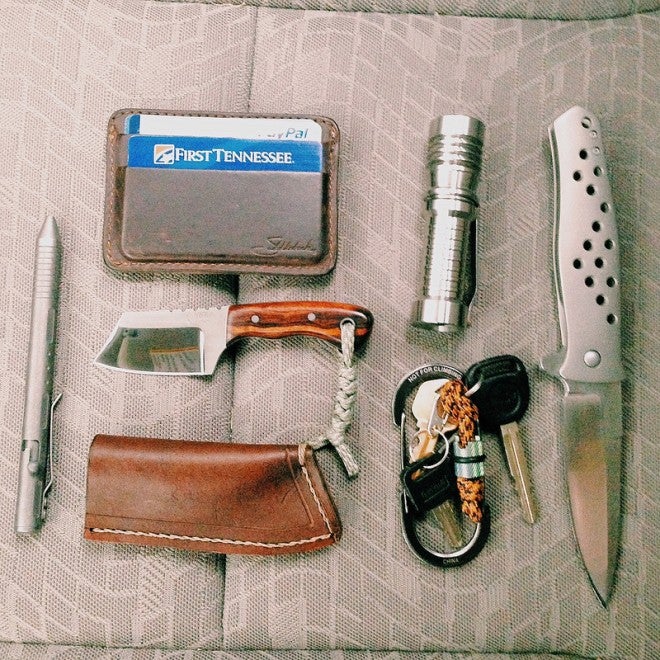 If you're like me, your monthly routine involves youtube searches for "August 2013 EDC Update," to see   what people are carrying in their pockets or on their belts everyday. It interests me, it always has, and it is also the way I got into gear/knives to begin with. The image above shows what I typically carry each day:
Wallet

Folding Knife (this generally rotates depending on what I grab each day)
Flashlight (Typically my McGizmo Haiku)
Ink Pen
Other smaller knife (sometimes a small fixed blade, sometimes a smaller folder)
Keys
EDC, for those of you not familiar with the phrase, means Every Day Carry. Essentially it's a phrase or a tag associated with people discussing/showing what they deem important to carry every day in their pockets or backpacks. The EDC community is largely what got me into knives  to begin with. I searched YouTube looking for a tear down video of a new handgun that I had purchased, and came across this EDC video. Not long after that I bought my first knife and flashlight, and I was off.
So what does it mean to have an "EDC?" Well, really, nothing. Everyone has an EDC of some sort or another. Before I ever started carrying knives and flashlights I still had a wallet, phone, and keys that were my EDC. However, EDC has taken on a meaning that's different from just what is carried daily, it's a mindset.
I think it's pretty common knowledge that more people do not carry a knife everyday than people do. Same goes for flashlights, multitools, firearms, and whatever else is typically associated with "EDC." We are a very adaptive/resourceful species, and we'll reach for our keys when a box needs to be opened, we'll use our cell phone when a flashlight is needed, or we'll ask the server if they have a pen we can use. All of these solutions work, poorly, but they work. So in essence being a "gearhead" or an "EDCer" means that we are looking for more efficiency.
Knives:
The very first thing I think about when it comes to EDC gear is a pocket knife. We use knives for all sorts of tasks, opening mail and packages, food prep, self defense, general cutting tasks, etc… Pocket knives can go from simple (reference a Victorinox Cadet) to a full custom Titanium Framelock Flipper, only limiting factor is your budget.
Flashlights:
Flashlights seem like the obvious gear choice right? Who doesn't occasionally have to go out at night, or who doesn't lose something under the seat in their car, that's what an EDC flashlight is for. There are many options for you out there from small keychain production lights to full titanium handmade flashlights.
Watches:
The argument today against carrying a watch is that our cell phones all have the time on them now.  I totally understand this line of thinking, since I'm a relatively recent watch adopter. But what happens when your phone dies? You're forced into asking the time from people, which goes against the core tenants of an EDCer's mentality. Self-Reliance! There's also an awful lot of tradition wrapped up into gentleman's watches.
Multi-Tools:
The last category I'm going to cover in EDC gear is a multitool. Once again, it's another step towards self-reliance in your day to day life. You'll no longer need, or be without scissors, pliers, or screwdrivers. You'll be able to handle small tasks that you couldn't before.
There are a lot of other categories that I could cover–people carry firearms, keychain tools, pens, and whatever else imaginable. I think it's important to remember that EDC isn't really a thing. Everyone "EDC's," even if it's just a wallet and keys, but an "EDC mindset" means more that you are thinking about what you carry in terms of being able to handle different situations. That could mean self defense or just being able to clip your nails on the go.

SHOP NOW