Ultimate Survival Rifle: Ruger 77/357 bolt action
Major Pandemic 08.27.13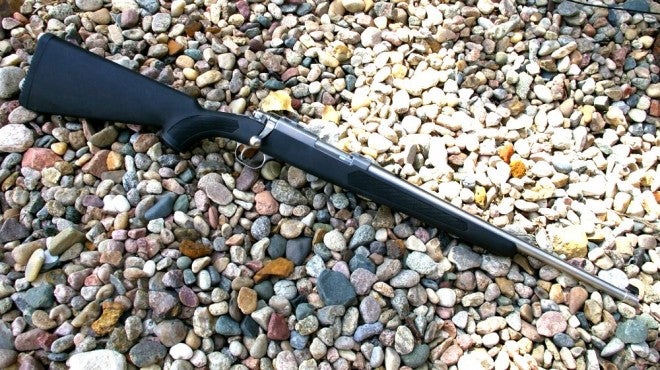 What makes an ultimate survival rifle? From my perspective it is a light-weight, bulletproof, all-weather, manual cycling Mauser actioned rifle chambered in a cartridge versatile enough to take everything from small to large game. Regular readers of Alloutdoor.com and my own site know that my survival cartridge of choice has long been the .357 Magnum because it offers so many power options, from light sub-sonic .38 Special loads all the way to high grain, big power .357 Magnum loads. This is a feat which simply cannot be accommodated in modern semi-auto rifles or many other cartridges. Shoot a rabbit with a .223 or .308 and you have a big mess on your hands, not to mention it will be quite loud. Downing a dear with a .22LR is doable, but it's much more effective and humane with the .357 Magnum.
The obvious versatility of being able to shoot either .357 Magnum or .38 Special rounds from the same gun are a huge plus in both everyday shooting and in a survival situation where rounds may need to fabricated or scavenged. For small game, cast semi-wadcutter rounds will pass through small game and not destroy meat, and the same round is effective enough to pass through a deer shoulder for a kill shot.
Other options, like .357 Magnum bird shot, work phenomenally well for close range bird and snake hunting and rodent pest control. Not to mention the .357 Magnum round is cheap compared to 44 Mag, .40, and other ballistically similar "Magnum" cartridges. The round is of course less expensive than semi-auto rifle calibers.
The .357 Magnum/.38 special caliber can be loaded so lightly they are slightly louder than a decent fart, and the round is also very easy and forgiving to reload, unlike most semi-auto cartridges. Primers and powder can be scavenged from any cartridge from .380 to .40 to create a load. Even 158 Grain cast bullets are a little more lead frugal than the other obvious 44 Magnum rounds, and unless you are loading them really hot, they do not require a gas check which is another component you may not have available. In my mind, pistols and rifles chambered in 357 Magnum are very versatile guns that can fill many roles. To say I was thrilled when Ruger introduced the lightweight 77/357 chambered in .357 Magnum, well … my enthusiasm could not be measured.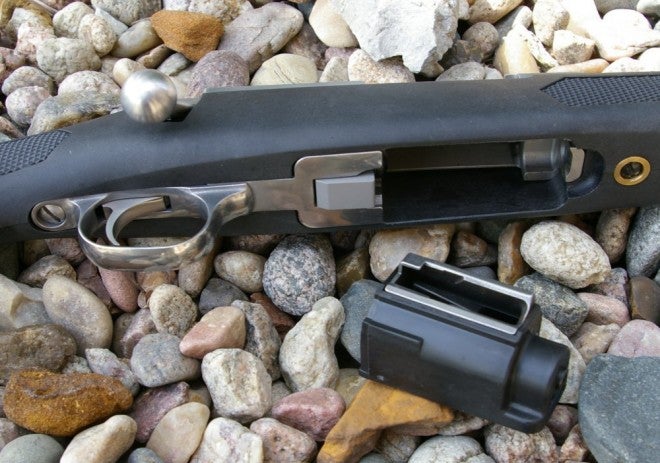 About the Ruger 77/357
The Ruger 77/357 is based on the rugged, time tested and proven modified Mauser style Ruger 77 design currently offered in a number of calibers from .17 to .44 Magnum. The design is infallibly simple and is the epitome of all-weather durability in all stainless with a synthetic stock. The bolt action operation makes it a great rifle that can take huge amounts of abuse and continue functioning. It features the same three position safety found throughout the 77 line, which allows for fire, safety with bolt manipulation, and a third position which locks both the firing mechanism and bolt. This third position is an important safety feature for those who like to carry a live round in the chamber at all times when hunting.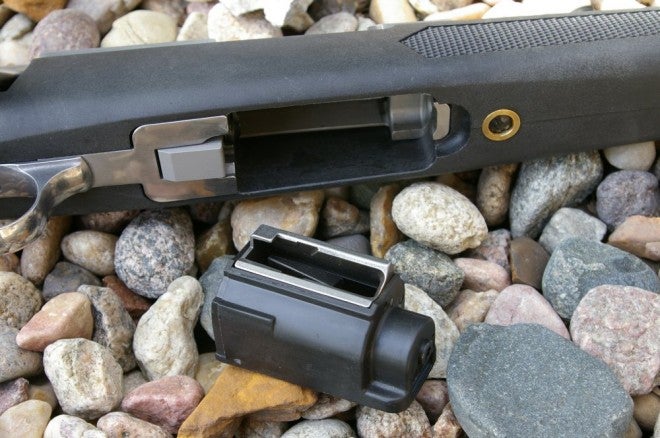 Finish, fit, and feel
As with all Ruger firearms, the 77/357 is well made, tightly fit and finished in a beautiful brushed stainless finish. The stock mates perfectly to the barrel and action. If you are familiar with any of the Ruger 77/44 or 77/22 rifles, you will see the same fit and finish in this rifle.
The 77/357 is a solid but feathery 5.5lbs and a short and handy feeling 38.5" long length. These traits are what make the rifle very fast handling — perfect for dense woods hunting. The 77/357 could be easily carried on an all-day fall hunt and could be used to fill limits on anything from squirrels to deer without the need for a second gun. I have to say this gun screams "I am ready for anything, toss me in the back of the truck and let's go hunting and/or shooting". The heavy trigger feel was fairly crisp with little take up.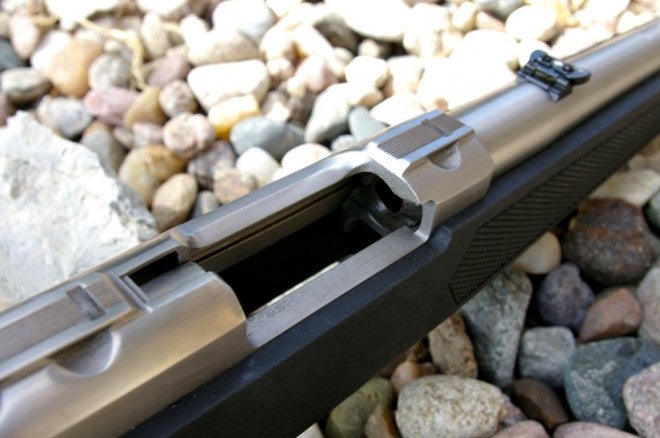 Features
Obviously the 77/357 is based on the proven Mauser style Mark 77 Ruger action which, locks up like a bank vault and functions quickly and smoothly. The sights are the same durable and dependable brass bead front and flip-down adjustable rear sights found on the 10/22 to 77 Series rifles.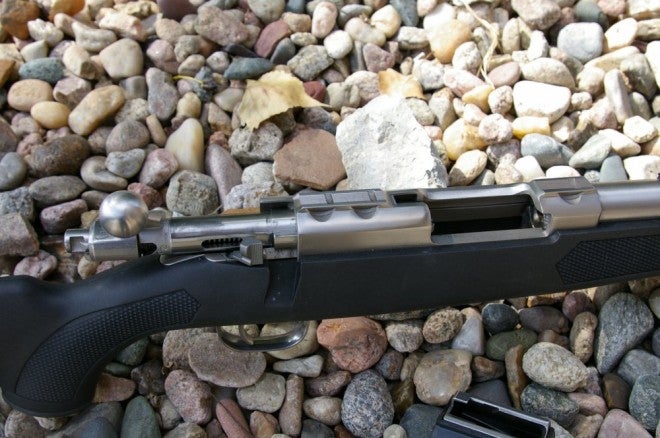 The weatherproof, cold hammer forged barrel is a 18.5" stainless with 8 grooves and a versatile 1:16 RH twist that provides good accuracy through a variety of .38 special to .357 loads. Of note, most of the .38 Special and .357 Magnum rounds will pick up a little zip. According to Ruger, they tested a Hornady 140 grain FTX loads and clocked them at over 1820 feet per second out of the 18.5″ barrel, which makes for a very hard hitting round.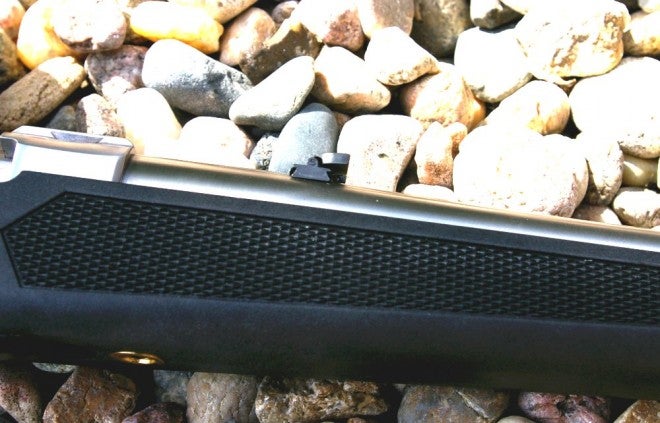 One thing I really liked about the Ruger 77 series synthetic stocks are their cavernous buttstocks. The buttstock can hold a huge volume of survival accessories, including the 5" Fallkniven survival knife and UCO Stormproof Matches shown, and still have loads of room left for other items and extra ammo. I only wish Ruger had made the buttpad and grip cap quick-release.
The five-shot rotary magazine is the other great feature which proved itself by feeding magazine full mixtures of 38 Special and 357 Magnum loads. Out of the box the magazines did not drop free and required a little finger wiggle.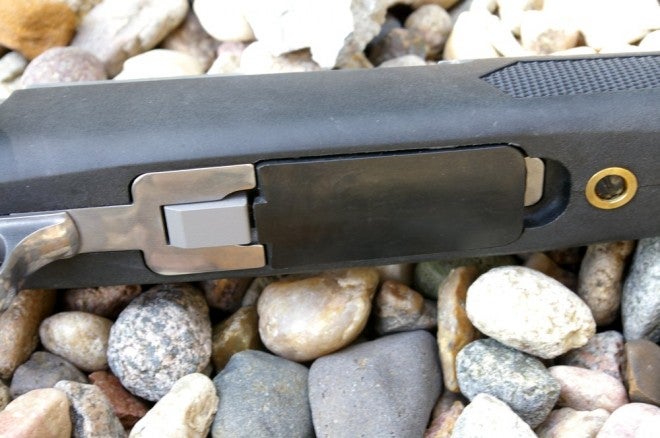 Ruger is now including a set of "high" 1" stainless steel scope rings, a $80 value, with the 77/357 which mount to Ruger's proprietary scope mounting system. If you are mounting up to a 1" scope you are ready to go, but if you will be using one of the popular 30MM tubed scopes, you will need to pick up a different set of rings.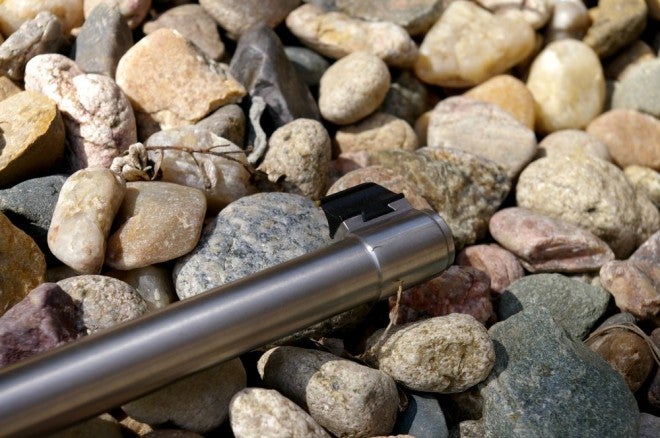 Function and accuracy
The gun was never cleaned throughout testing and I never had a functioning bobble. When most of us think of a survival rifle design we think of bolt actions that can take the muck and still function.
The Ruger 77/357 was tested both with the stock iron sights and with a Nikon 1-4X optic. For accuracy testing, I used Winchester Super-X White box .357 Magnum 158gr JHP, Winchester .357 Magnum Partition Gold 180gr JHP, and my own .38 Special 158gr FMJ and HP reloads. The accuracy was no surprise to me, and with all the ammo types it netted solid 2" or less 10-shot groups off a rest with open sights at 50 yards. At 100 yards those groups opened up to 5" with iron sights, which I still consider minute of deer accuracy with iron sights. The Nikon 1-4X scope setup is about the perfect optic solution for the 77/357, and allowed plenty of field of vision on the 1X setting for close shots and at 4X helped me dial most groups into the 2" zone on the 100 yard range.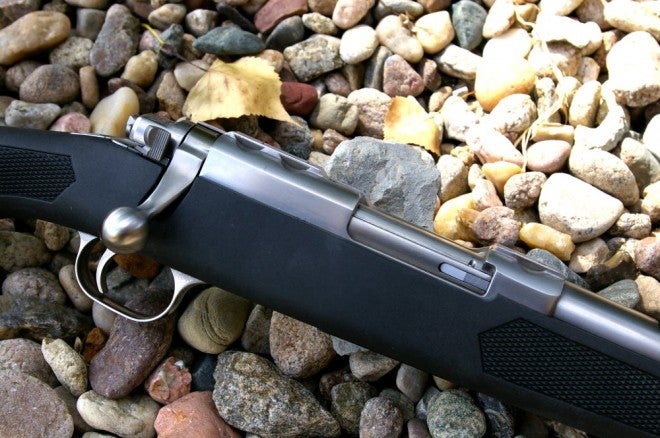 This gun actually liked the inexpensive Super-X .357 Magnum rounds the best, and I managed one 1.7" 3-shot group at 100 yards with the optic on 4X. Not a precision sniper rifle, but a good performing rifle for its design intent and cartridge limitations where most shots will likely occur off-hand in the 10-50 yard range.
Final thoughts
The Ruger 77/357 is an outstandingly durable rifle package which carries on the Ruger 77/44, 77/22, and 77/17 legacy. Several years ago the 77/357's bigger brother, the 77/44, was suddenly discontinued and we all thought that great line of Ruger guns was about to be retired. Apparently the public outcry was big enough that Ruger not only re-introduced the 77/44 model, but also added the 77/357 as well, and I for one could not be more happy.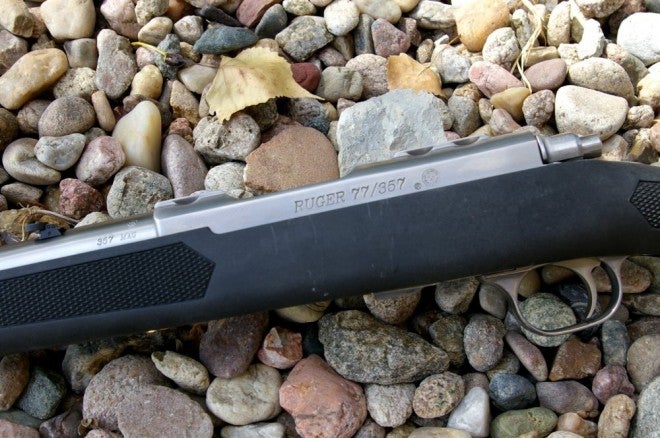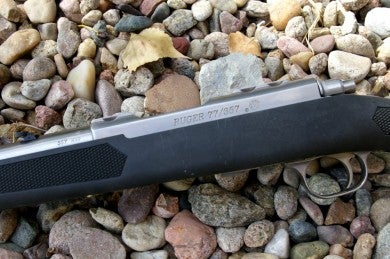 From an all purpose hunting, disaster preparedness gun, and extended survival rifle the gun is hard to beat. Pair this with a Stainless 4″ GP100 in .357 Magnum and you have an outstanding survival combo. Short, handy, lightweight, and with the stainless and synthetic stock the gun is literally impervious to the elements. With the bolt feed action it also provides the user problem-free feeding of a limitless array of production and handload .38 special and .357 Magnum rounds. Indeed the perfect survival rifle.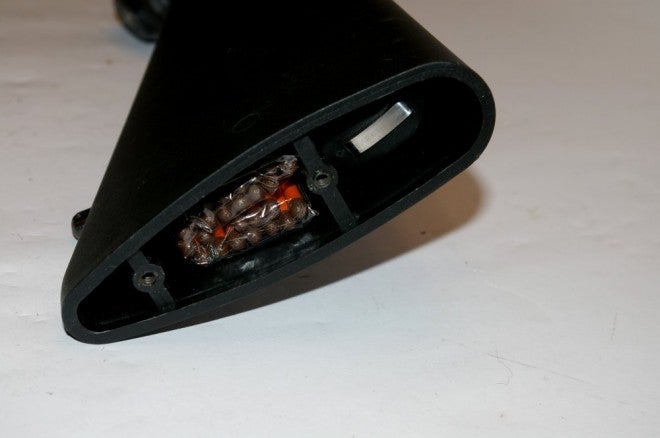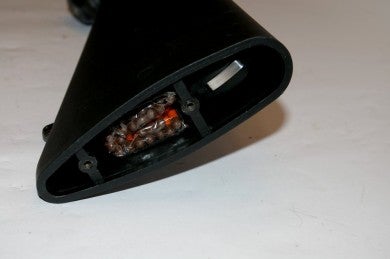 Catalog Number: K77/357-RSP | Model Number: 7405 | Caliber: .357 Mag.
Stock: Black Synthetic Finish: Brushed Stainless
Front Sight: Gold Bead Rear Sight: Adjustable
Barrel Length: 18.50″ Overall Length: 38.50″
Material: Stainless Steel Length of Pull: 13.50″
Capacity: 5 Weight: 5.50 lbs.
Twist: 1:16″ RH Grooves: 8
Suggested Retail: $793.00