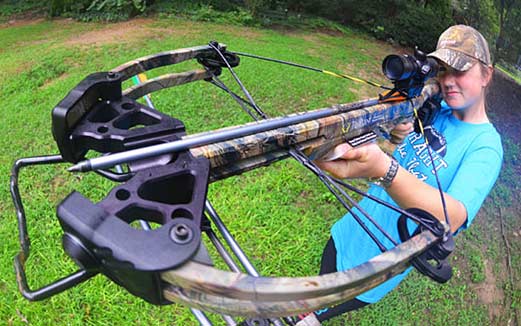 By: Posted 08-20-2012 OutdoorChannel.com in Story by David Hunter Jones
This article first appeared at OutdoorChannel.com.
No doubt you're reading this because you're thinking about hunting. Turkey season is a distant (and in my case, distressing) memory, dove season is under way, but you've got big game on the brain.
Perhaps, if you're like me, you're down to your last few pounds of venison, making you all the more desperate to get back into the woods.
Employing the old paradigm "work smarter, not harder," I decided to get proactive about starting deer season early. So I got a tool that allowed me the opportunity to cash in on bow season: a crossbow.
It's the most obvious fix for a venison-starved gun hunter. Plus, you can get in the timber and have first crack at the deer rather than waiting your turn at shot-up and spooky deer.
Why is this smart? Because any proficient gun-hunter should find it simple to use a crossbow; aiming and shooting are the same, but there's no recoil. The thing kind of jumps in your hands, but it's easy to follow the arrow all the way to the target.
Now, I realize I might be kicking a hornet's nest, but shame on your DNR if it doesn't allow crossbows in bow season. This is akin to banning bolt-actions in gun season: you're taking a tool away from hunters, who are the best managers of the resource.
The operative word in "crossbow" is "bow!" Barring them in bow season defies common sense in my way of thinking. Rant, off.
I'm not a professional hunter, I work 40 hours a week and I hunt mostly on public land. I enjoy spending time with my lovely wife and chasing bass all over creation, so after determining that a crossbow made sense, I set out to find a good one.

After perusing the myriad options of crossbows, I settled on TenPoint's Turbo XLTII. It's a hopped-up version of the wildly successful Turbo XLT. It features a 180-pound draw weight, which is greatly negated by the ACUDraw system (my 5-foot, 5-inch wife cocks it with ease). It only weighs 7 pounds, and is a scorcher, to boot.
With the right arrows, this thing clocks in at 345 feet per second! Mine came with a 3X scope that was dead-zeroed from the factory with a bolt-drop-compensating reticle. That way you know exactly where to hold at 20, 30, 40 and 50 yards. Sweet. It's slender, too, measuring 13 1/2 inches axle-to-axle — an industry best. I'll have more on the Turbo XLTII later.
After a little bit of lube on the flight rails and wax on the string, I headed to the backyard and proceeded to put three arrows in a sub-1-inch group at 30 yards. Easiest sighting-in ever!
But, for grins I shot at least 40 more bolts out to 45 yards and didn't once miss the kill-zone-sized shot stopper. (As an aside, don't plan on using a regular archery block with a crossbow; these things are waaay more powerful than bows and you'll have a hard time freeing your bolts from a regular block. Ask me how I know.)
I hinted at this before, but my deer season just grew by five weekends! It can likely do the same for you, so if you're really desperate to get out there, you owe it to yourself to check crossbows out. A lot of archery pro shops will allow you to test fire bows, and it'll be hard not to buy one once you see how fun and accurate they are.
I invite you to follow along this fall with the knowledge that I won't whack someone's 190-inch "pet" deer that lives behind some high fence, but that I'll likely kill some common deer on public land on a common man's schedule. Also, I won't pull any punches, and if (and when) I do foul up, you all will be the first to hear about it. I've got hunts planned in Tennessee and Georgia — none with guides — but most of my hunting will be done right here in central Alabama on a relatively sleepy WMA — at least it was in turkey season.
Archery, er, crossbow season starts Monday, Oct. 15 here, a day I'm certain to be under the weather — if "weather" means the grey Alabama autumn sky.
David Hunter Jones is a hopelessly addicted hunter from central Alabama who allows the DNR (in collaboration with his wife) to set his vacation time. When he's not in the woods, he's chasing all manner of scaly critters. And, yes, "Hunter" is his real middle name.