Columbia River Knife & Tool M16-04
Pat Cascio 08.30.13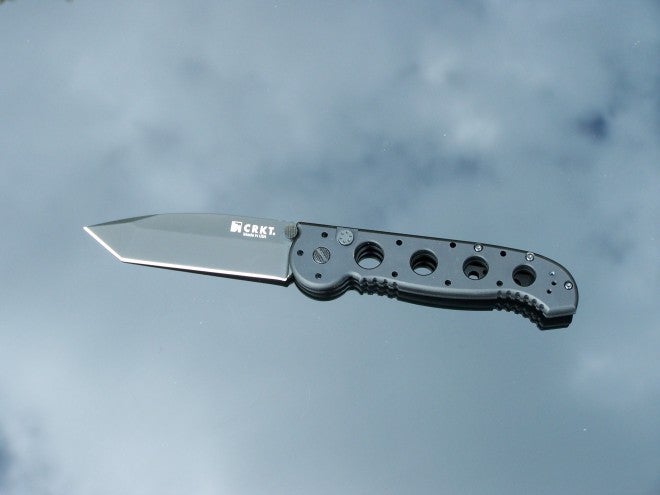 I've been reviewing and writing about Columbia River Knife & Tool products almost since the day they opened their doors. Over the years, I've watched the small line-up at CRKT grow from just a few knife designs, to as many as 60 or more new designs in a given year. Obviously, they are doing something right at CRKT, as they grow year after year.
The M16 line is probably the hottest selling line of knives in the CRKT catalog, and I was given a sneak peek at the prototypes of this design during a meeting with Bremer many years ago. I was definitely impressed. If you'll look at the CRKT website, you'll notice some of the M16 knives coming with different colored handles; red, blue, black, etc. Well, I made the suggestion to Bremer at that meeting, that they come out with different colored handles, to represent different lines of work. The black for tactical or law enforcement, the red for fire/rescue personnel and so on — it caught on!
The new M16-04A is a bit different from the regular M16 line-up, in that, this is the first automatic folder produced by CRKT. The opened overall length of the M16-04A is 9.25 inches, and the closed length is 5.31 inches. The knife weighs in at 5 ounces — not too heavy, and not too light. The blade is 4 inches with a Tanto point, which is one of my favorite blade designs. The steel is a new one, CPM 154 (not to be confused with CM154). The CPM variant is a powdered metal that takes a good edge and holds it. Plus, it's fairly easy to re-sharpen, too. The Rockwell hardness is 58-60, and the blade is matt black DLC coated for a non-reflective, tactical look. The handle material is 6061 anodized Alumnium. There is a three position pocket/clothing clip on the handle, too.
I played around with the M16-04A for more than a month, and found it to be everything I expected from the M16 line-up, which, by the way, was designed by legendary custom knife maker, Kit Carson. One thing that can be said about the M16 line of folders is that, they are very robust, a great cutting tool — and knives are tools. I lost an M16 while riding my motorcycle one time — this is going back at least 7-8 years. I actually found the knife, several days later, while traveling the same highway. The knife had obviously been run over many times by passing vehicles, it looked like it went through a serious war, but the darn thing still worked.
Some of the M16 knives can be opened with the thumb stud on the blade, and some have a "flipper" for flipping the blade open. The new M16-04A has a large and easy to hit button for releasing the blade automatically. Back in the day, and even today, some folks still call an automatic opening folding knife a "switchblade" and I don't really know where the term started. Thanks to 50's-era Hollywood's portrayal of automatic knives as the knife of choice for gang members, the M16-04A is illegal to own in many states, sad to say. More on that topic in a moment, though.
The M16-04A also has a little "safety" on the spine of the knife, so you can securely lock the blade in the closed position. No worries about the knife accidentally opening in your pocket (I've had this happen in the past with other automatic knives. Ouch!) And, you can lock the blade in the open position.
To release the blade, if you don't have the safety in the "on" position, all you have to do is draw the knife from your pocket, and push on the nicely sized button and the blade flies open and locks in position. To close the blade, simply press on the same button and fold the blade back into the handle of the knife. Simple enough
Now, for the bad news: the M16-04A is only going to be in production for a limited time. While the website doesn't report this, this is a limited production run. They were originally meant to sell at military PX exchanges for our men and women in uniform, but there are some on the Internet for sale. Full retail is right at $300.00, and if you're lucky enough to lay claim to one of these knives, you'll be one of the few. Like all CRKT products, they come with a limited lifetime warranty.
If you happen upon an M16-04A, snap it up, you won't be sorry.
Addendum: the joys and perils of a "switchblade"
A lot of folks don't understand or see the need for an automatic knife, especially when many knives made today have some type of stud or disk or hole it the blade, for easier one-hand opening. Still, some people still have trouble with these opening methods — older people, who might have arthritis, or those missing a digit on a hand may not be able to open a folder using a thumb stud or hole. A nicely sized button on an automatic folder can make this job easier.
Many years ago, I did a little bit of rope work (climbing), and if you've ever had a rope knot up on you, or you need to get loose in a hurry, a good automatic opening folder can really help. If you're jump master on a parachute jump, you might need to cut a jumper's main chute loose so they can deploy their reserve chute; again, a good automatic opening knife would sure help in this regard.
Finally, an automatic opening knife is just a lot of fun to play with. I opened and closed the M16-04A thousands of times while sitting on the sofa watching TV (not that I get a lot of TV watching in these days). The more I played with the knife, the smoother it opened. When I got my sample, the tension on the blade was a bit tight, and I had to adjust it. But by opening and closing the knife, it got smoother, too.
Unfortunately, as I mentioned above, many states have strict laws against owning an automatic folder, and in some areas, it is a felony. Some states are passing laws — Texas and Alaska just did — allowing automatic folding knives now. If you happen to live in a state that is still blinded by Hollywood movies, where an automatic opening folder is illegal, you can still purchase the outstanding manually opening M16 line of knives. With a little practice, I'm betting you can learn to "flick" that blade open even faster than an automatic folder can be opened, so don't despair if you can't own the M16-04A where you live.
SHOP NOW