Light My Fire Titanium and Polycarbonate Spork Review
Major Pandemic 09.01.13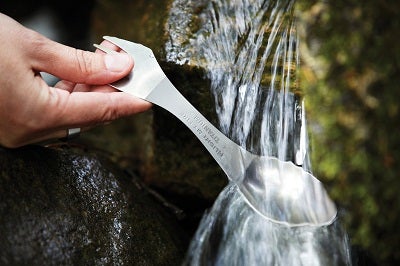 When I was a kid and the Pandemian family went off to the woods for a weekend of camping, my favorite utensil was the spork. I used a spork to eat everything from camp pork and beans to the weekend catch of fried bluegill. As a kid, the Spork represented everything perfect in an eating utensil. It was a simple, singular instrument of eating that was easy to clean and provided all manner of food service movement from dishware and plate to the mouth; it could even cut things with the side if you sharpened it a little on a rock. Such an efficient instrument of eating was the Spork that I begged my mother to use it every day, but alas Mother Pandemic only allowed the Spork during camping.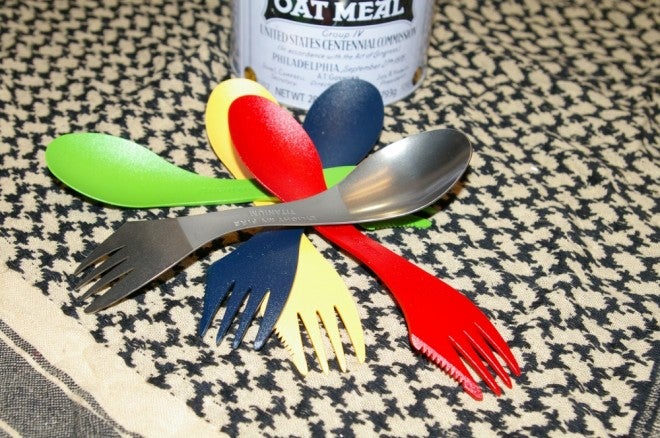 On a recent shopping trip, I spied the new and improved Sporks from Light My Fire in both polycarbonate/Lexan and the super cool titanium. I left happy as a six year old with a four-pack of the synthetic Sporks and the Titanium version. The Light My Fire Sporks are way cooler and much more useful than my old spoon with tines. The purpose built spoon on one end actually allows the consumption of soup vs acting as a miniature stainer. The forked end functions like a true fork, and even has serrations on the side to cut up your leathery camp meat, canned spam, or fresh caught wild dill and cedar smoked salmon… your choice
I hesitate to refer to the regular Spork as plastic because it is made of either standard polycarbonate or a product similar to polycarbonate made by Eastman called Tritan that is BPA free. But the plastic Light My Fire Spork is heat resistant, Teflon cookware/serveware friendly, dishwasher safe, and nearly unbreakable. For the survivalist, hiker or outdoorsman the 0.3oz, 9g utensil is a no brainer to include in your pack to prevent primitive cannibalistic hand based eating and greatly improve hygiene.
For the ultimate in forever survivability and durability, Light My Fire has the Titanium Spork. Both as a kid and as an adult I would have thought I was James Bond with anything Titanium… and of course a titanium Spork is the ultimate survival utensil. This Spoke has polished serving ends and matte grip. This version is still very light weight but a little over twice the weight of the plastic version, weighing in at 0.7oz., 20g. I think the trade off is worth it, though, for a Spork so tough it could be used for personal defense. The price for the 4-pack of plastics was $6.99, and my titanium Life My Fire Spork was $9.99
The Spork was a favorite back as a kid and today with the design and materials update, it's a relevant and handy must-have product today for the office worker, outdoorsman, and survivalist.

SHOP NOW