Many will argue that a new barrel is the must-have upgrade for the Ruger 10/22, however, depending on the feel of your rifle's trigger pull, a new trigger group may be the better upgrade to improve both features and accuracy. My old 10/22 is easily decades old, with a horrible trigger that I knew was not allowing me to get the most from my previous Tactical Solutions barrel upgrade. To make things simple and easy I picked up a Timney 10/22 Complete Trigger Assembly.
About Timney triggers
Timney was founded in 1946 and began by making replacement triggers for Mauser rifles. Over the last 60 plus years Timney has been making triggers for a growing list of firearms such as Ruger 10/22s, ARs, Mosin Nagant rifles, and more. Every trigger component is made in-house right here in the USA. In this case I used a Timney 10/22 Trigger assembly in my new Troy T-22 10/22 chassis to improve accuracy, increase build simplicity and guarantee reliability.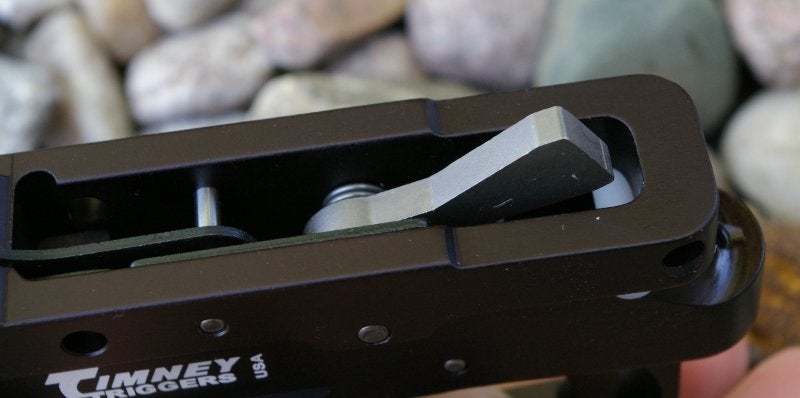 The Timney trigger is a complete assembly that includes the trigger internals, a billet trigger guard housing, and a few extras like extended magazine release and automatic bolt release.
As would be expected on any match grade trigger, the workmanship on the Timney complete trigger assembly was top-notch with very tight fit. I was happy to find that there was just a bit of tension when inserting the pins, which should keep my old Ruger from self-disassembly. Once installed, the Timney complete trigger assembly delivered a much more solid, wiggle-free trigger-assembly-to-receiver union.
According to Timney's site, the trigger frame assembly is available in just black with a variety of colors available for the trigger shoe, including black, red, blue, gold, green, and silver. MidwayUSA lists several other frame color options, as well. For this build I went with subtle basic black-on-black color scheme.
The Timney trigger is factory set to a crisp 2-3/4 lb pull. I do not have a trigger gauge, but it feels about right. That range of pull is good for everything from hunting to plinking to target shooting. Much below that and you get into a range where your adrenaline can cause a trigger squeeze unintentionally, and in the 3+ lb range you start to lose the advantages that a fine target trigger provides. So this trigger pull weight is a great compromise for the all purpose sportsman and hunter all while still allowing fine target work at the bench.
What I did notice was that the EDM heat treated trigger, sear, and hammer seemed to create exactly the same crisp pull over and over again without ever delivering a failure. The shape of the trigger is between a flat target trigger and stock curved trigger. I found the shape comfortable for extended shooting. The Timney trigger is in that perfect zone where it is heavy enough to know when you know you are pulling the trigger and light enough for precision work. These are all good things for a complete 10/22 trigger assembly, which is about $20-$50 less than others on the market.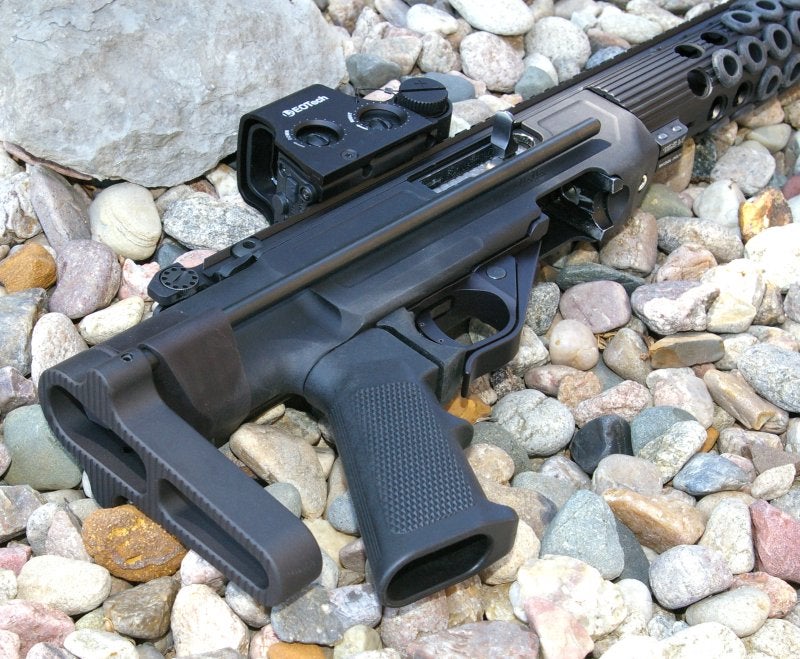 The biggest advantage to purchasing a Timney Complete Trigger Assembly are that it is a complete trigger assembly replacement and can be installed in about 20 seconds after you have removed your action from the stock. Push out two pins, remove the old trigger assembly, replace with the Timney assembly, and push the two pins back in… done! I am pretty sure a monkey could complete this upgrade with minimal training. No tuning, no chasing springs around the room… and again, no finicky reliability issues. It just works correctly right from the start.
The Timney 10/22 Trigger assembly is made from a single piece of CNC machined 6061-T6 aircraft grade billet aluminum, so it will fit much more precisely than the stock Ruger guard. The trigger, sear, and hammer are wire EDM cut for precision and then heat treated for exceptional durability. As noted above, this ensures that the parts lock up the same way each and every time to create a perfectly consistent trigger pull.
The internals of the Timney 10/22 trigger were a ground-up redesign of the 10/22 trigger unit. The parts are completely different than the stock design, so do not expect parts to be interchangeable. This is one thing I really liked about the Timney trigger — it's not just a parts kit attempting to overcome the inadequacies of the original, but is a new design altogether. Thus it delivers a superior feel and function to what the stock trigger could even if it were optimally tuned. Little things make a big difference when you start with a clean drawing board.
Another thing that I like is that there is a little polymer buffer for the hammer to assure is not banging too far back. All these little touches will assure this trigger will feel as good on the first day as ten years from now.
An adjustable trigger's settings can move which means that they can prevent the gun from firing or worse set off an accidental discharge. This is not an issue on the bench for target shooting where the gun is not being knocked around, but out in the field or defensively it can be a major problem. I do have some incredible adjustable 10/22 triggers from some of the top manufacturers in the industry, but I would feel most comfortable with this non-adjustable unit while hunting and bumping the gun around. The other issue is that 99.9% of us do not have the talent to properly tune a trigger, which is why I believe non-adjustable triggers are the responsible way to go for a field or defensive gun. This is another reason I like the Timney unit; it is non-adjustable and for this squirrel, critter, zombie, and plinking gun build, I consider this a must-have.
Two cool features the Timney trigger assembly added are the extended mag release and auto bolt release. The new Timney 10-22 Trigger features a Timney designed Extended Magazine release that can be operated by one finger for exceptional ease and accessibility. After the last shot is fired the middle finger slips up and drops the magazine. If you have a tough-to-seat magazine, the extended release can be pulled back with the same finger to seat the magazine. The trigger assembly comes standard with an auto bolt release. This allows a simple, single-handed release of the bolt from locked back position versus having to jockey with both hands to release the bolt. Once you try the bolt release, it is a must have modification. The style of the stock safety remains the same; however it is quite a bit smoother.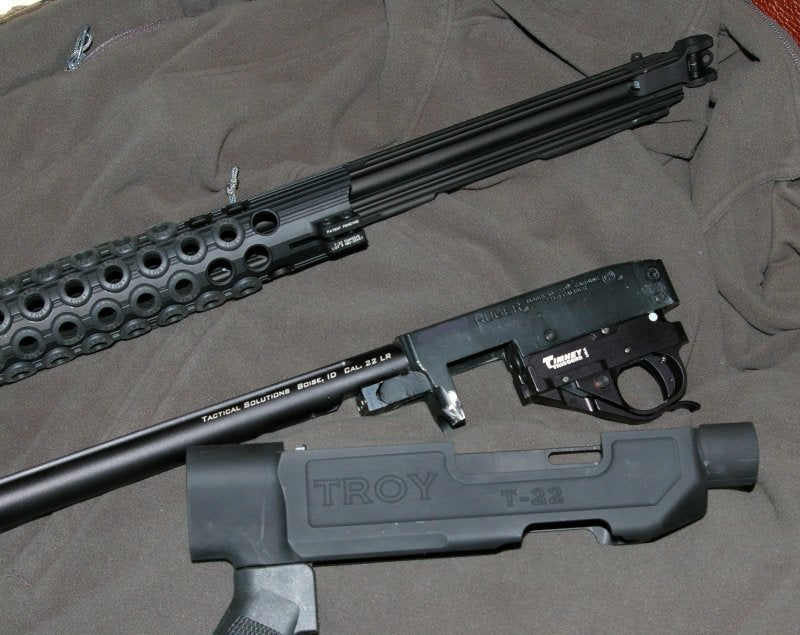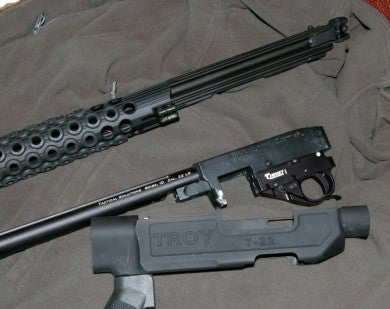 Final thoughts
The Timney trigger is built for the majority of sportsman, plinkers, and hunters versus being a touchy target trigger that can only be safely used of a bench. It just works without having to think consciously about it, like a too light or too heavy trigger pull; it just breaks crisply without take-up every time. At 25 yards my groups shrank by about 20%, but my 50-yard groups shrank by as much as 50% due solely to the trigger swap.
Consistent accuracy from a stock Ruger 10/22 can be tough to attain. Sometimes you get great groups, as I did with the recently tested 10/22-TD, but I know my old vintage 10/22 was lucky to group 1.25" at 25 yards in stock state. The Tactical Solutions barrel upgrade drastically changed those averages for the better, but it is clear that in this case it would have been a pretty tough bet to say whether the barrel or trigger would have been the best first investment.
Sure, there are lighter trigger pulls and fancier triggers on the market, but Timney delivers a wonderful 10/22 trigger with a design that exceeds the abilities of the stock version all for less money than the competition. For this hard-use 10/22 build, the Timney Trigger Assembly is the simplest option for non-adjustable match grade and field capable trigger for your 10/22. And of course the magazine release and auto-bolt release features are appreciated as well.
Specs
Timney 1022-1C
Finish – Black Hardcoat anodized
Material – CNC billet 6061 T-6 Aluminum
MSRP – $220
Street – $205