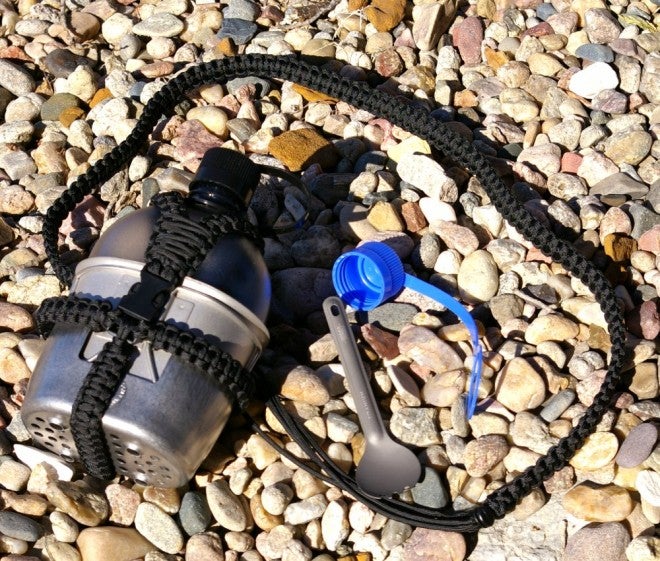 A human can live without food for over 30 days, but we need water on a daily basis. As a basic preparedness and generally extraordinarily handy item, everyone needs a canteen and cup kit. These two simple items provide you with the ability to carry and boil water, which are the two most important elements essential to survival. There are sadly a ton of cheap canteen kits on the market, most featuring Chinese BPE laden plastic bottles and reactive aluminum cups that taint flavor, corrode and are not the best for our health long term.
On my quest for the best 100% US made canteen kit available, I ended up on CanteenShop.com more than once and decided they were about the only supplier offering a quality American-made stainless canteen set. After digging further I found they offer what appears to be the ultimate canteen kit: the Para-Cover Deluxe Canteen Kit, which puts a modern twist on a classic canteen kit design and includes a canteen, stove, cup, spork, and paracord sling in one nice neat little package.
Features
In any canteen kit, the canteen itself usually gets most of the attention, and Canteen Shop went right for the best with a new Nalgene BPA Free Oasis canteen. The Nalgene bottle normally comes with blue caps (symbolizing potable water), but most people want a more "tactical" black cap for their canteen so Canteen Shop includes the upgrade.
Nalgene bottles are considered the best clear bottle available on the market. Depending on the kit color you select the included Nalgene bottle will come in the corresponding coyote, OD green or grey colors.
Nalgene bottles are made from BPA-free, impact resistant, lightweight material that does not retain taste, odors, or stains. The bottels are also dishwasher safe, and able to withstand temperatures from -211 to 275 degrees F. This temperature range flexilbity means that even a boiling water cup pulled off the fire could be poured into the canteen without damage to the canteen. The design fits a standard GI canteen cup.
You can get a nalgene bottle for around $11, vs the typical $5 for a quality US made standard GI canteen. It's a smart upgrade.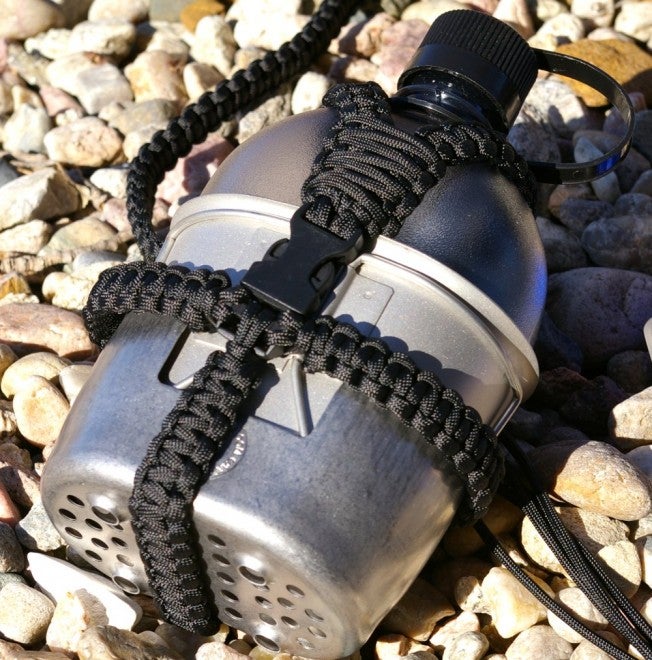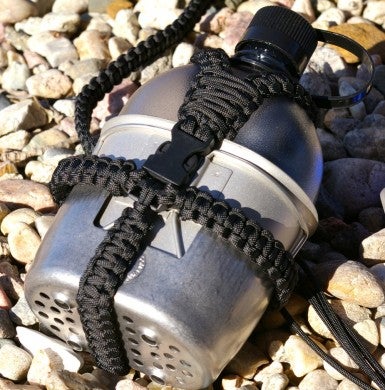 Although the canteen gets all the attention, the cup is actually the most important part of the kit, because it has multiple purposes beyond just holding water. Again, Canteen Shop has gone to great lengths to assure the cup they include in the kit is the best by including the official military USGI heavy gauge stainless steel butterfly-handled cup.
The heavy gauge stainless construction will easily handle direct fire heat. It is literally indestructible and will be around for centuries, all without adding any extra flavor to your water or cooked foods.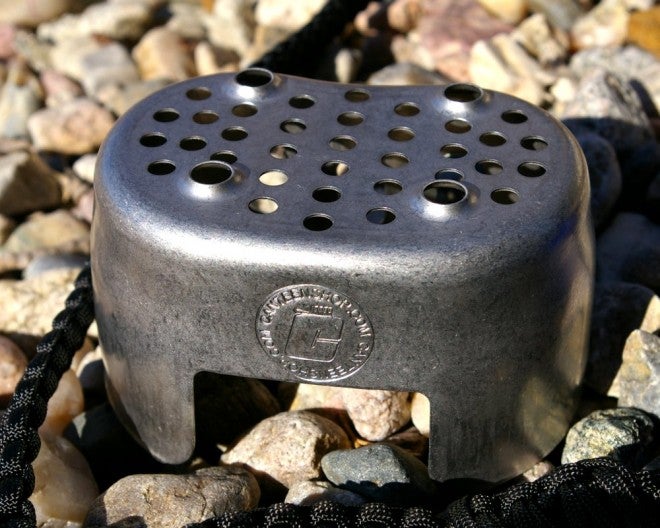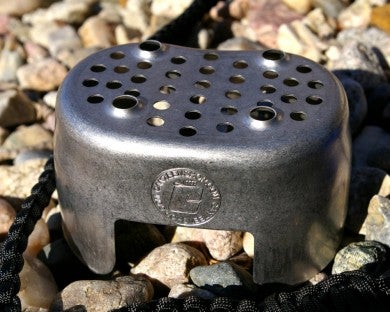 The CanteenShop Stove Stand was designed by the owner out of necessity. The original military-issue stoves are very difficult to find and had room for improvement, so the owner of CanteenShop decided he would design and manufacture a GI compatible update. The CanteenShop GrillTop Stove stand is made of heavy gauge stainless steel with a "Grill Top" design that keeps your cup above the flames to maximize heat.
The stove is a multi-purpose design that can be used as a stove, grill, berry picker, strainer, small shovel, fire starting implement, lantern (with the new stainless HC lid coming out), and whatever else you can think of. It can also be used with any fuel source that will fit under the stove stand, such as alcohol, fuel tabs, or wood fuel.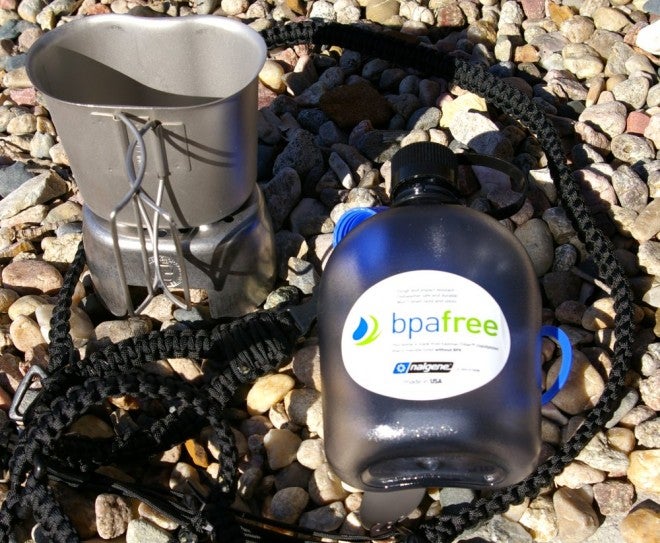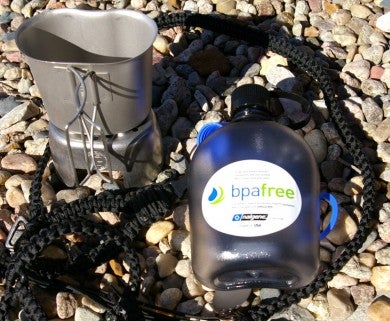 Just because you're traveling light does not not mean you need to eat like a savage, so the kit includes a Vargo titanium spork that slips securely in between the canteen and cup.
Finally, since most of use are not going to be sporting a GI belt or pack just to carry a canteen, CanteenShop gives you a simple and efficient carry solution. The Para-Cover was an idea the owner had and approached The Para-Cord Guy to bring the idea to life in a handmade product. The Para-Cover is made from Mil-Spec 550 Para-cord and provides a good looking, functional, bare bones, lightweight, and super strong carry sling. More importantly, it provides easy access to the cup and stove, unlike every other canteen cover out there which requires 5 minutes of wiggling the cup out. The paracord cover allows the storage of the stove stand, canteen cup, canteen, and spork, and provides two triangle connection points for a strap attachment.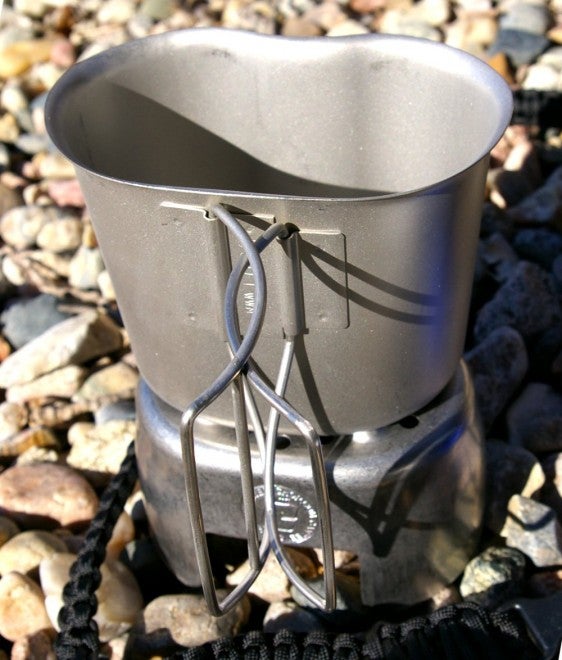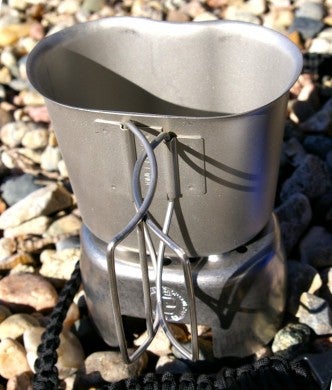 The rear strap can be used as a belt pass-through. These are handmade by The Para-Cord Guy in limited quantities. OD green, coyote brown and black are available now. The Paracord Cover also includes an adjustable chest strap, which I found a comfortable option for long hikes. Although custom colors are available on a special order basis, I stuck with the black version, which looks stylish enough that it looks at home in even urban settings and walks around the neighborhood without screaming "I am that guy". The paracord sling is made with a "cobra stitch" knotting process. A general rule is that for every inch of paracord cobra stitch, like that used to create the Para-Cover, you're actually carrying one foot of paracord. Should an emergency arise, the shoulder strap alone should deliver around 50 ft of paracord that could prove mighty handy.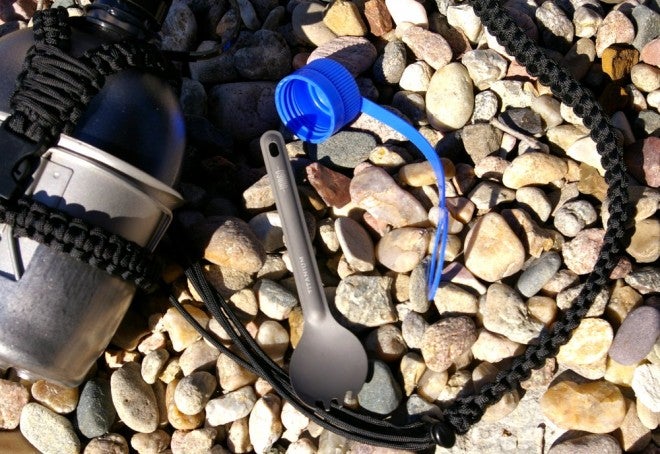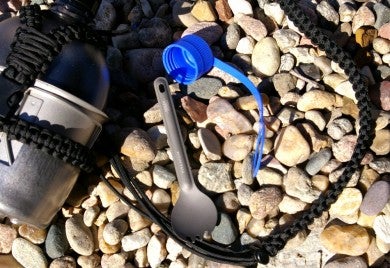 Final thoughts
The fit and workmanship of of the cup, stove, and para-cord cover are all very good, and of course the Vargo spork and nalgene bottle are both top quality. Functionally the entire setup works perfectly as advertised, but it is the stove, para-cord cover and strap, and Vargo titanium spork that transform this kit from just a canteen and cup to a multi-fuel mini-camp stove kit. With this kit you have everything you need to prepare food, eat, and boil water, all in a very lightweight and durable package. The only thing I added was a small Scotch Brite pad packed in the bottom of the stove to for general cleaning and removal of any soot before it is stored and carried.
This is a $110 kit, but it offers so much more utility and versatility than a standard cup and canteen kit. It may seem like a lot when a surplus aluminum canteen set can be had for around $20, but add up the quality components and it is definitely a high value kit.
The Canteen Shop Deluxe Kit is the king of the canteen kits, with the best of each component. It delivers a complete cooking and stove kit with about the same weight as a standard canteen and cup kit. The para-cord strip and cover transforms the Canteen Shop Deluxe kit into something useful every day, versus a specialty product just for camping. On a long day hike? Slip on this kit and you can stop and make a hot cup of coffee or tea and prepare a hot lunch instead of just having water and granola bars. If your travels take you further, the weight of this kit will not bog you down. Its lightweight, compact, and durable. Great for minimalists or the wandering outdoors-man. This is an outstanding investment for elegantly simple kit for anyone including venturing into the the all outdoors.
Specs
Weight – 1.5 lbs complete kit as tested
MSRP – $110.99 (Save $11 per kit!)
MSRP – $78.99 (Without Stove Stand)