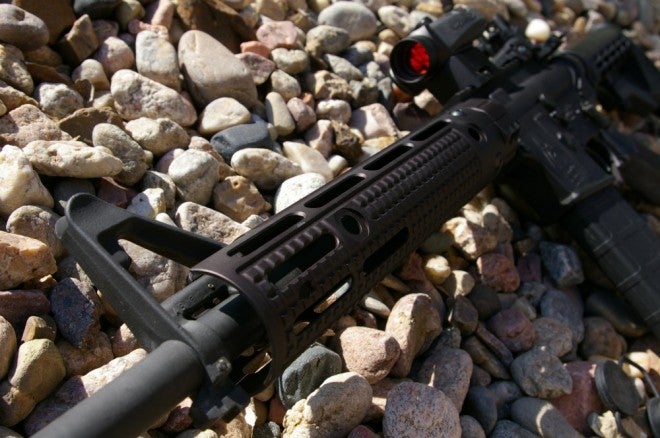 Before my recent handguard upgrade, my Spike Tactical ST-15 has been used and abused as a training and personal defense rifle. It has proven itself completely reliable with thousands of rounds, all while wearing the same original plastic handguard. A few extras have been added (such as an extended trigger guard, ambidextrous charging handle from Phase 5 Tactical, and a Vortex SPARC sight), but I recently decided that it was time to move to a free float handguard to increase extended range accuracy, improve ergonomics, add a tactical light attachment, and to give me just an extra bit of handguard real estate to work with.
This is the same upgrade situation many AR-15 owners are faced when they start out with a more stripped down model, but in many respects that is not a bad thing for a general purpose rifle. One of the more significant accuracy upgrades is to install a free float handguard to "free float" the barrel. Instead of the barrel touching the handguard, the barrel is free to resonate as it is only attached to the upper receiver. As distance increases, a free-float tube upgrade can increase the accuracy of a rifle by as much as 20%, all while improving ergonomics and providing attachment points for accessories such as my SureFire weaponlight shown below.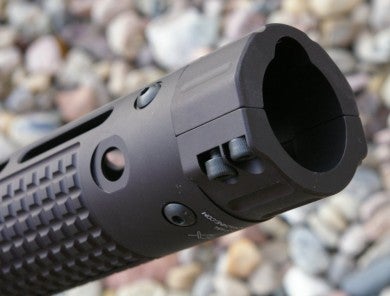 The next consideration is which aftermarket free-float forend to choose. My preference was a round, non-quad rail handguard — something different, something cool, all while potentially providing me more forend real estate without replacing my fixed front sight. My search landed me on the Apex Handguard site, which feature GatorGrip checkering on the handguard. What interested me most was the unique mid-length extended design and a great custom look.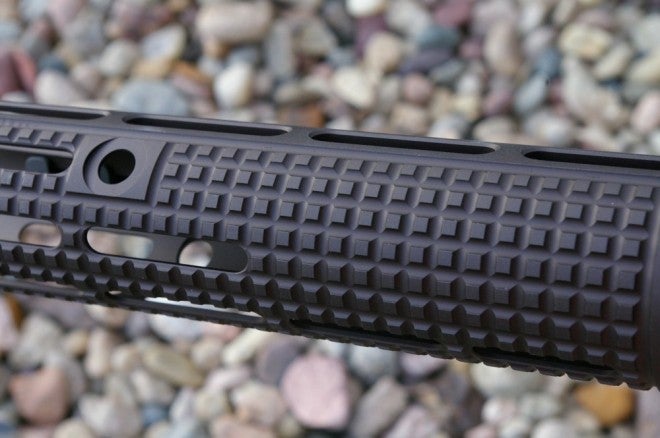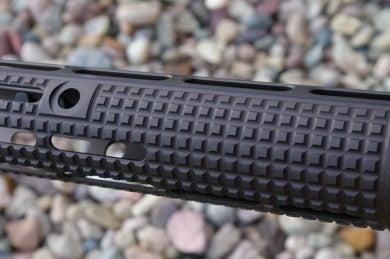 Fit, Feel, and Features
The overall fit and dark Type III hard Mil-Spec anodizing on the Apex GatorGrip Handguard is exceptional. Once assembled, the handguard is rock solid thanks to a long upper and lower barrel nut clamp, both of which add tremendous support to the free float tube. The main complaint I have with almost all quad-rail forends is that they can be rough on the hands over a long day of shooting without rail covers, but smooth forends tend to lack grip. The Apex handguard features a perfect compromise with extra coarse checkering Apex calls GatorGrip.
The slimmer Apex Handguard profile is possible due to the offset barrel nut clamp. This thinner profile, along with the GatorGrip, provides an easier to hold hand locking grip without being aggressive on the bare hand, and it improves heat dissipation to keep the handguard cooler.
At 9.4oz, this extended, mid-length rail is a very light and could save a few ounces over other similar rails I have looked at and tested, but it still feels just as beefy. It's a great feeling handguard with well thought out fit.
Most free float tubes include their own proprietary barrel nut, but the patented Apex Handguard System surrounds and clamps to the stock Mil-Spec barrel nut in a non-indexing style. A non-indexed handguard mount allows you to assure the handguard to receiver alignment is perfect even if your barrel nut is a little over or under clocked.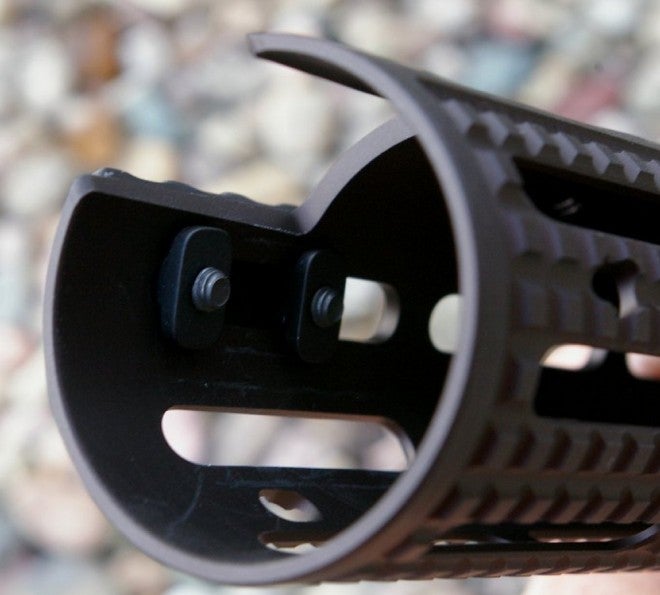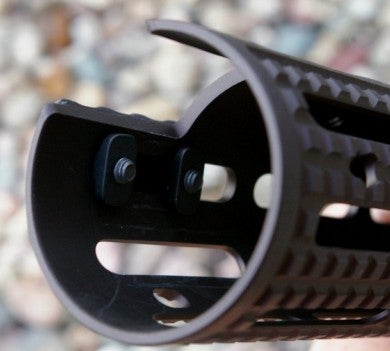 Beyond the immediately noticeable GatorGrip, the Apex Handguard System features a number of vents/slots at all the 90 and 45 degree positions. Apex has called these slots Controlled Tactical Rail Locating system (CTRL). CTRL obviously reduces weight and improves barrel cooling, but they also are designed to attach Apex's various length accessory rails. I kept things simple and only installed a 1.5" rail for a tactical light, however Apex has full top rails and other various lengths as well to equip your handguard just how you like it and shape the layout to your grip and your shooting style.
For my personal grip, I find the 9 o'clock positions just a little annoying for a finger operated tactical light, but it is better than other standard 3,6, or 9 o'clock positions. With the Apex's CTRL Hanguard System, I can bump it up a bit to the 1:30 position and still have the ability to slide the positioning of that rail forward or back in the slots before tightening everything down. It may seem like a little thing initially, but after you have been limited by other rail systems, Apex's CRTL clearly improves ergonomics.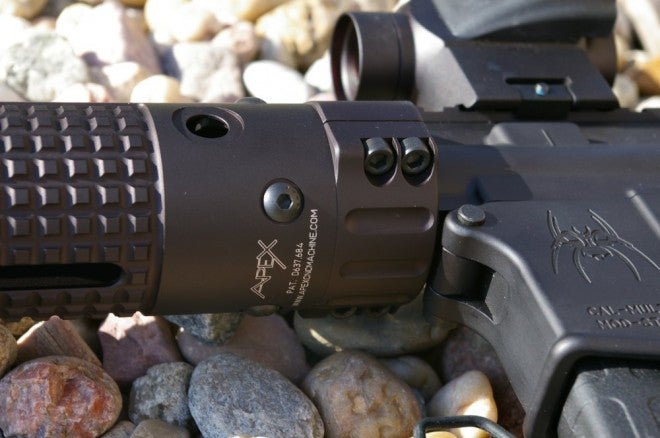 The main reason I jumped on the Apex Handguard System was the mid-length extended version. This basically pushes the handguard length out to the outside edge of the front fixed sight and provides a welcome extension of handguard room, which allows you to get your tactical light or bi-pod out of the way of your normal working space.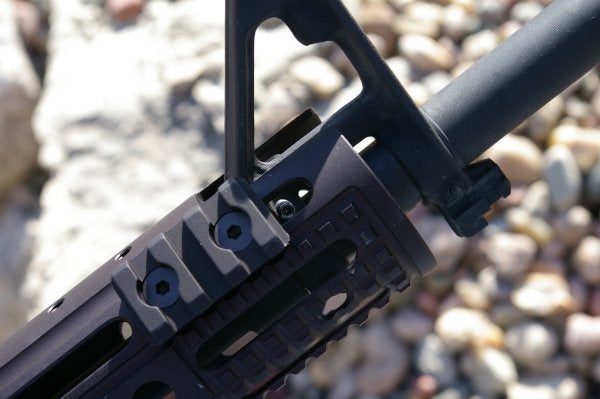 Other nice touches include specially treated machine screws, which can survive 1,000 hours of salt corrosion tests, and several hex wrenches to complete the install.
Functions
Installation was the same as any stock delta ring handguard-to-free-float tube conversion, i.e. any free-float handguard will require this installation process. Remove the stock handguard, flash hider, un-pin and remove the front sight, remove the handguard retainer, and loosen and remove the barrel nut. Once the barrel nut is removed, you need to separate the barrel nut from the spring and handguard retention parts, reinstall, and torque the barrel nut back on the barrel.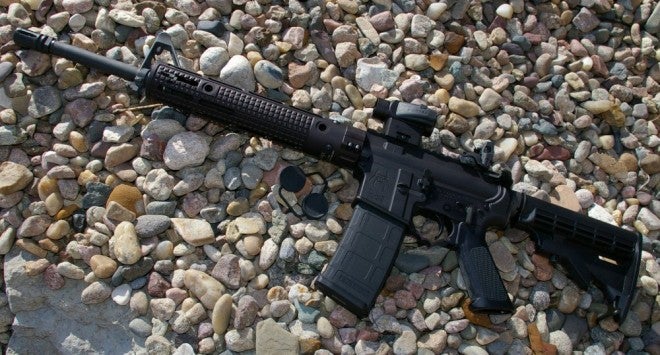 It sounds laborious, but it took me about 10 minutes to complete all of the above, including the 7 minutes of cussing and swearing while beating the taper pins out out of the front sight… always painful, but Spikes jams them in there really well. After this, the Apex handguard coupler is aligned and clamped onto the barrel nut, and the handguard is installed via four more machine screws.
As with any FSB (front sight block), the front sling mount will interfere with most freefloat handguards. I chopped mine with a Dremel cutoff tool and reblued it with Casey's gun bluing (if you scratch and modify things, this is handy stuff). After test fitting you'll also notice that there are access holes on the handgaurd to redrive the FSB pins. Removing the handguard screws and slipping the handguard forward just a bit allowed me perfect access to drive the final taper pin in, then I reattached the handguard.
The Apex Handguard system also features four Quick Disconnect sling swivel mounts integrated into the handguard, so I was not to worried about losing my front sling mount. It also sheds a little weight in the process.
Once you re-install the flash hider, you're ready to go shoot.The whole process is much easier with the PRI AR Upper Vise Block, by the way. Total installation for me was around 45 minutes, including the modifications and waiting on the bluing to colorize.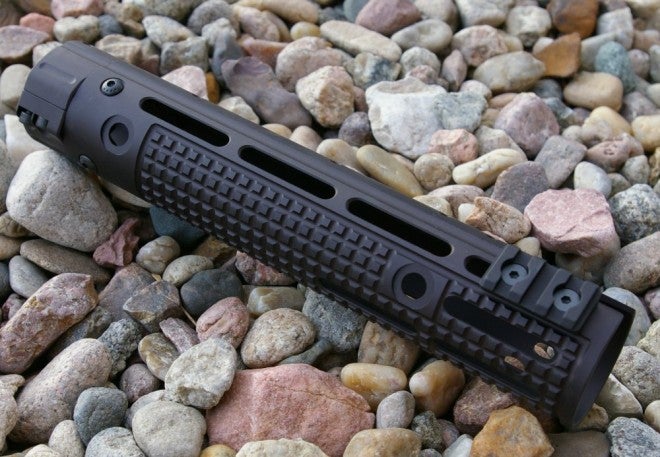 Final Thoughts
The Apex Handguard system is very unique spin on handguards. The thin profile, extended length, GatorGrip, and CTRL features all work in unison to deliver a highly flexible and comfortable forend. The look is something that screams "custom," all for around the same price as other premium AR-15 handguards.
My Spikes AR gets used quite a bit, and the Apex GatorGrip Handguard System definitely improved the overall ergonomics, shootability, and accuracy. Free float tubes are big accuracy upgrades, and as expected this Apex tube delivered more consistent accuracy shaving .25"-.5" off previous best groups. Everyone knows the standard brands of handguards, but based on my experience I would highly recommend the Apex handguard for your next AR upgrade or build. The fact that it is one of the more unique and cool looking handguards on the market is just icing on the cake.
Specs
Model: Apex GatorGrip Extended Mid-Length Handguard
Size: Extended Mid-Length
Total length: 10.375" (1.375″ longer than a mid-length handguard)
Weight: 9.4 oz.
Inside Diameter: 1.75"
Suppressor Compatibility: Max Diameter internal Clearance 1.5"
Outside Diameter: 1.970"
Optional Rails: 1.5", 2.0" & 4.0′. Up to 9" for the Top Rail
Barrel Nut: Standard Barrel Nut, not included
Finish Aluminum: MIL-SPEC hard anodized aluminum, matte finish
Finish Hardware: Coated to resist corrosion in 1000-hour salt spray tests
Included: Hand guard, clamp, hardware, Allen wrenches
MSRP: $184.00
As tested: $226.50 including 1.5" accessory rail
Made in USA