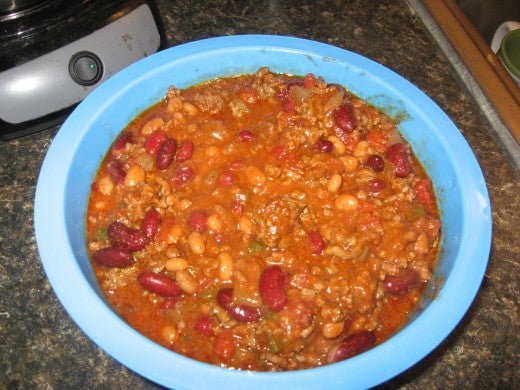 Ingredients:
2 tablespoons oil
2 pounds ground venison
1 medium onion, diced
1 green bell pepper, diced
2 jalapenos, seeded and chopped
1 teaspoon minced garlic
1 can diced tomatoes, with liquid
2 cans kidney beans, rinsed and drained
1 cup beef broth
½ cup bottled BBQ sauce
½ cup tomato sauce
2 tablespoons Worcestershire sauce
2 teaspoons Liquid Smoke
2 teaspoons chili powder
1 teaspoon paprika
1 teaspoon cayenne
1 teaspoon cumin
1 teaspoon black pepper
½ teaspoon cinnamon
Salt, to taste
Directions
Heat oil over medium heat in a large Dutch oven. Cook venison, onion, bell pepper, and jalapenos until meat is brown and veggies are tender. Add garlic and cook for one minute more. Add remaining ingredients and bring pot to a slow boil. Simmer for 30 minutes, uncovered, or until chili reaches desired consistency.
Serve venison chili with crackers, cornbread, or crusty wheat bread. Top with sour cream and grated cheese, if desired.
Tips
If you're grinding the venison yourself, cube the meat and chill it first.
If chili gets too thick, add more beef broth or water.