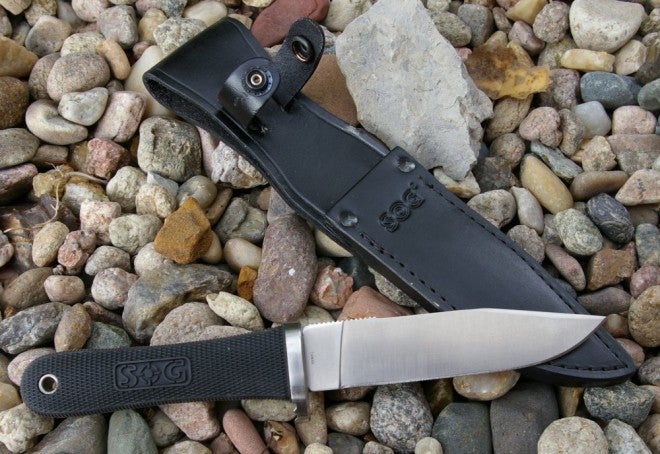 SOG was originally founded in 1986 in order to release a commemorative SOG knife. Today, SOG Knives is a well respected quality knife and multi-tool manufacturer, offering both premium and affordable cutlery options. Recently, I was specifically looking for an all purpose, full-sized fixed blade knife that was lightweight, and the SOG NW Ranger caught my eye.
The AUS8 stainless blade is subtly brushed for a non-glare finish, and matches up to the finger guard and Kraton handle. I am a big fan of plastic sheaths, but the nicely made black leather sheath is up to the task of comfortably, securely, and conveniently carrying the NW Ranger in standard position off the belt.
The knife is not a heavy knife — in fact it is pretty light when compared to other knives. SOG has beefier knives, but the .150" blade thickness and resulting 6.2oz weight of this knife would be appreciated by those that want to keep ounces packed to a minimum but still get full functionality (except for heavy-duty prying and batoning). It is tough to find a high quality, lighter weight fixed blade knife. Usually they are either junk or they feature standard thicker blades that make the knife heavier. Typically, the compromise is a shorter 4" blade. The SOG NW Ranger fills this void in the market uniquely. The handle is comfortable for long-term use, and the finger guard has two grooves that ensure the fingers do not accidentally slip onto the blade.
The SOG NW Ranger features a 5.2" blade, a Kraton handle that provides plenty of sure grip, and a full tang construction. The handle is locked in place with a hollow stud that forms a lanyard hole large enough to easily accept paracord. With all the high tech steels out there, we sometimes forget that some of the old standards like AUS8 used on the NW Ranger are great steels and provide good edge retention and corrosion resistance. Of course, AUS8 will not perform like a cutlery super-steel knife will, but it sharpens easily, has a fairly high strength, is easy to maintain, and (most importantly) results in an affordable knife. The finger choil provides just enough room to choke up on the blade for detail work, and the jimping on the back of the blade does provide extra grip for your thumb on heavy duty cutting chores.
Testing included some basic fire building and bush-craft tasks, as well as a variety of duties around the house. One of my favorite tests is to use a knife to cook dinner and bone out a whole chicken. This is a highly relevant test, because if a knife design will not make it through a night of cooking food in the luxuries of home, cooking at camp or in a survival situation will suck. The blade shape made the food prep for our bone in Herbes de Provence Chicken and broiled broccoli with Parmesan and bacon event-less. Definitely a good standard blade design.
Final Thoughts
The Sog NW Ranger will not compete with the high end knives in the $100+ range, but it's a great value for a lightweight camping, hiking, and trail knife. The SOG NW Ranger is what I would term a lightweight, all-purpose fixed blade knife. It's not going to take the abuse of a heavier weight knife, but it holds a very nice edge and does it well enough for a street priced $48 knife.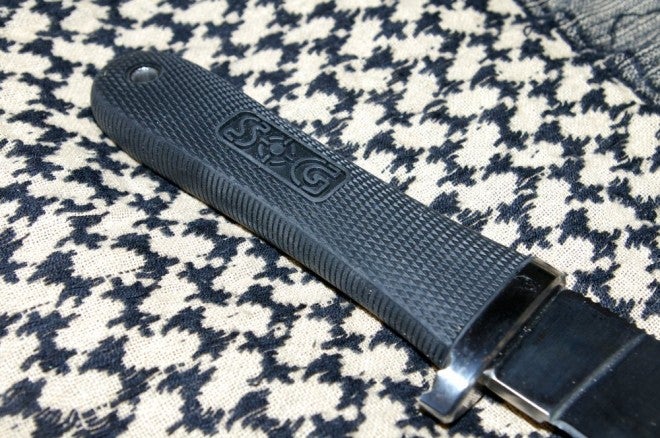 Specs
Blade Length: 5.2″ x .150″
Overall Length: 9.925″
Weight: 6.2 oz.
Edge: Straight
Steel AUS 8
HRC 57-58
Handle: Kraton
Finish: Satin
Sheath: Leather
Made in Taiwan
MSRP: $98.50
Street: $60.00
SHOP NOW