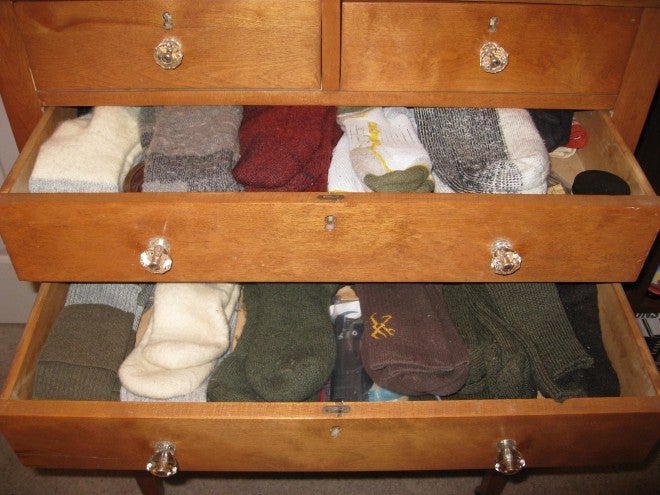 I get chuckles from my northern friends that laugh about what we call winter. A fellow outdoor writer from New Hampshire joined a group of us on a deer hunt last December in North Mississippi. It rained, blew, got down below only 40 degrees, and rained some more. The humidity hovered around 80 percent. On day two he was yelling "uncle" and we all got a good laugh back.
It may not snow two feet here, but you add 10 miles an hour of northern wind onto a temperature less than 50 degrees then factor in a bit of rain, and it is just plain ole cold. And when the conditions are damp and cold, then socks are going to be the difference between a good hunt and total misery.
Toes are at the end of the pipeline of blood circulation. By the time blood vessels reach the toes, they are small in size and only transporting a small volume of blood as compared to other parts in the body. Thus they are far more vulnerable to cold saturation.
Socks are socks. If you've seen one, you've seen them all, right? Hardly. Socks have to fit right first of all. They are sold by foot or shoe size, often in a range to accommodate different foot sizes like men's 9-12. Try to buy socks that fit right in both the toes and the heels. Excess material tends to bunch up in hunting boots. This can cause additional moisture to collect, contributing to colder feet. This can also lead to blisters, which you should avoid at all costs.
For me, cotton socks have a warmth factor of zero. They are comfortable only until your feet sweat inside the boots, then feet go directly to frozen if it is a cold day. Now, I will wear thick cotton socks and lighter boots on days when it is 50+ degrees out.
There are some other cotton-synthetic blends out on the market that might perform a little better than pure cotton, but not much. Nylon is added to sock material for strength and wear, but not to add warmth. Rayon is in this category, too. Silk does make a good liner sock which adds comfort and some extra warmth.
Some specialty socks can have added insulating materials like Thinsulate ®, but these are unique special application socks. If they work for you, then fine. I know duck hunters and trappers that wear them inside waders.
I am highly biased in this regard, but I think there is only one material of which a true hunting sock should be made: wool. For hunting in the cold, wool is it. Despite all the scientifically and chemically invented synthetic fabric materials in the world, the refined threads of a lamb's hair are still the very best insulator. Wool does it all where everything else fails.
Wool is the only material of which I am aware that can help retain body heat even when wet. So, even on long treks inside insulated hunting boots on a cool day with high humidity when the feet may sweat, they should stay warm in wool socks.
Wool can be a little scratchy, but frankly, I find the tiny amount of abrasion a tad stimulating to the bottoms of my old feet. I like the feel of wool. In hunting boots they are just right. Try wool and you won't be disappointed.
Socks are an important part of the total package of dressing appropriately for hunting in cold, wet, windy and high humidity fall and winter weather days. Leave the cotton socks for basketball, shopping, or napping in the recliner. If you really want the best chance at retaining foot warmth on a hunting stand, then wrap your feet in wool.