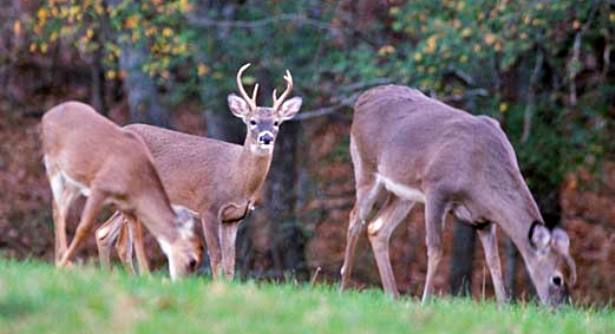 By: Posted 10-03-2013 OutdoorChannel.com in Story by Steve Bowman
Permitted use provided by: OutdoorChannel.com.
It's pretty much deer season all over the country and the collective B.S. has started.
Deer hunters know what I'm talking about: Every racked buck seen and missed was the biggest ever, every excuse in the book for missing has been laid out, and every tall tale imaginable has been spilled out around a camp fire.
In some ways those are the things that make the season special, the spice that livens a season up. But there are other forms of B.S. that can actually detract from the season.
That list is long and infamous. I was reminded of those things last weekend when a friend shot a 7-point buck on my property. It was a deer that for a growing number of deer hunters they would have passed on. A couple more years of age and it would have been one of those really nice, possibly magnificent animals that would have made a great story around the campfire.
Understand I have a different view on deer hunting than most folks. I am one of those guys who will let a lot of bucks walk in hopes of it growing up and becoming one of those heart-pounding experiences in a future season.
There are a lot of hunters who follow that same pass. Some of them get downright pissy about it. I'm not one of those. I still see deer hunting as a personal experience. The choices you make afield should be ones you are proud to make. When you level your weapon on a deer and take the shot, it should be one that you are proud to make. Not one you make because you want to get the monkey off your back or one you will ultimately feel guilty about.
The 7-pointer I referenced is a fine example of that. In Arkansas, we have a statewide minimum three-point rule, which means an antlered buck has to have at least 3 points on one side of its antlers to be legal. It's a regulation that has done wonders for the deer herd, but actually done more for the hunters in the state in terms of giving them a better experience in the deer woods.
That said the 7-pointer was a legal deer, one in which if my friend would have been thrilled and excited to kill, I would have been thrilled and excited for him. A deer, any legal deer, that is brought to the cleaning rack should improve your day. If it does that, then the season has been successful.
But here is the rub. This deer sported a main frame six-point rack, with tons of character, bordering on non-typical status that some might call gnarly. Thing is, it was a 1 ½-year-old deer. Yet when the hunter brought it to the cleaning rack, his first response was "it's a cull buck. Something we probably needed to take out of the herd."
To that: I call total B.S. In intensively managed lands where there is very little pressure and the manager is trying to achieve something with the herd, then there might actually exist something known as a cull buck.
For most of us, there are not very many examples of cull bucks running around our property. It reminds me of the years before the 3-point rule, when hunters would say, "I killed a big-old spike. Something we probably needed to take out of the herd."
For the record, it's my belief there never was such a thing as a "big, old spike." Maybe a big, young spike that could eventually grow to old age and into a really nice deer. But when one hit the ground, there was a lot of hidden guilt that accompanied the kill.
It's similar to: "I shot it. I didn't want to, but if I didn't someone else was going to."
The B.S. part comes in the form of making excuses for what you kill, by attaching a stigma to a deer that isn't right or fair to the animals we chase. Typically natural selection takes care of the "cull deer," typically age takes care of the spikes.
Understand, I'm not saying that hunter should not have shot that deer. Even though I would never shoot that deer. The issue is when you pull the trigger there are certain values that should come with the releasing of the round. If it's a deer you want to kill, then there are no excuses or feeling of quilt. You should be happy or thrilled.
If those feelings are not there, then you are missing the best part of hunting.