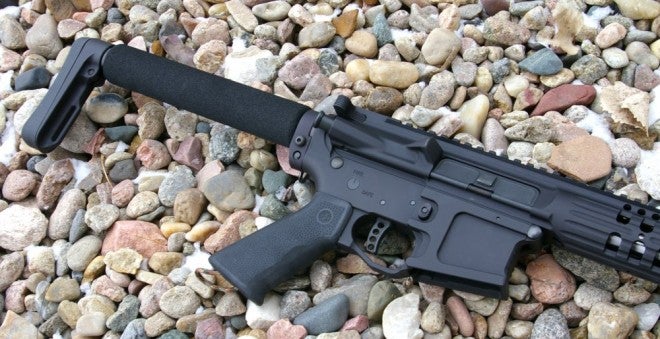 If you are looking for the ultimate lightweight AR-15, then you need lightweight components. There's only one stock which is exponentially lighter than other stocks while still being stronger than a standard 6-position stock, and that's the Ace Ultralight Stock. The Ace Ultralight is a stock extremely popular in the three-gun scene, and it's also popular with those who want to trim the fat on what have become obese rifles. A modern AR can easily sport 2-3 extra lbs of optics and do-dads.
Now part of the merged DoubleStar, J&T Distributing, and Ace firearms family, Ace dramatically increased its distribution during the merger. This means you should be seeing these stocks in all your usual gun shops in addition to online.
The Ace stocks are unique, and many would call them "Space Stocks", referencing a stock style found on world class open sight AR marksmanship rifles with prices exceeding that of your first nice car. The unique look is inevitable. As Ace developed a stock to be the lightest as possible, the stock design was stripped down to the base components of stock tube and buttpad, but there is more than meets the eye.
Typically, a standard .75" barrel profile nets an AR around 7lbs, but my goal was to be under 6.5lbs with a standard barrel profile. In this case I was able to surpass that goal with the help of a light weight Mega Machine Billet lower receiver, Mega monolithic upper receiver (now discontinued), and most importantly the Ace Ultralight stock.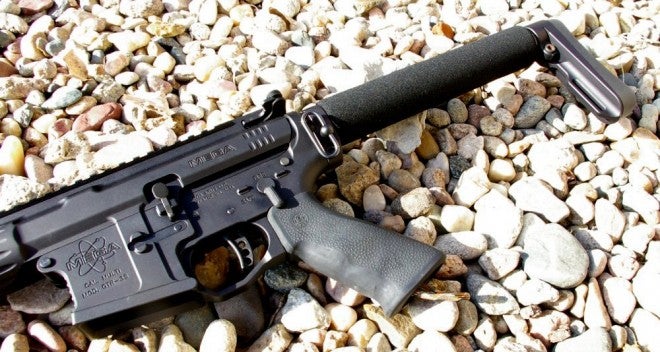 Features, Fit, and Feel
Before we start discussing fit, feel, and functions, I wanted to run through the features and options available on the Ace Ultra Light stocks. Like their original Ace Skeleton stock, the Ultra Light version is available in a "rifle" and "tactical entry" length. The rifle length version provides a 9.75" length of pull without the 1/2" buttpad attached, and the tactical entry version shortens that up about 2" to 7.625" with the 1/2" buttpad attached. The the tactical entry stock shortens down the rifle into a more compact package and provides a better fit if you are wearing body armor.
The Ace stocks are also available as the stock alone or in an "assembly" version, which includes a rifle length buffer and spring for more pleasant and reliable shooting.
Despite the fact the Ace Ultra Light Stock looks like nothing more than a stock tube with a buttpad, the tube is a very strong, thick walled aluminum tube reinforced with the 7075 billet machined primary buttpad and receiver gusset /backplate. Included accessories are a foam cheek tube cover, 1/2" reversible rubber buttpad, and single point sling swivel. The stock tube is locked to the receiver via Ace's proprietary receiver gusset/backplate, which actually adds substantial strength to a noted AR weak point at the buffer tube/receiver union.
For the 95% of us who are not loading out with 40lbs of body armor and need a shorter stock for an entry weapon, most of use our six position stocks all the way out at A2 rifle length or one position in. The Ace Ultra Light Stock with or without the 1/2" buttpad attached provides both these same lengths of pull. Tuning flexibility is limited to adding or removing the contoured ½" or optional 1" rubber buttpad or reversing the contour to fit how you shoulder a rifle. If you want an Ace stock that's adjustable, they have another model for that which is heavier. However if you want light, you have to sacrifice full adjustability. In this case I think it is a great trade while still allowing some shooter sizing adjustment.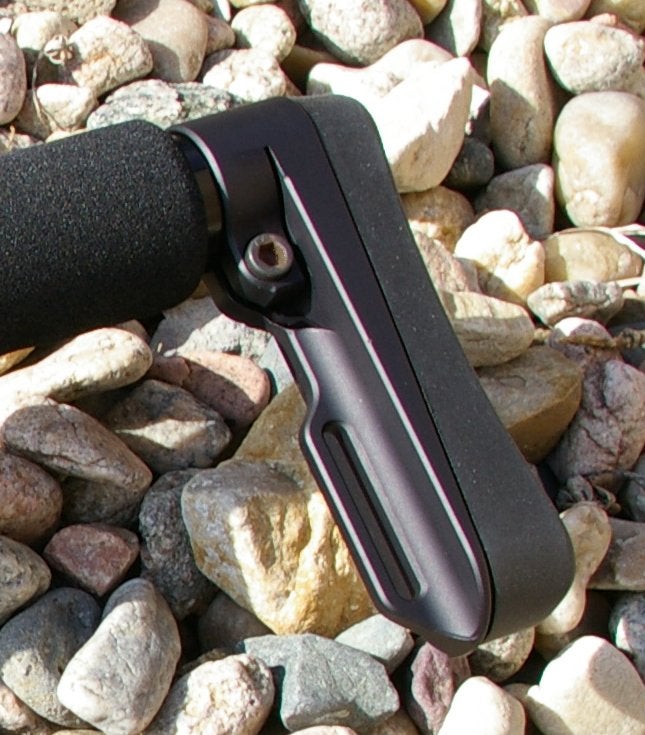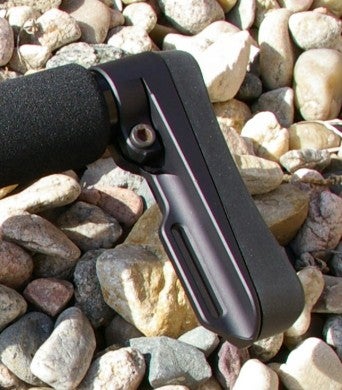 Comfort is not something you sacrifice with Ace Ultralight Stock; in fact comfort actually improves. First off, the full length rifle length buffer in the "assembly" stock kit is much more comfortable to shoot. Add it to a mid-length gas system with a good muzzle brake, and recoil feels dramatically different than a carbine length system with carbine length buffer. In fact this 6.45lb rifle shoots as smooth as a heavy weight mid-length counterpart. This makes me wonder why I ever got rid of my rifle length buffered A2 stock on my other rifles. The other comfort feature is the foam tube cover (which is quite a bit more comfortable to shoot from than any hard piece of plastic on your average stock) and replacements are available once they get old. The foam also prevents that scalding feeling on your cheek after shouldering a hot sun baked black rifle.
From a fit, finish, and quality perspective, the Ace Ultra Light Stock is top notch. It is so good, I will most likely use them in several future builds. I have not reviewed Ace's original Skeleton stock, but the Ultralight version does not feel ultra-light from a durability perspective; it was designed to handle more abuse than a standard M4 stock. Because everything locks down wiggle free, the stock provides a very solid mount for target shooting. Being rattle-free also has its advantages both on hunting and defensive rifles. I suppose I am just catching up to what all the three-gun guys knew years ago about the Ace stock — light but more solid than any adjustable stock.
Function
Install was straightforward and required the complete removal of my old DPMS tube and 6-position stock assembly.
The Ace Ultra Light Stock tube is screwed in enough to retain the buffer over-travel stop and the combo 7075 billet receiver gusset/backplate with single point mount, and the tube locker is slid on and tightened via a machine bolt. Being the cautious type, I used just a bit of removable LockTite on the tube and hex bolt to assure everything locked down, but Ace technical support indicated that the LockTite is optional.
You have the choice at this point of attaching the 1.25" QD single point sling on the left or right side, and Ace provides two machine screws to cover one or both of the stud holes just to keep things tidy. Ace recommends rubbing the tube with just a dab of oil to allow the foam cover to be slid on. Otherwise, as I found out, you cannot get it all the way on.
At the rear, the billet buttpad/plate features an integrated sling mount and is vertically aligned by hand. The really picky folks can adjust cant of the buttpad to optimize shoulder fit. I just lined mine up vertically and tightened it down with the machine bolt. At this point you have the choice of leaving the buttplate as-is or attaching the included 1/2" rubber buttpad as I did. If you need even more length, Ace has an optional 1" buttpad which will extend the length of pull to 13.8".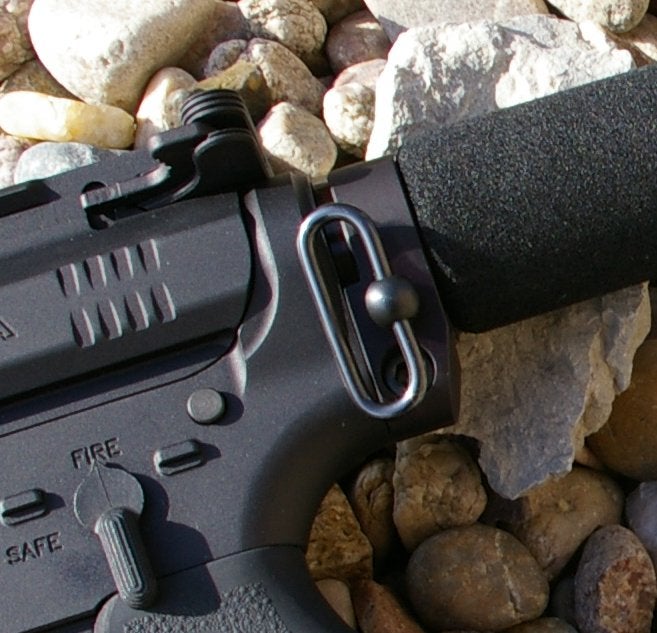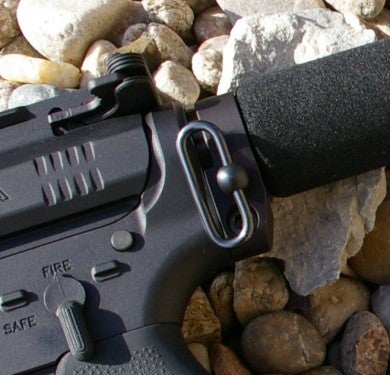 Functionally, the Ace Ultralight Stock is a great, snag-free, clean design that reduces felt recoil thanks to the rifle length buffer and single point and traditional rear sling mount points. The stock weight reduction does change the balance, but I like a barrel heavy feel, especially for offhand shooting. Not that I tested it with a timer, but the general feeling at the range was that the stock felt quicker than my old adjustable stock. Maybe this was due to the the weight reduction or to the fact that it provides a more solid feeling mount instantly. Or perhaps it was just in my head. Either way, I know I like the way the stock feels. After all, it is 9 ounces lighter than a standard AR-15 A2 stock, so it should feel lighter and faster.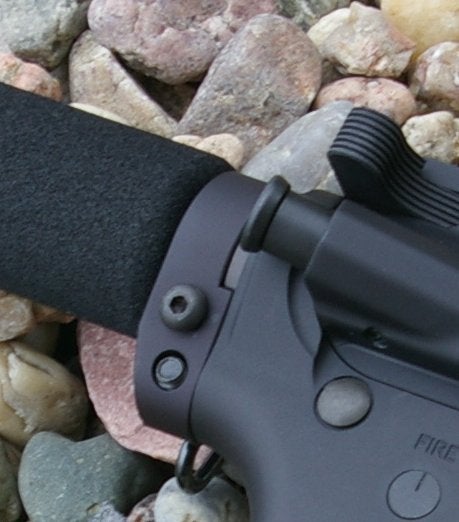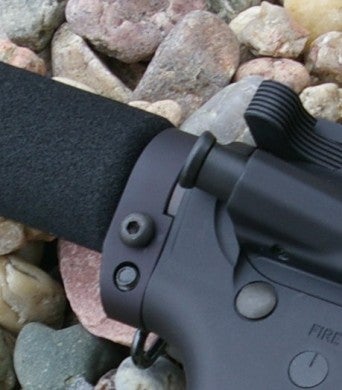 Final Thoughts
Pure and simple, I easily shaved 9 ounces off the weight of my complete lower receiver. That is a substantial weight reduction that could offset the weight of optics or simply make a trim iron sight rifle even lighter.
In this case I was able build a 6.45lb ultra-light rifle with a heavy profile barrel. More surprising was the overall shooting and comfort improvement. This is a top notch, very high quality stock which not only drops significant carried weight, but improves shooting comfort. Even the more expensive complete stock assembly kit is less than half the price of many "premium" stocks. This stock is a sleeper that more people should know about and use. If you want to loose a significant amount of weight without compromising strength, this is an outstanding option.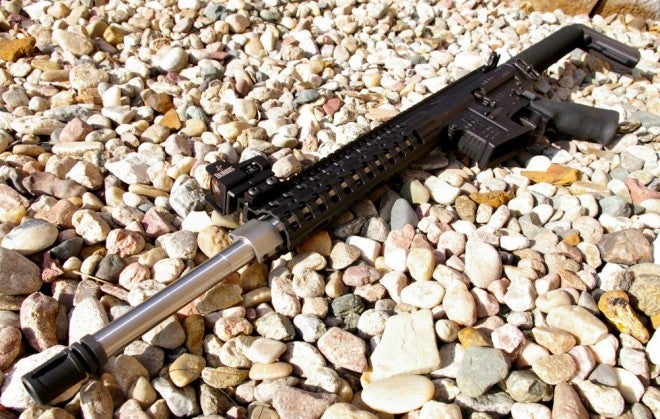 Specs
MSRP w/Buffer & Spring: $114.99
MSRP: $99.99
Weight: (Excluding Buffer & Spring) 5 OZ.
Length without butt pad: 9.75″
L.O.P. without butt pad: 12.8″
Post ban compliant
Material: Aluminum and Billet 7075
[galler]

SHOP NOW