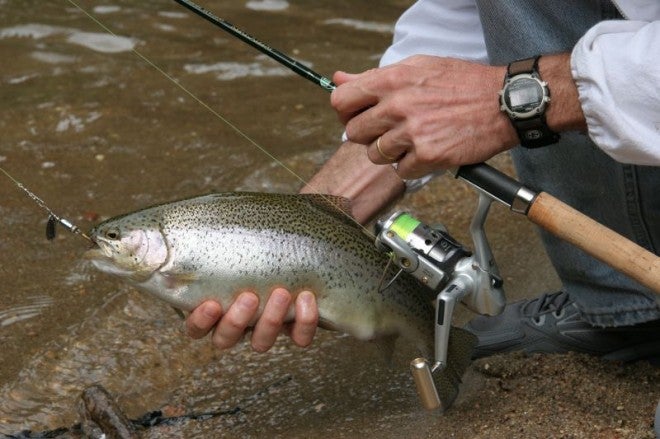 When Labor Day weekend signals the end of summer, many sportsmen have already begun preparing their shotguns and packed up the fishing tackle as visions of dove hunting replace all thoughts of trout. Big mistake!
Even as September's shorter days and cooler nights spark a summer-to-fall transition that steers us toward a hunting mindset, savvy outdoorsmen know autumn offers some of the year's best fishing. First, we have the golden opportunity to ply uncrowded waters because most folks think fishing season ended when NFL teams returned to their summer training camps. Trout streams that suffered the onslaught of springtime bank-tramplers can now be enjoyed in peaceful solitude. A lack of streamside competition allows you to take your time, study the water, and fish it carefully, and take breaks to admire the gorgeous fall scenery.
Cooling water temperatures seem to snap trout out of their dog-days lethargy; these revitalized fish, however, do not represent easy pickings. For starters, they're not the same gullible stockies you caught last April. Any planted trout that are still swimming in September have acquired the survival skills of stream-bred natives.
Unlike the rain-swollen waterways of spring, fall creeks typically run low and clear. Trout become very wary because they know shallow, transparent water makes them more susceptible to predators such as birds and mink. You'll avoid spooking fish if you tread lightly, keep a low profile, and—for those with hunting on the brain—wear camo.
Apply a subtle, cautious approach to your fishing style, too. Remember those spinners with heavy, thumping blades that really duped trout in the high water of spring? Leave 'em at home! Instead, tone down your presentation by using spinners with thin willow-leaf blades. Small (2-inch or shorter) minnow plugs also work well for fall trout. Bait fishermen should see good results with natural offerings like worms, minnows, or crickets.
Autumn ushers in a special time for fly anglers. Clear water conditions call for relatively long, light leaders cast on 4- or 6-weight outfits. While it's always possible to witness and take advantage of a late mayfly or caddis hatch, dry-fly enthusiasts would do well to focus on their terrestrial game. Carry an assortment of ant, grasshopper, and beetle imitations.
If you're working a stretch of water that shows no rising trout, it's time to do some prospecting with subsurface flies. Although the water may be clear, you don't need spot-on, perfect imitations to fool fish. All-around nymph patterns (Hare's Ear, Pheasant Tail, Zug Bug) will get bites.
When I lived in Pennsylvania, my preferred tactic for fall trout involved fishing streamers with a downstream presentation. Fearing that gaudy attractor patterns might spook trout in crystalline creeks, I chose streamers in natural, muted colors. My hands-down favorite is the Muddler Minnow, especially a variation called the Black Marabou Muddler, which has a typical Muddler head and black marabou wings over silver ribbing on the body.
Quartering your cast downstream causes the Muddler to sweep back across the current below you like a frantic baitfish. If it doesn't get slammed on the drift, twitch the streamer a few times, then let it hover and rise in the current on a tight line before you pick up for another cast.
It doesn't matter if you use bait, lures, or flies. The important thing is to get out right now and enjoy autumn trout fishing.