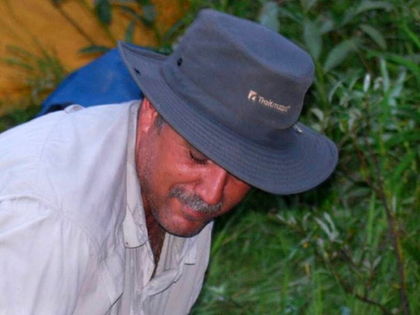 Marco Lavoie, 44-year-old outdoorsman, was rescued after months of being stranded in the Canadian wilderness. When Quebec police rescued him, he was suffering from hypothermia, dehydration, and starvation.
From Gawker.com:
44-year-old Marco Lavoie had gone into the woods for a two-month canoeing trip when a bear attacked his camp, only to be scared off by his german shepherd. After that, Lavoie only had his own wits to keep him alive. And his dog.

"In these parts, there's a subculture of people who go on these long trips into the middle of nowhere, but sometimes we forgot how dangerous it can be," Gerald Lemoine, mayor of a small town near where they found Lavoie, told the Montreal Gazette.

A few days after the bear attack, Lavoie hit his dog with a rock and ate him.

"He survived because he made good decisions. Eating his dog was one of them," Andre Francois Bourbeau, a survival expert, told The Toronto Sun.
Marco was not injured, but the bear attack left him without survival tools or resources to hunt for his own food. This left him with no choice but to eat his own dog, who actually saved his life. Would you have done the same?