In this installment of the AllOutdoor.com Holiday Gift Guide, we have a selection of fishing gear recommendations from our staff. These are all items that our staffers use, and we're excited to share them with you. Hopefully, you'll find something on this list that can bring some Christmas cheer to the fisherman (or woman) in your life.
Rapala Tool Combo Pack 6P136C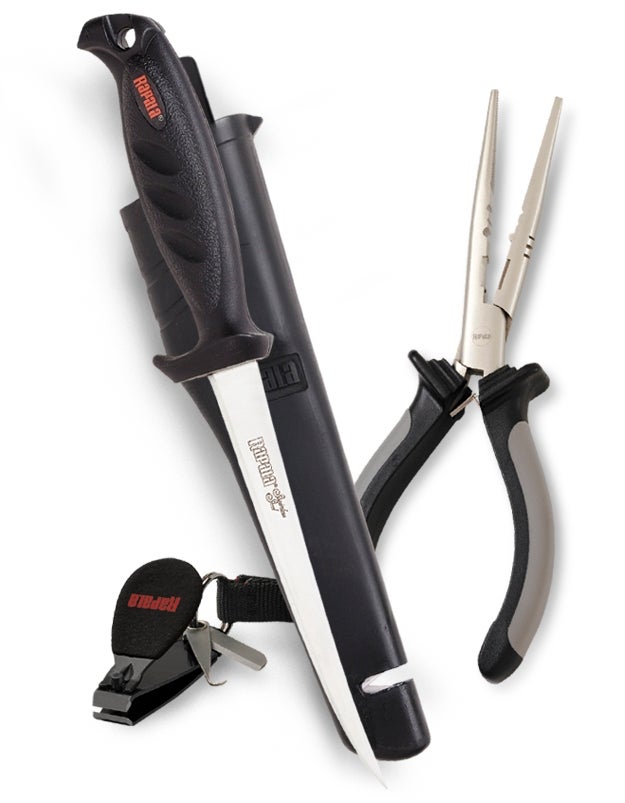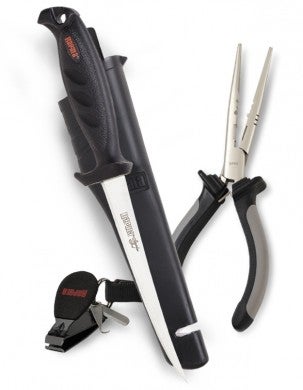 For just $21.99, Rapala brings together three of its most useful tools in a Combo Pack that are sure to please any angler. Your favorite fisherman will enjoy Christmas for many seasons to come as he uses these practical gifts on every outing.
The Rapala Tool Combo Pack 6P136C contains line clippers, pliers, and a fillet knife. The Rapala Fishing Clipper far outclasses the fingernail cutters that anglers always pilfer from the bathroom cabinet and hide in their tackle box. This simple but well designed tool features an oversized paddle coated with nonslip rubber, making it easy to operate even with cold, wet fingers. The Clipper also comes with a small knife blade and a line pick to help untangle nasty backlashes.
The 6 1/2-inch Fisherman's Pliers sport comfy, co-molded grips along with double leaf springs that keep the jaws slightly open and poised for action. The needle-nose profile works well for unhooking fish, tuning crankbaits, and other streamside tasks. These pliers also have special notches for crimping split shot as well as light-duty wire cutters for preparing pike and musky leaders. Nickel plating guards the pliers against corrosion.
The Falcon Fillet Knife rounds out the Combo Pack with cutting-edge technology. Its 6-inch stainless-steel blade has the right blend of size, strength, and flexibility to make quick work of cleaning everything from sunfish to salmon. When the knife begins to get dull, a few strokes on the sheath's built-in ceramic sticks will put you back in business.
Rapala Tool Combo Pack 6P136C: Click Here
Okuma Trio-40 Spinning Reel
The folks at Okuma have simplified the task of shopping for that fishing fanatic on your list, because the Trio spinning reel is sure to please any angler: novice or experienced, man, woman, or child.
This reel's hybrid design (called "Crossover Construction") settles the metal-versus-graphite debate by relying on the rigid durability of aluminum where strength is needed, and using graphite to lighten up other areas. Stress-prone parts, such as the handle and bail, boast all-aluminum toughness, while the frame and rotor employ strategically placed metal as well as graphite components. The spool features a graphite arbor and a strong, slick, aluminum lip.
Veteran fishermen will appreciate the Trio-40's versatility. Its oiled-felt drag, ample line capacity (270 yards of 8-pound mono; 170 yards of 12-pound), and 5.0:1 gearing are up to the task for freshwater favorites such as trout, bass, or walleye, not to mention light-tackle saltwater quarry like seatrout and redfish.
Lady anglers will enjoy the 11-ounce reel's ease of handling and the smooth perfomance delivered by nine ball bearings. Today's tech-savvy kids will be thrilled to have a reel that represents the leading edge of tackle technology. And the price—just $49.92 at Sportsman's Warehouse—will leave enough cash in your wallet to buy a spool of line to go with this reel as a stocking stuffer.
Click here to find the Okuma Trio-40 spinning reel at Sportsman's Warehouse.
Circle Hooks
Tired of catfish swallowing your hooks? Then maybe it is time to look at circle hooks.
Circle hooks are designed so that when a fish swallows the hook, the hook does not get caught in the throat or the stomach.
If the fish swallows the hook, the hook comes back out of its gut, then catches the fish in the corner of the mouth.  The bent tip on the circle hook prevents the hook from getting hung in the stomach.
Benefits:
Higher survival rate for undersized fish that are released.
Higher catch rate. Some studies show a lower catch rate, while others show higher. One thing is for sure: with conservation we will all have higher catch rates in the end.
Safer than J hooks for the person baiting the hook. The bent tip helps prevent people from accidentally hooking themselves.
Fish with teeth can not bite through the hook. During the winter time, I like fishing for bowfin. The problem is, bowfin have teeth. So unless I use a steel leader, the bowfin can bite right through normal fishing line. When the bowfin is caught in the side of the mouth with the hook, it is almost impossible for the fish to get free.
Disadvantage:
More expensive than normal J hooks.
Barbie and Star Wars Fishing Kits
Most of the outdoor products that we've included in our Holiday Guide are definitely for grown-ups, but the right gift can help get even small children enthused about getting outside. Fishing is an especially great activity for young children since it's not too physically demanding, and a child's sense of accomplishment after reeling one in is wonderful to behold.
Shakespeare's Barbie Purse Kit is a pretty pink rod-and-reel combo designed to appeal to the princess set, and it can be a great way to get young girls enthused about the outdoors. And for boys and girls, there's also a Star Wars themed rod-and-reel combo kit. Either of these gifts would be a fantastic way to get a child excited about getting out there and catching a big one.