Holiday Gift Guide: Knives and Tools
Jon Stokes 12.02.13

In this installment of the AllOutdoor Holiday Gift Guide, we take a look at a favorite category of ours: knives and tools. If you're a regular reader, then you know we're kind of knife-obsessed here, so read on for our top picks for the holiday season.
Leatherman Sidekick Multi Tool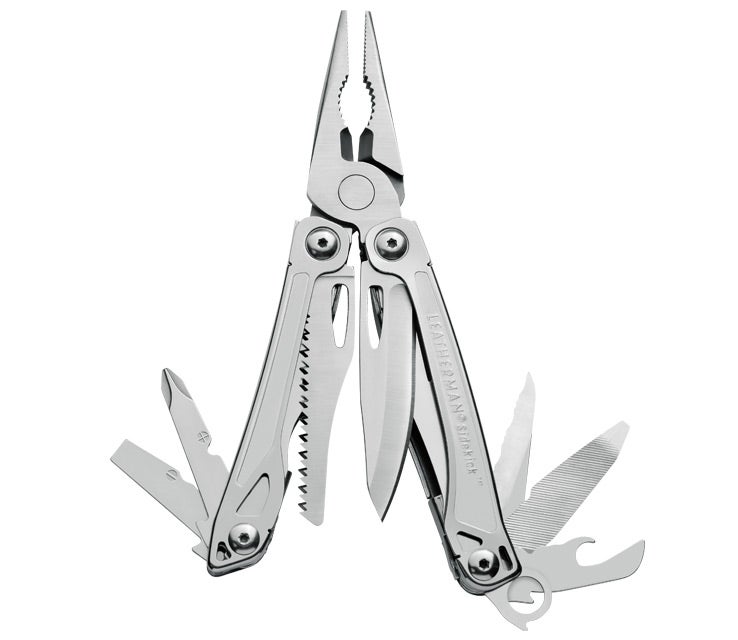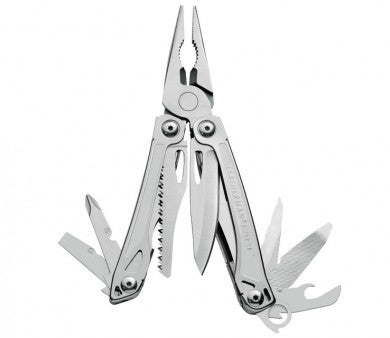 There is no better gift for the outdoorsman, handyman, and hunter than a Leatherman. Leatherman's Sidekick is a very compact and pocket friendly design with all the most used tools readily available. The design even includes a pocket clip and a one handed opening blade. Other features included are spring-action jaws, 100% US made stainless steel construction, and a 25-year warranty.
The Sidekick makes a great stocking stuffer that will be indispensable throughout the holiday season and beyond.
Ka Bar Becker Short Drop Point Fixed Blade Knife
The Ka Bar Becker is a classic, no-nonsense knife design that will well serve the outdoorsman, gardener, and hunter. The knife sports a flat ground 20 degree edge that is fast and easy to sharpen.
Ka Bar side stepped the expensive, high-end, super-hard steels in favor of proven and very easy to field sharpen 1095 Chromium Vanadium steel. Harder steels can be tough to field sharpen, but the 1095 takes an edge beautifully. The edge design is historically proven to offer utility in a wide range of tasks and perform well as a general purpose blade shape while maintaining very high strength. The package includes a hard sheath made from glass filled nylon which securely and safely retains the knife. The best part is that it is 100% made right here in the USA.
SOG Hunter Revolver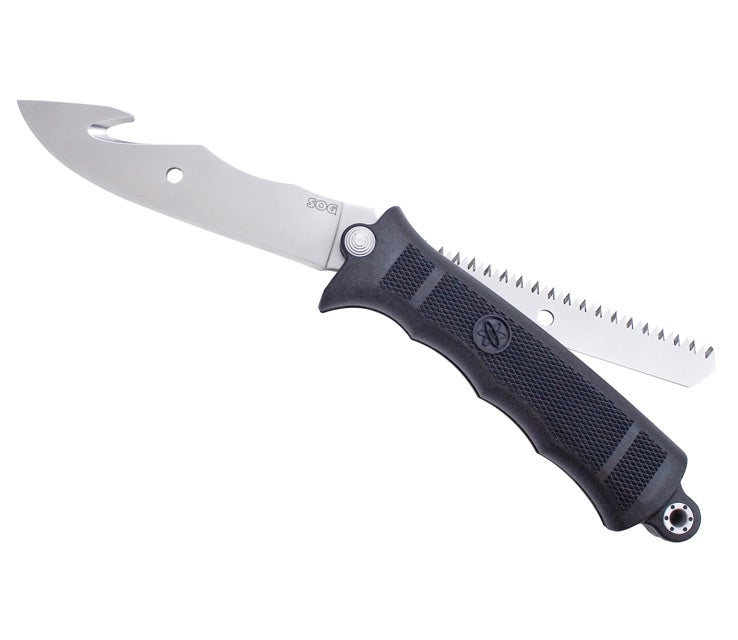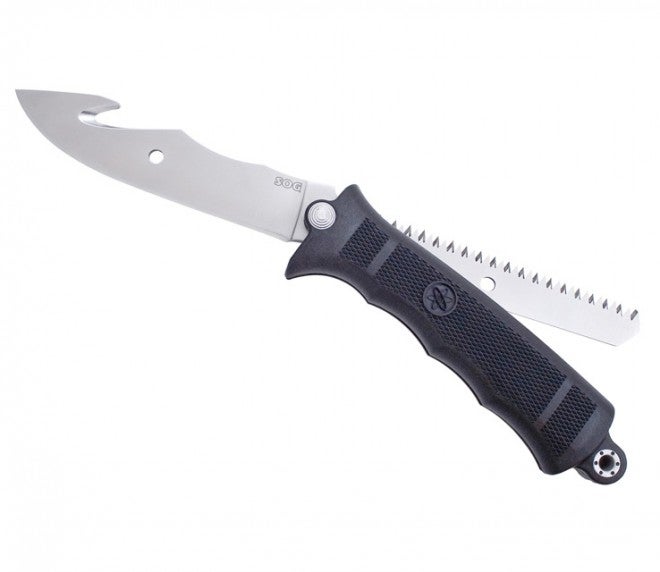 There are tons of hunting knives out there, but few that integrate as many features into a lightweight end product. The SOG Hunter Revolver has both a drop point blade with gut hook and a saw blade. With a retail price of $34.99, it's a great deal for a very versatile tool.
The SOG Hunter Revolver comes with a nice nylon sheath and stows away with the drop point blade exposed. You can easily switch to the serrated saw blade by pressing a small button on the handle. The drop point blade swivels into the handle and exposes the saw blade, which also locks into place. As with all SOG knives I've owned, this blade comes nice and sharp right out of the package. The handle is a lightweight but comfortable plastic with just the right amount of texture to improve grip without going overboard.
The saw blade is great for use while butchering deer and for cutting small tree limbs to brush in a blind or clear a shooting lane. The drop point blade and gut hook make dressing and skinning a deer quick work. What's also nice is how easily the blades switch, even when dirty and in use. I've found the Hunter Revolver to be very convenient and useful in more than just hunting situations. It great for camping and most any outdoor activity.
If there's an outdoorsman on your list that could use a nice, affordable knife with great features and an attractive price, be sure to take a look at the SOG Hunter Revolver.
Gerber Axes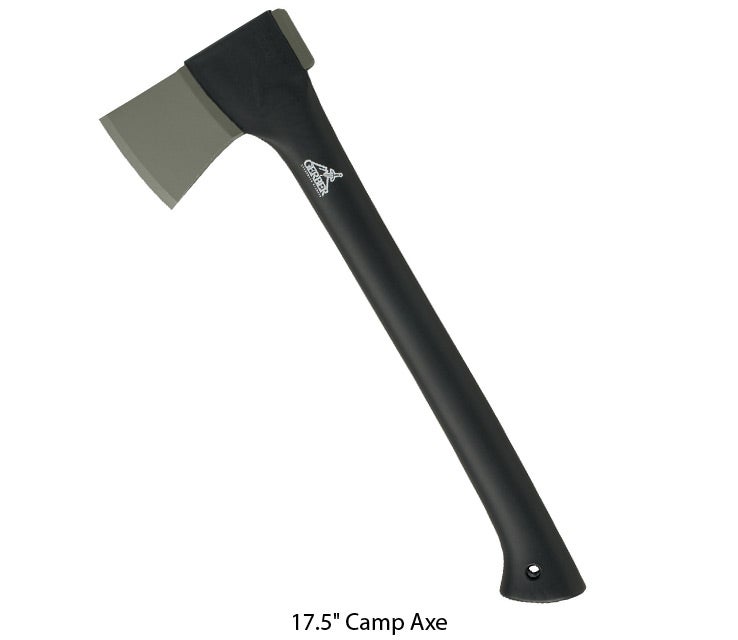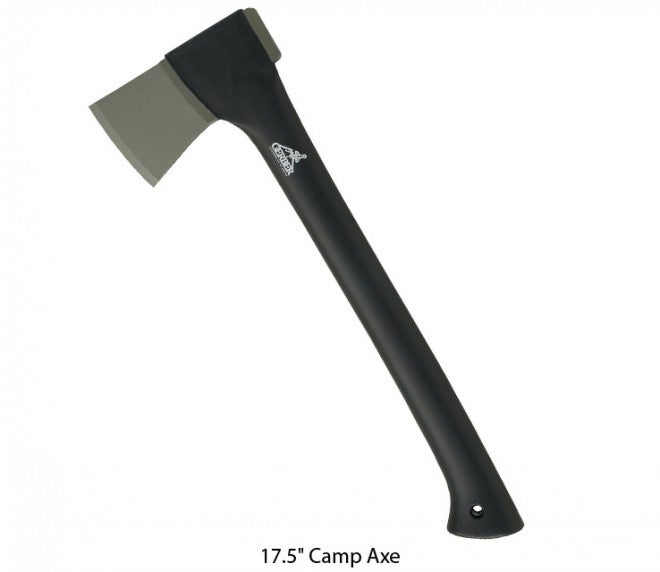 Since Gerber was purchased by Fiskars a few years ago, their products have taken something of a beating amongst true gear aficionados. But whatever you think of Gerber's current line of knives, there's no denying that the company's camp axes are extremely popular with outdoors types.
The Gerber axe family, also available under the Fiskars branding, is currently unbeatable for its combination of light weight, utility, and durability — and this doesn't even factor in their low price. Sure, you can splurge and buy a really nice wood-handled or one-piece, all-steel axe from other makers, but if
you're looking for something ultra lightweight that can stand up to serious abuse, the Gerber/Fiskars axe family is where it's at right now.