I get that this series has become a bit one-note, what with all of the Ti framelocks featured in the past two months, but I promise, this is the last one for a while. If it were not such an important release, I would have skipped it, but the Tuff Tanic is not just a knife. It's a tantalizing promise to all the tinkerers and knife knuts out there that, if you really try, you can make it big.
The Tuff Tanic is a custom titanium framelock flipper. Thus far there have been about 30 made, a few for the whales of the custom knife world–folks like Justin Laffer, Jim Skelton, and All Outdoor's Aaron Shapiro, and then a series of 8-10 for Blade HQ's custom shop. The shot above shows Aaron's Tuff Tanic.
They are medium sized knives (blade length 3.25 inches) running N690 steel. They are all one-offs, slight or significant variations on the original, made by Geoff Blauvelt. Geoff, if you don't know, is Tuff Thumbz on YouTube. He started out in his garage with a Dremel and dream (oh I went there). Now, just a few short years later, he is releasing a knife that has set the knife community ablaze.
Geoff's path to creating this epic flipper was through the world of modifying (aka pimping) knives. You'd buy a production knife, send it to Geoff with some requests for tweaks, and he'd send it back to you looking like a brand new, custom blade. It was an excellent option for folks looking to tweak their favorite production knife or for those who wanted to dip their toe in the water of the custom world but didn't quite have the cash. I had Geoff pimp out one my favorite knives, the Buck Vantage Pro Small. The results were impressive: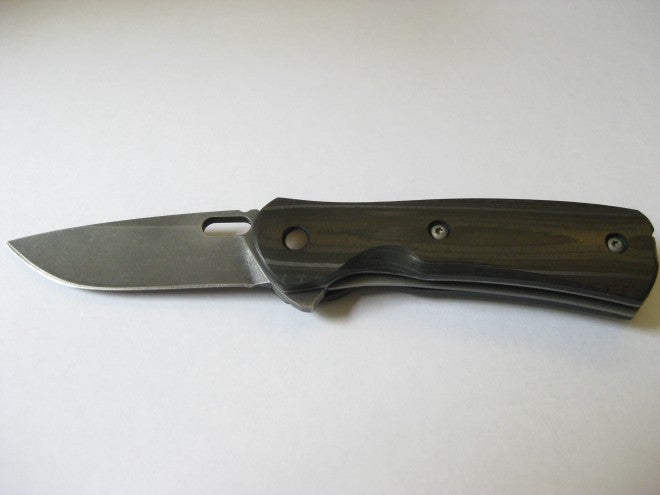 After a few years of knife modifying, Geoff built a run of custom friction folders, the Toads. They sold very well through Blade HQ. The next step was clear: it was time to making a locking folder.
Geoff's design was great, but his marketing was even better. Over the months he dripped out slow leaks. Images popped up on his Instagram feed and sneak peeks were everywhere in his videos (which are worth watching as he has both an awesome collection and hilarious commentary). Then the Tanics were finally shown to the public.
The reception has been extraordinary. Collectors with experience handling knives from the greats were impressed with Geoff's fit and finish and the ergonomics of the knife. The hype, it turns out, was warranted. The blade shape, vaguely tanto in profile, allows for two cutting edges: one for roll cuts and the other for more precision slicing. The lockbar is not just a straight piece, but a zigzag cutout that adds impressive aesthetic touches to an already unique looking blade.
The hits don't stop there, as the Tanic platform allows Geoff, a modifier in origin, to modify to his heart's content. Each Tanic is slightly different from all of the others. There are Tanics with crater patterns and Tanics with Moku Ti pieces. Some Tanics have a nice drop point blade, while others come with a scimitar-shaped Persian style blade. Even the pivots and backspacers have been tweaked. This is a custom knife that works as a platform for modification, allowing Geoff to make each knife different without having to reinvent the wheel every time.
The Tanic is a sweet blade. It is an awesome first effort from a guy who I think all knife knuts can identify with. It is also the realization of a dream, I would imagine, and to that extent its probably one of the coolest new blades on the market. Kershaw, Benchmade, Spyderco, someone–snap up this design and make a production run. This blade is too cool not to.