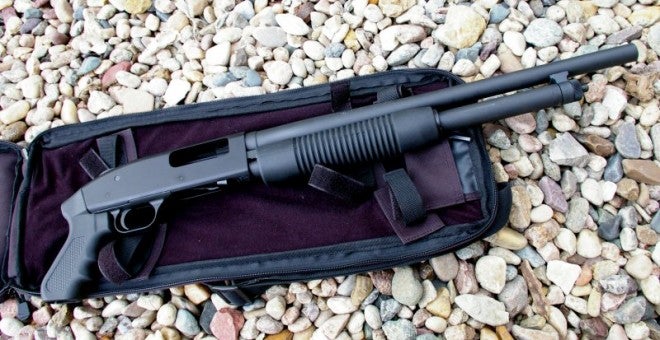 When you think of the ultimate survival gun you should think of the versatility, durability, and power of a proven 12 gauge. Behind the 12 gauge's versatility and diversity is a range of shotshells that runs the gamut from sabot'ed slugs capable of downing any North American game accurately, fletched long range defensive rounds, door breaching rounds, signal flares, heavy goose and turkey loads, light recoiling clays loads, to the standard variety of buckshot, BB, pellets, and many more.
12 gauge shot shells are also among the easiest and most forgiving rounds to reload and can even be reloaded with black powder. If you were faced with having only one gun for survival, many survival experts will tell you that a 12 gauge will serve you better than any other type of firearm.
This was the thinking behind the Mossberg JIC – Just In Case series. The series features Mossberg's 500 series shotguns originally packaged in waterproof, floating, bury-able tubes which provided protection and legal stowage. The newer JIC II series takes the concept a step further with a simple cordura pack based carry solution.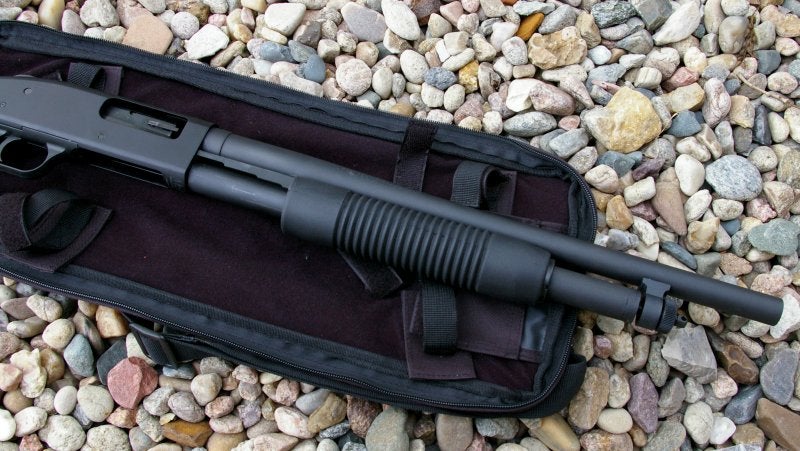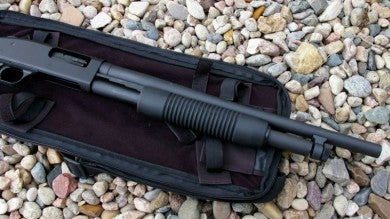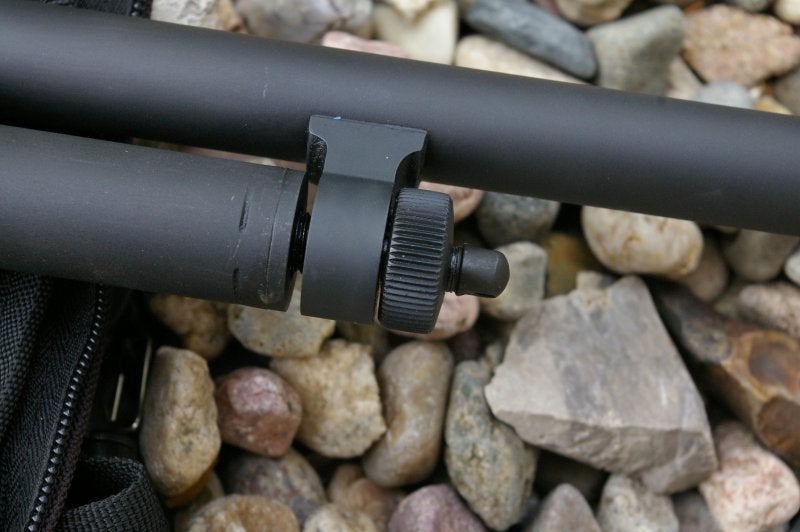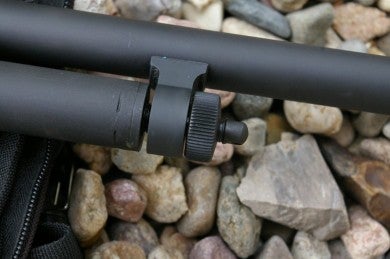 Fit and Feel
The JIC II version is packaged in a more user friendly format than the giant tubes of the previous models. Mossberg found that people loved the ready-to-shoot concept of the original JIC watertight tube, but they were also asking for a smaller, more discreet soft-cased version as well. Mossberg worked with 5.11 (one of the top tactical clothing and accessories manufacturers) to come up with a simple shotgun case design which was durable, light, and as small as possible. The result was the Cordura JIC II case made by 5.11, which holds the Mossberg 500 in disassembled state, along with assembly tools, a gun lock, and plenty of room for your ammo.
What makes this and the other JIC kits cool, convenient, and unique is a compact shotgun and storage solution wrapped into one. Generally shotguns come in a cardboard box, are stored and carried in long gun looking cases, and are fairly large and not so "packable". On the other hand, the insanely popular Mossberg 500 series Cruiser shotgun featuring a pistol grip and 18.5" barrel reduces the overall size of your average Mossberg shotgun to just under 29". This makes the shotgun lighter, smaller, and manageable. Mossberg was clever enough to package the case and Cruiser 6-shot shotgun together in a convenient, high quality package.
Features
I was a little confused when my Mossberg JIC II arrived, as it differed a bit from the pictures I ordered from and even from Mossberg's own website. The end result was that all the pictures show a model a bit different than what I received. Mossberg's picture shows an included sling and attached loop forend sling, but the received model included neither, which was a bit of a bummer.
The case itself is designed to hold the barrel, action, and pistol grip securely via Velcro straps in a disassembled state; it also provides a pocket for the takedown pistol grip bolt, washer, and hex wrench. With the case packed, it measures a very compact 22"x9"x2" which can be easily slipped under a seat, secured to a pack via the rear Velcro loops, or carried via the included case strap. The disassembled action with the pistol grip removed just barely fits in the pack, which indicates to me that Mossberg was making every effort to reduce carried size. A simple, single adjustable strap is provided to carry the case comfortably slung over a shoulder.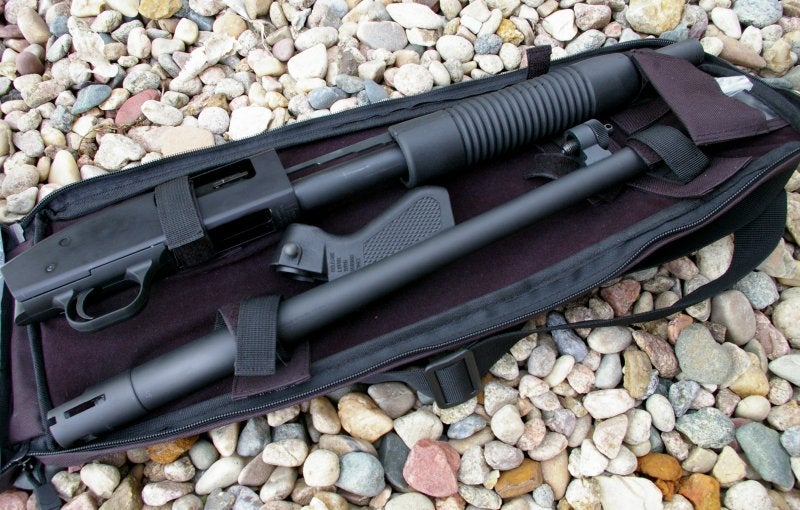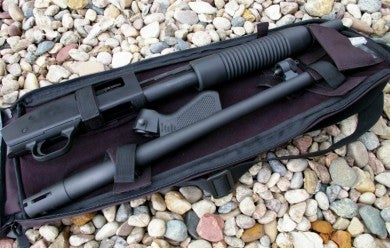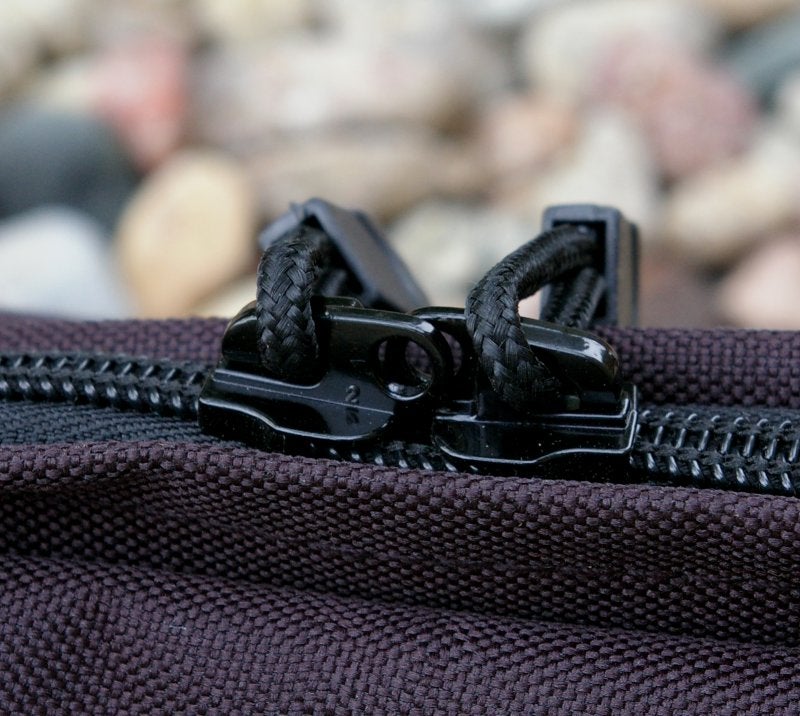 The kit includes the famous 12 Gauge Mossberg 500, which should at this point need no introduction or review. But for those that are not familiar with this slick cycling shotgun, it features twin action bars for positive functioning, 5+1 shot capacity (with 2-3/4" shells), 18.5" barrel, pistol grip, and sling swivel studs. The shotgun can handle up to 3" magnum shells if you dare, and is finished with matte phosphated finish.
This version of the 500 series cruiser is the less frilly version than some of the Blackwater or alien warlord looking versions with giant compensators that Mossberg now makes; this version is tipped only a simple bead sight.
Ergonomically, the Mossberg 500's differ from other brands with the position of the safety and slide release. The slide release is next to the thumb, versus the forward of trigger guard location, and the safety is thumb operated and tang mounted for ambidextrous use, versus being located behind the trigger guard. The receiver is made of mil-spec aluminum and features a polymer trigger guard. It may not be fancy, but the 500 series is light, simple to use, and is a proven design which just works every single time.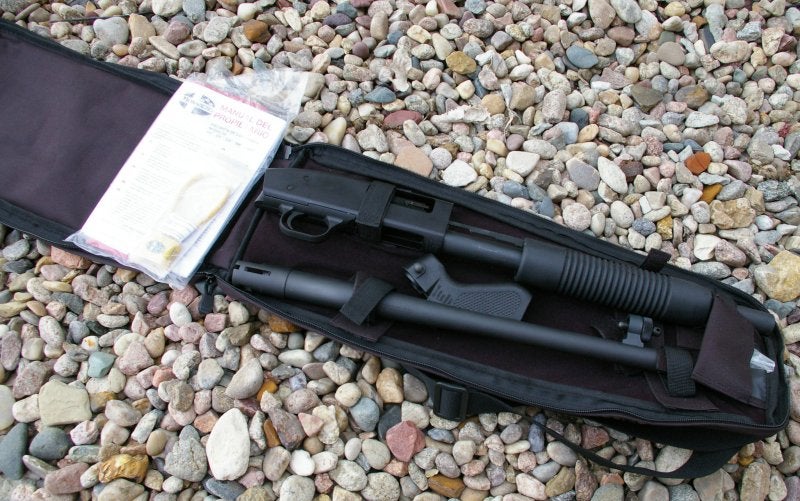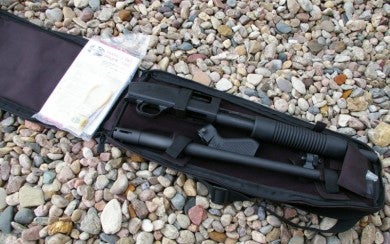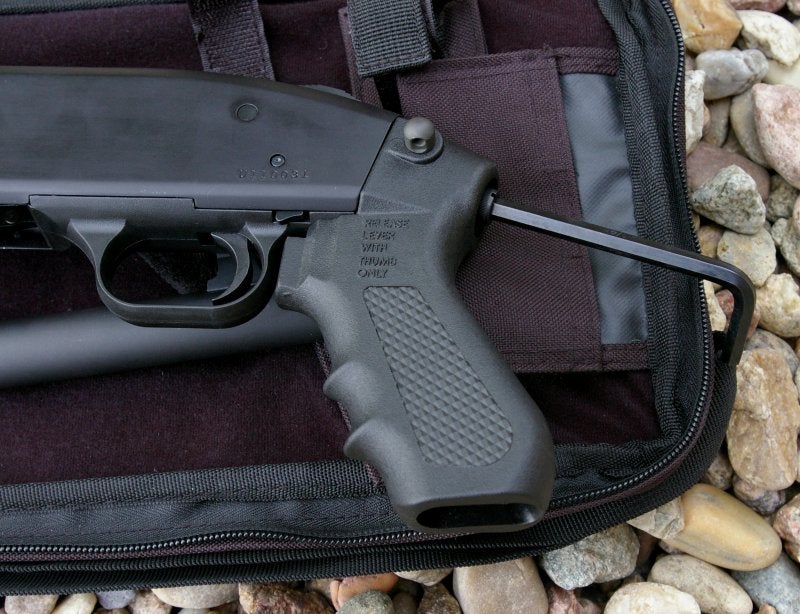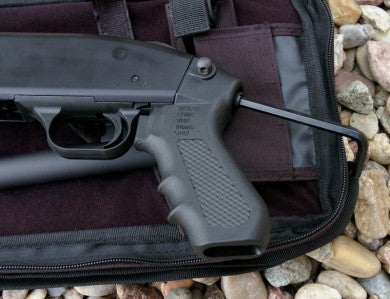 Functions
Assembly is pretty quick and very simple. Unzip the full length, lockable zippers to fully open the case, un-Velcro the receiver, barrel and pistol grip, and remove the grip's bolt, washer, and hex wrench from the little internal pocket. Press the slide release, move the action to half open, insert the barrel and then tighten the thumbscrew about seven turns until tight to secure the barrel. Install the pistol grip with the included bolt, washer, and hex wrench, and the shotgun is ready to shoot. In total, you can have the entire shotgun together in about a minute.


Pump shotguns all work about the same way: load shells by pushing them into the magazine, press the slide release, rack the action to chamber the first round and release the safety if necessary to shoot. Once a round is fired, the slide action automatically unlocks and the shooter can rack the action again to shoot again and again. It could not be more simple, and I am sure most trained monkeys could operate a 12 gauge pump shotgun, which is one reason it is the ultimate survival firearm for many.
The pistol grip version has its sizing, maneuverability, and weight advantages, and the pistol grip even mitigates a fair amount of recoil. The downside is that the pistol grip does take a little practice for accurate shots while managing the recoil at eye level. Shooters need to assure a safe recoil zone is maintained for eye level shooting or you may find the backside of your fist smacking you in the face.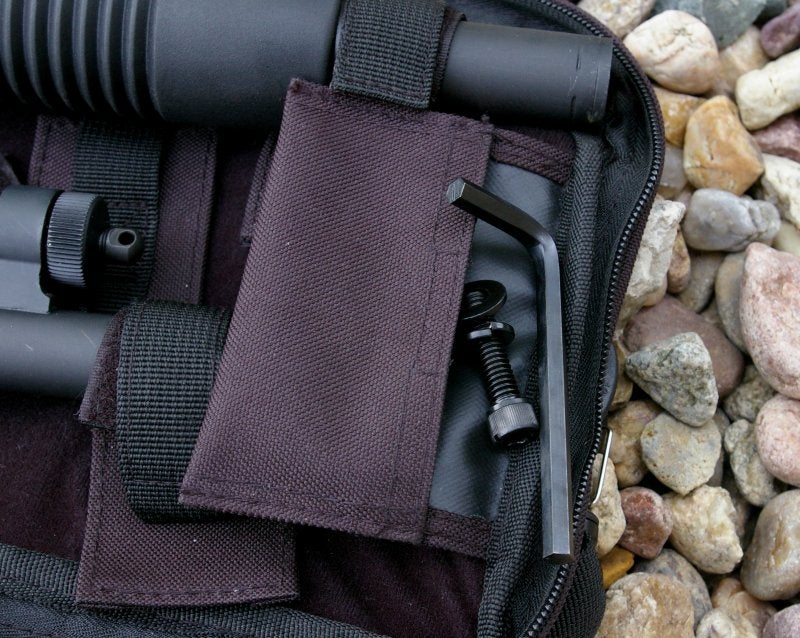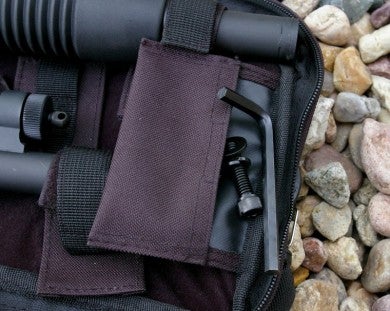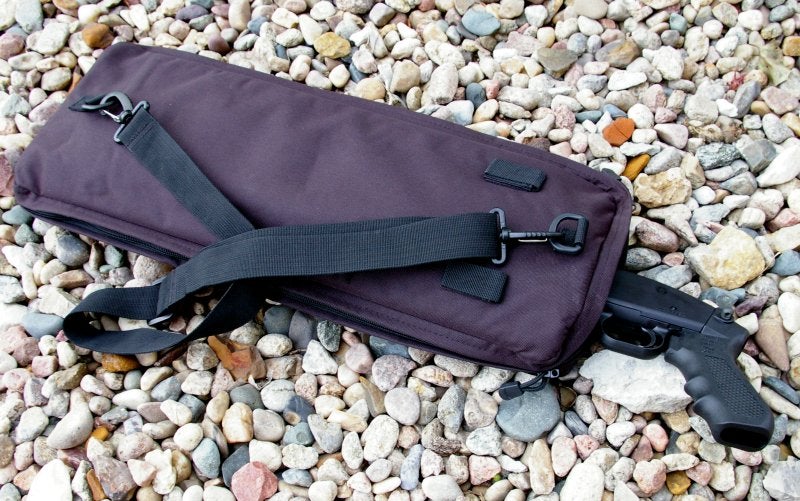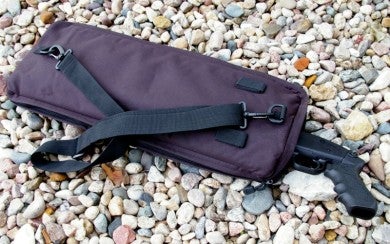 Hot buckshot and slug rounds do generate a fair amount of recoil, but shooting the JIC II Cruiser shotgun was manageable for both hip and line of sight shooting. For new shooters, shotgun recoil takes a while to adjust to.
I was pretty impressed that, even with Hornady Zombie Max 00 Buckshot loads at 25 yards, I was able to easily destroy a 20oz Coke bottle with eye level shots over and over again. These rounds usually group in the 2-3" range at that distance, so a fair amount of accuracy was required. Turkey loads make it easy to hit just about anything at 25 yards with the Improved Cylinder choke of this barrel. My prefered shooting grip was a solid two hand pistol grip when shooting for accuracy off hand. For less stationary defensive shots, I used a pushing forend grip and pulling trigger hand grip to manage recoil.
Dropping the shotgun down on the bench, I found it pretty easy to keep all my slugs in a 2"-3" circle at 25-yards, but to be honest, after 6-rounds of slugs I decided that I was done with that experiment as slugs are always a bit brutal to shoot in any pistol gripped pump action shotgun.
Final Thoughts
Thankfully Mossberg did not adorn the JIC II case with the household name of "Mossberg." Otherwise it would be obvious what the case carried. The prominent JIC II logo can be clandestinely recolored with a black sharpie or by removing the stitching for those who require a more subdued case look.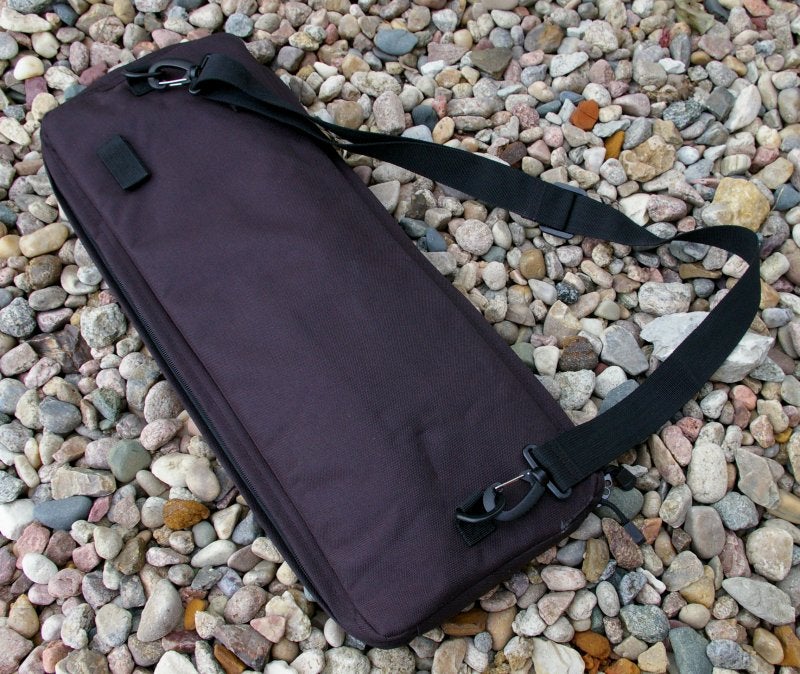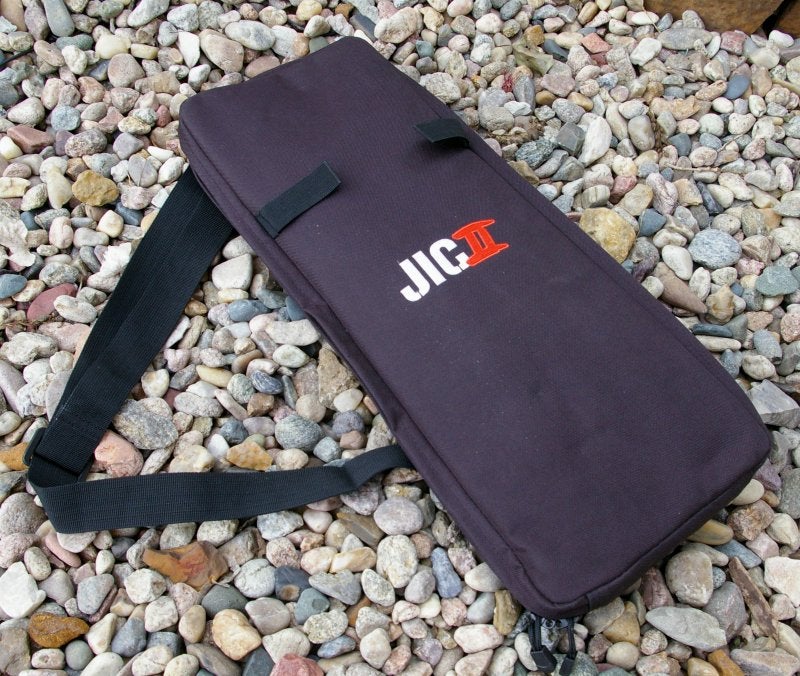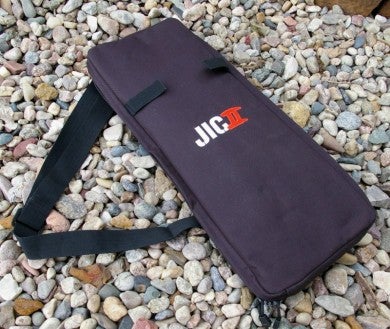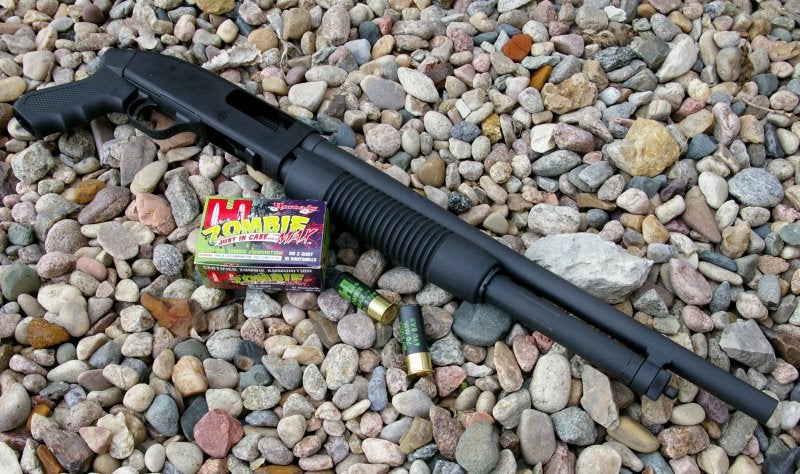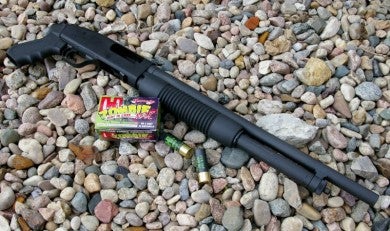 I was a little disappointed that the JIC II did not come with the sling and looped forend strap as pictured, because at the very least a buyer will need to pick up a sling for safe carry of the shotgun. If I had a wish list, I would want some type of open top pocket in or on the case which could be used as a scabbard for the shotgun in assembled state, and a flip up case extension which would allow the shotgun to be carried cased in fully assembled state. This is a handy shotgun which could easily pull home defense duty at night and get tossed into the trunk during a trip, "Just in Case", and it would be nice to not need to fully disassemble the shotgun every time.
Regardless of those wants, this is a compact little kit that goes together quickly and takes up very little room; it provided all the functionality of the well refined and time tested Mossberg 500 action. Slip a 50-round shot shell bandolier sling into the case with a variety of buckshot, slug, bird shot, flare, and BB rounds and you can cover about any need which may arise.
The 12 gauge shotgun is the ultimate survival firearm, great for home defense and hunting, and for $350 or less on the street, the shotgun remains one of the best deals in all of firearms. The JIC II kit just makes it that much easier to take a great shotgun along, you know… "Just in Case".
SPECS
Gun lock
Swivel studs: Yes
Manual: Yes
Model: 55340
Stock: Synthetic Pistol Grip
Forend: Synthetic Ribbed Forend
Safety: Ambidextrous, thumb-operated safety
Finish: Matte Black
Action: Twin action bars
Gauge: 12 – 3″
Capacity: 6 rounds
Barrel: 18 1/2″
Sight: Front bead
Choke: Cyl. bore
Total Length: 28 3/4″
Case: Custom 5.11 Cordura Case with shoulder strap
MSRP: $450
Street: $350