Smith & Wesson never does any category half way, and the M&P (Military & Police) line has been a huge hit for the gunmaker. At the core of the line are the S&W M&P15 rifles. which provide an array of configurations to buyers. One of the big values I've discovered in the Smith & Wesson line is the M&P15 Sport.
Fit, Finish, and Feel
Smith & Wesson has done a great job avoiding a "me too" AR lineup by using their own forgings and making almost every part in house. The end result of those design updates and in-house manufacturing attention to detail is a tight upper to lower receiver fit and a great, consistent finish across all the rifle parts. The Melonite coating prevents corrosion on the barrel and also provides a really nice finish that makes the rifle look a lot more expensive that it is. Generally quality suffers for value rifles at this gun's $600 street price, but this is the first "inexpensive" AR I have shot that is not a rattle trap and definitely feels like a more expensive rifle.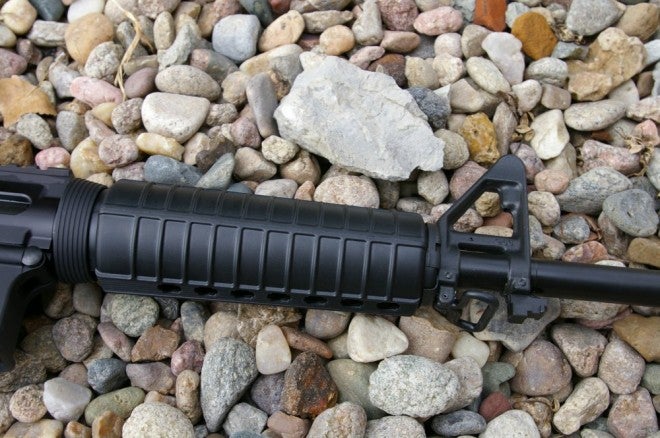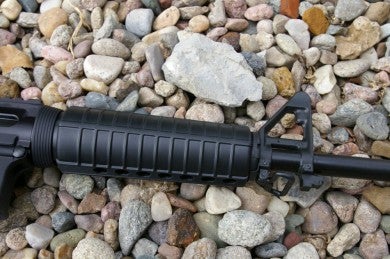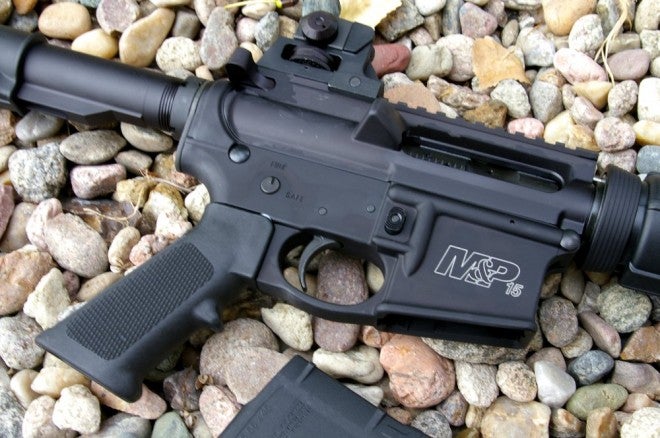 Features
The S&W M&P15 Sport has the features of any basic AR-15 plus a few key upgrades minus the rarely used forward assist. Personally, I have yet to have the need for forward assist. If I have a round that does not chamber, I simply re-chamber another round.
The rifle includes a 30-round PMAG magazine, 6-position telescoping stock, chrome-lined gas key and bolt carrier, T-markings on the top picatinny receiver, proper staking of the castle nut and gas key, and adjustable front sight. Also, on the new model you will get a rear folding Magpul MBUS sight. My older version had a detachable fixed rear sight.
One of the more distinctive features of the lower forged receiver is the integrated enlarged winter trigger guard, a nice upgrade.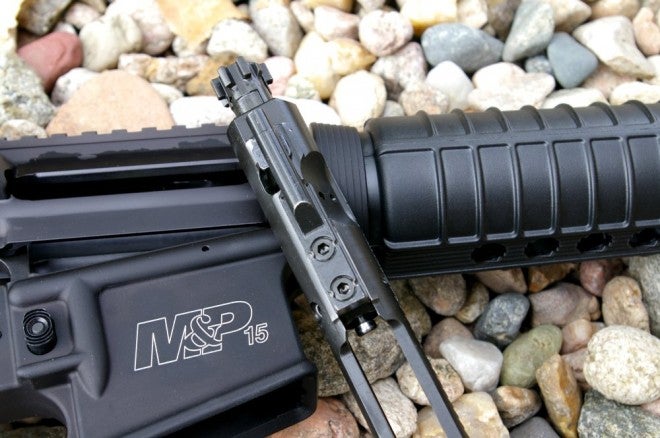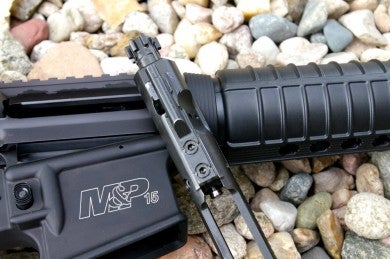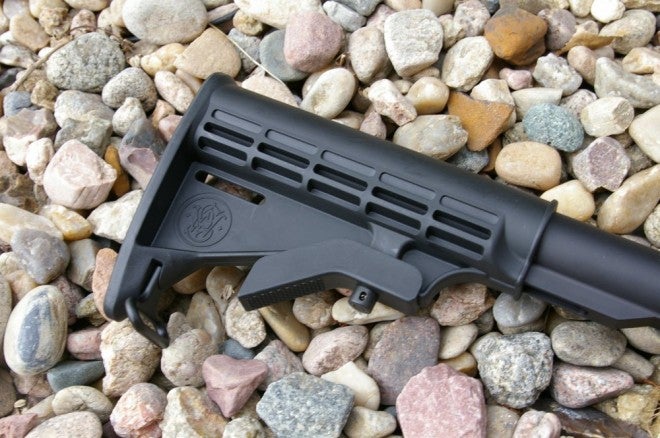 The barrel is unique in both the twist and rifling. The M&P15 includes the very popular 1:8 rifling twist for barrels, which equally stabilizes both light and heavier weight bullets equally well.
The S&W M&P15 Sport 5R rifling itself is also unique and provides a rifling land profile somewhere between standard rifling and polygonal rifling. Although not proprietary to S&W, 5R rifling was developed in Russia and uses 5 lands and 5 grooves instead of the traditional 6 lands and grooves. The sides of each land are cut at a 65 degree angle versus a harsh 90 degree angle on standard rifling. The benefits are less bullet deformation (because the edges of each land do not cut into and deform the bullet jacket) and potentially higher velocities. When the bullet jacket is less deformed, there will be less jacket fouling in the grooves. The results are better consistency of accuracy from shot to shot, greater bullet stability over multiple shots, and ultimately a rifle that's easier to clean.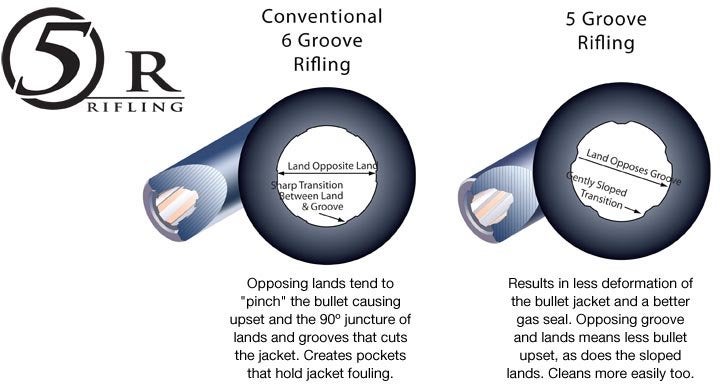 Function and Accuracy
A friend and I have run over 400 rounds through the S&W M&P15 Sport during a number of shooting sessions. No surprises here. The S&W was a perfect performer from the first magazine to the last, and it functioned as you would expect any quality AR-15 to perform.
Accuracy testing of the S&W M&P15 Sport was with my Simmons Predator Quest 6-24×50 scope. Although I doubt many will use this power of a scope on a regular basis, it has become my go-to scope for wringing out accuracy from guns I review. I highly doubt this gun will be used for 100 yard group shooting, but this $600 gun turned in some great groups. Here were the average 5-shot group results at 100 yards:
HORNADY TAP URBAN 55GR = 1.5"
WOLF FMJ 62GR = 1.7"
WINCHESTER FMJ 55GR = 1.4"
FEDERAL MATCH 69GR = 1.1"
HANDLOADS HORNADY AMAX 75GR = 1.25"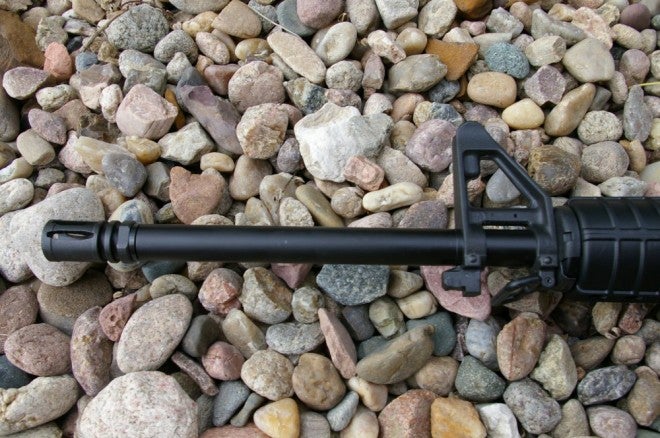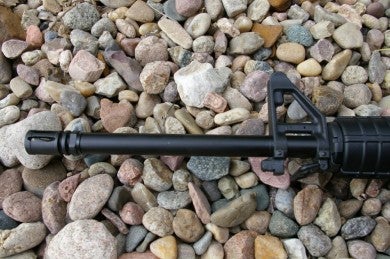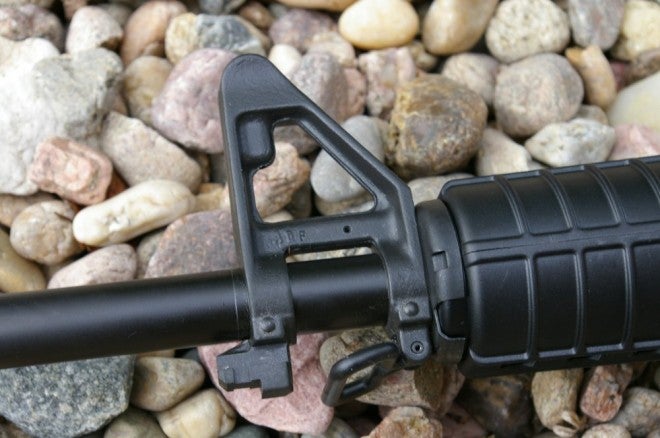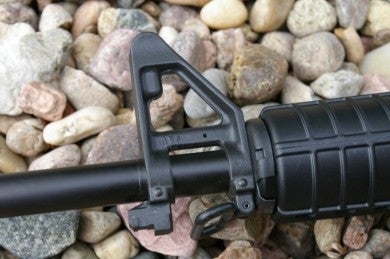 Final Thoughts
The specs on the S&W M&P15 Sport are impressive and match those of rifles that cost $300-$400 more. Much of this value is due to Smith & Wesson's commitment to in-house manufacturing, which delivers a street priced AR well below what other manufacturers can. Another of those reasons is that dropping the forward assist and integrating the trigger guard trim the weight here and there to a very light 6.45lbs, which is very fast handling for a standard barrel profile.
The S&W M&P15 Sport is great shooting gun with the 1:8 twist and 5R rifling. Add in the extras like chrome bolt carrier group, integrated trigger guard, and Melonite coated barrel, and it is understandable why the S&W M&P15 Sport has become so popular. It is just a great deal on a great shooting rifle with all the reliability of a high dollar AR. The S&W M&P15 Sport is one of the better buys on the market for someone looking for a quality, reliable, and accurate AR for any sport, defensive, or duty purpose.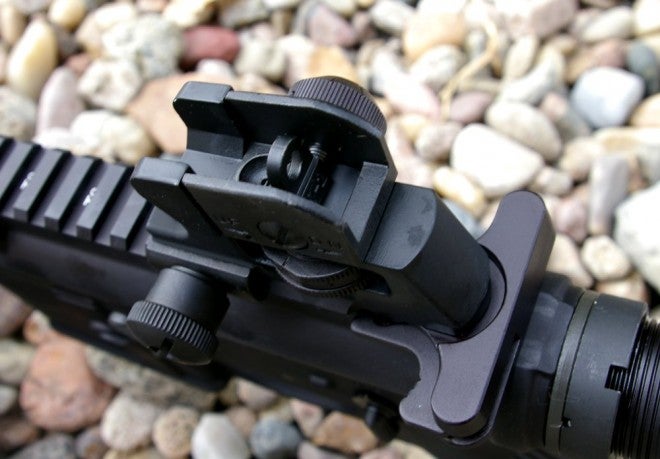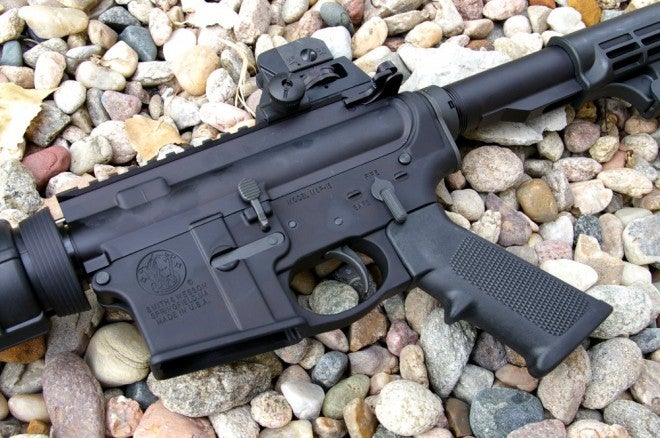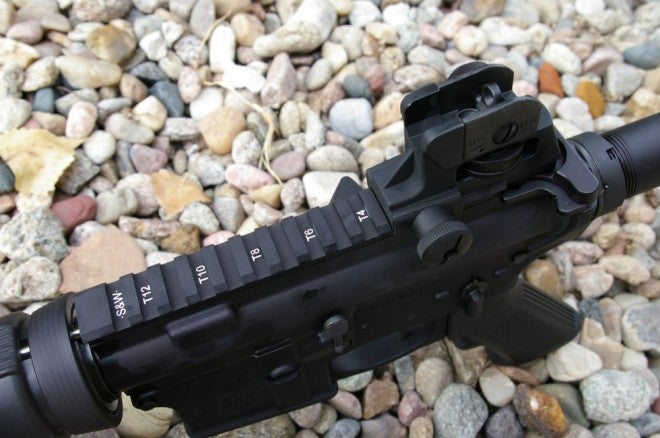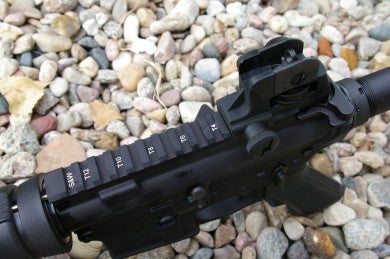 SPECS
Model: M&P15 Sport™
$739 Suggested Retail
$600-$650 Street Price
Model: M&P15 Sport™
Caliber: 5.56 mm NATO
Capacity: 30 Round Detachable Magazine
Action: Semi-Auto
Barrel Length: 16″ / 40.6 cm
Barrel Twist: 1 in 8″ 5R Rifling
Front Sight: Adjustable A2 Post
Rear Sight: Magpul® Folding MBUS
Overall Length: 35″ Extended / 32″ Collapsed
Stock: 6 Position Telescopic
Weight: 6.45 lbs. / 2,925.7 g
Barrel Material: 4140 Steel
Barrel Finish: Melonite®
Receiver Material: 7075 T6 Aluminum
Receiver Finish: Hard Coat Black Anodized
Chromed Components: Gas Key & Bolt Carrier