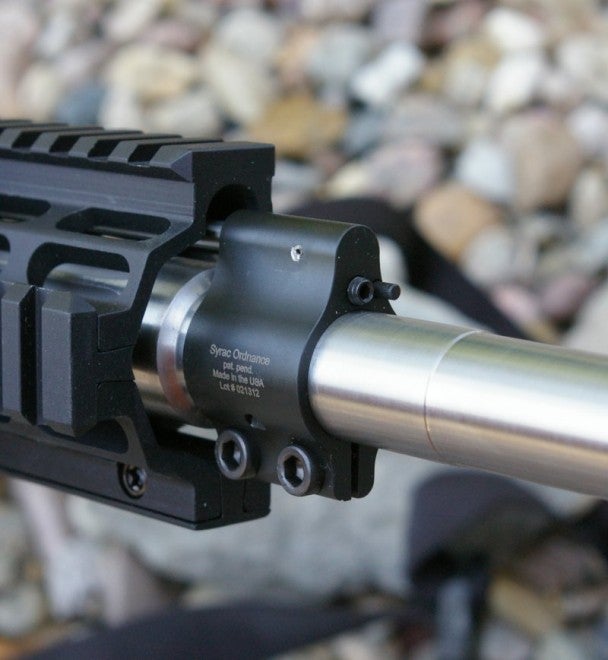 For those readers who are new to what an adjustable gas block is for an AR-15, take a read through my lengthy All About Adjustable Gas Blocks article. For brevity, the paraphrased version is that an adjustable gas block allows the shooter to tune the gas pressure on an AR-15's direct impingement (DI) system. In the end, this upgrade delivers one of the softest, fastest, and flattest shooting AR-15s you can own. I consider an adjustable gas block the most important and critical upgrade you can make to an AR-15.
Noting that all DI systems are way, way, way over gassed, having the option to tune down that gas pressure reduces both recoil and shot recovery times and increases your ability to places shots on target faster and far more comfortably. I am a believer in adjustable gas systems. I have shocked and awed myself and others during testing with the dramatic metamorphosis which occurs from transforming punchy 5.56 AR-15 and even 308 AR-10/DPMS variant to a flat, soft, and fast shooting firearms from the same gun just by reducing gas pressure. The Syrac AR adjustable gas block is the most sophisticated gas block design available.
Syrac Ordnance was founded by none other than Jason Adams. You know Jason Adams; he founded Adams Arms and invented the AR Piston System. After he left the company, he decided to update the direct impingement system with the same level of creativity by developing an innovative adjustable gas block, which addresses the major shortcoming of current gas block designs.
Fit, Feel, and Features
The Syrac Ordnance is definitely on the super premium side of fit and finish. Syrac currently offers standard .750" sized gas block in both bolt-on (pinch style) and set screw versions of their adjustable gas blocks. The gas blocks are made in 416 stainless steel and then coated with melonite for extra corrosion resistance and a unique look.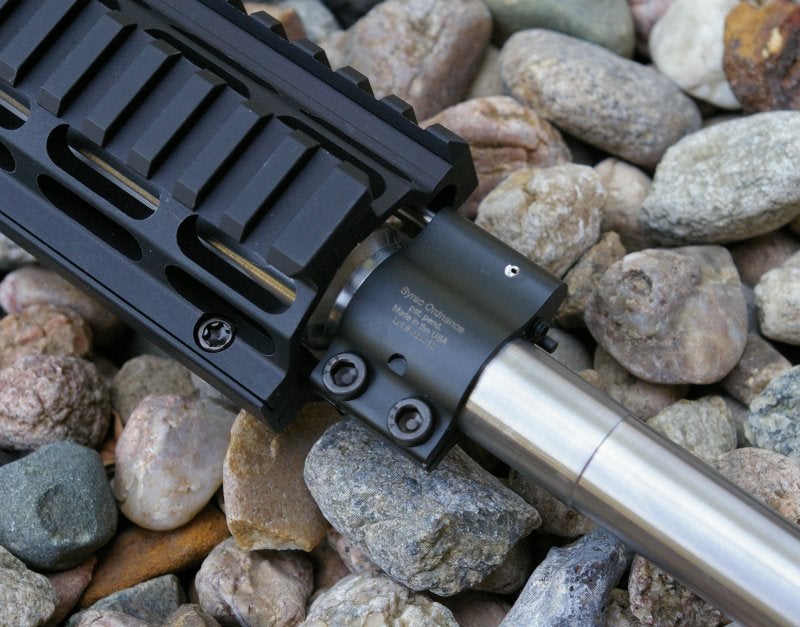 Generally all adjustable gas blocks work the same. A screw simply pinches closed the gap between the barrel gas port and the gas tube just like a faucet controlling a stream of water. The idea is so simple even a lightly skilled individual can convert a standard gas blocks to adjustable versions, however the adjustment screw can move on you over time.
The most significant problem with an adjustable gas block is in locking in the adjustment. This typically requires copious amounts of Locktite to assure the screw will not start to walk out. Over time, it is also a good idea to spot check your setting to assure the screw is not moving. The patented Syrac Ordnance adjustable gas block addressed this issue specifically by developing a locking detent for the screw. A finger actuated push button locks each 1/8 turn click into position with a detent so that the adjustment will never move on you, even under recoil.
The other issue Syrac addressed was to move the adjustment screw from the typical side location to the front. This does not sound revolutionary, but with some closed/solid sided handguard, moving the gas block adjustment screw to the front becomes the only way you can access it. Syrac's design provides accessibility to the front adjustment screw even if you have a solid carbon fiber forend installed. The other forward thinking solution Syrac includes is the very long hex key, which should still provide access to your adjustable gas block on even the longest forends.
Function
Installation of the Syrac Adjustable Gas Block is as straightforward and simple as swapping or installing any gas block. I picked up both bolt-on and set screw versions, pinned on a couple White Oak mid-length stainless gas tubes, and then installed the gas blocks on my Mega Arms ultralight build with a mid-length 16" Black Hole Weaponry barrel and the bolt-on version on my White Oak Mid-Lengh SDM barreled Aero Precision COPE build.
Stressing the point that every gun is its own unique beast, it has been my experience that even two seemingly identical rifles can have different gas tuning settings. Even though both rifles were mid-length .223 Wylde chambers with 1:8 twists, both took much different gas pressure settings to get the bolt to lock back after last round, and both delivered different feels of very light recoil after the tuning was complete.
Every rifle is different, and this is one reason why I think adjustable gas blocks are so important for more than just the competitive shooter. Even if you do not run the gas system at its absolute mininum to squeeze out every last drop of recoil reduction, most AR-15s can still benefit greatly at a highly reliable state a full turn above the minimum gas setting.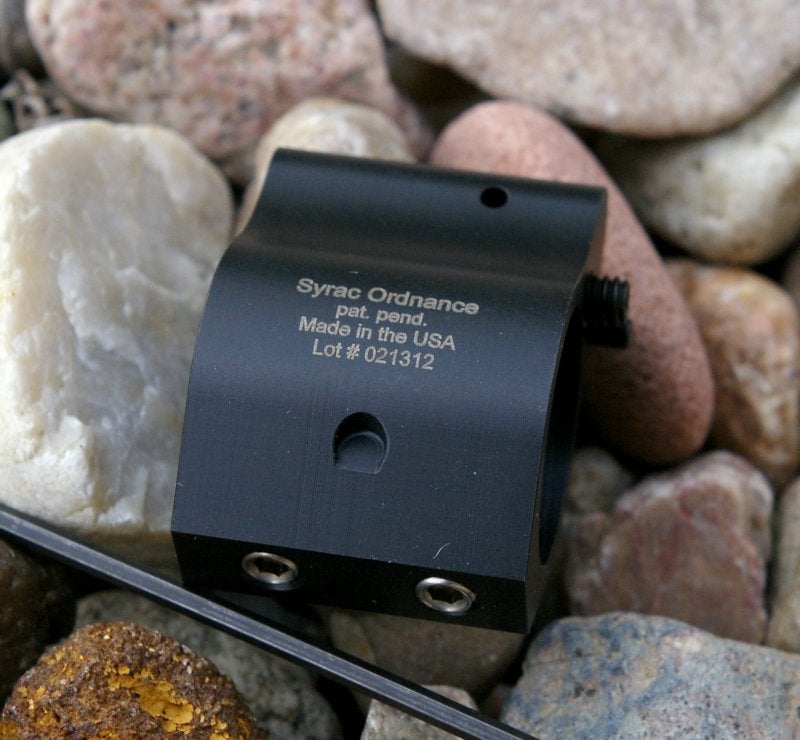 Tuning Observations
At this point I have over a dozen AR format rifles with adjustable gas blocks in carbine, mid-length, and rifle-length systems. I have learned a thing or two about adjustable gas blocks in the process.
It has been my experience that heavy buffers, heavy buffer springs, and M16 carrier groups increase tuning complexity as this extra mass is more sensitive to gas pressure changes. ARs with these heavier components and longer gas systems will require a higher gas pressure setting for operation and will deliver slightly more recoil when tuned when compared to systems with standard components.
If installed on a defensive rifle I would add at least a 1/2 to 1 full turn to assure reliability and test three round functioning drills with a couple boxes of shells to assure total functional reliability with your chosen defensive round. Personally I have found that 1/2 turn extra seems to provide a broad envelope of reliability for a variety of rounds unless you tend to shoot less expensive Tula, Brown Bear, Herter's, and bulk ammo at the range which are on the bottom of the .223 SAAMI spec range.
Contrary to rumors on some forums, none of my adjustable gas blocks have every required special cleaning or cleaning of any kind. Technically an adjustable gas block is allowing less gas, heat, and crap back into the tube, so in theory it will actually run cleaner. Simply treat an adjustable gas block as you would any other gas block and basically ignore it during the cleaning process.
Final Thoughts
For the competitor (LEO, military, or Joe shooter), the advantages of adjustable gas blocks are obvious: they provide a huge reduction in recoil, faster shot-to-shot sight realignment, less heat back into the action, cleaner long-term function, and overall greater shooting speed and comfort.
With the observation that almost all AR-15s are over-gassed, the transformation is dramatic. I have noted time and time again that a properly tuned AR-15 with an adjustable gas block starts to shoot more like a .22 than an AR-15, and with the Syrac gas block it will hold the setting as long as you own your AR.
My bet is that, if you opt for a Syrac gas block, you will feel it was the best upgrade you have made. It looks great, works on any standard .750" diameter barrel, and transforms a snappy AR-15 into a light, fast shooting rifle, and they do it all for around $100.
Specs
Material: 416 SS
Finish: Melonite
Barrel Diameter: 0.750"
Weight: 1.72 oz.
Length: 1.00"
Height: 1.342"
Width: 0.904"
Attachment Type: Set Screws
Adjustment: Front of Block
Includes
Adjustable Low Pro Gas Block
(2) Set Screws
(2) Gas Tube Roll Pins
(2) 5/64 X 6" L-Shaped Hex Keys
Installation Instructions
MADE IN USA!
MSRP $109.95