Safe and plentiful drinking water is never a guarantee during an emergency or disaster situation. It's vital to have a back-up plan for creating and storing safe drinking water. While some filters sold at big box stores can remove the taste of chlorine and minor infiltrators from tap water, these filters don't work for purifying dirty surface water.
Enter Aquamira, one of the leaders in the water filtration industry when it comes to providing several methods of filtering and purifying questionable water. And, to be sure, any surface water is to be considered contaminated by nasty little bugs that can make you sick or even kill you. Never drink surface water without first filtering or purifying it.
My youngest daughter just spent some time in New Zealand. She planned on trekking across the country on foot, but due to a knee injury she received in the U.S. Army, she wasn't able to complete her trek. However, she still managed to do some hiking, and she had several methods of filtering questionable water. From Aquamira, she had their Water Bottle Filter and their Emergency Water Filter Frontier Pro Pump (which isn't actually a "pump," per se).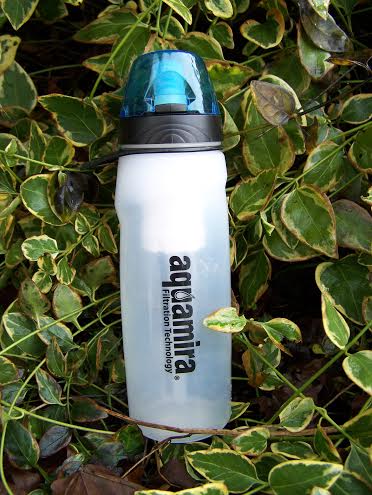 The Filter appears to be nothing more than a plain ol' plastic water bottle available anywhere, but nothing could be further from the truth. The water bottle filter removes chlorine tastes and odors from a water source. It will also remove 99.9 percent of Cryptosporidium and Giardia–the two leading causes of waterborne illness.
The Filter is newly designed to fit in your hand more comfortably and it fits cup holders and bicycle cages. The additional finger grip allows you to use only one finger to hold the bottle. The bottle is BPA free, too. One cool feature is the "bite me" valve; simply bite the valve and suck, and clean, safe water comes out of the bottle. The bottle doesn't have to be turned up to access water, as the filter extends to the bottom of the bottle. Bite on the valve and suck, and clean water flows into your mouth. You can also squeeze the bottle if you need a higher water flow.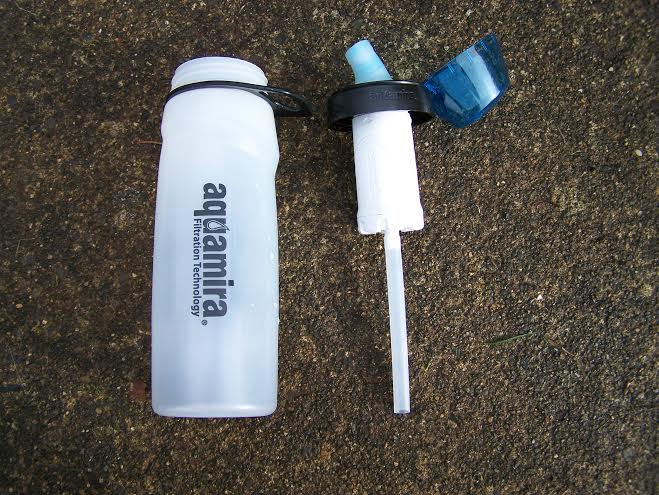 The Water Bottle Filter can filter up to 100 gallons of water before you need to replace the filter (many other bottles only allow about 25-30 gallons), and replacing the filter is quick and easy. The capsule is easy to install, ultrasonically sealed, and interfaces directly with the valve, making a seal between the cap and the filter unnecessary.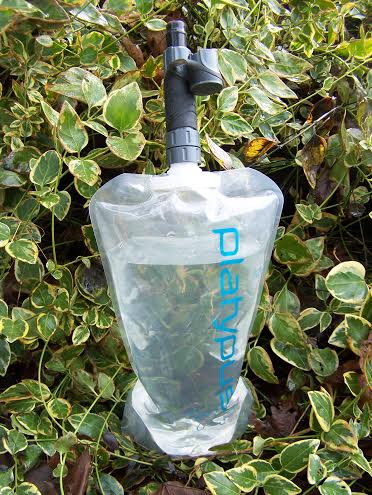 Next up is the Emergency Water Filter Frontier Pro pump, which isn't really a "pump." The Frontier Pro is a filtering device that can interface with just about any type of water carrier. If you have a regular water bottle, plastic fold-a-way water carriers, or just about anything, the Frontier Pro pump can interface with them. It just screws on and you are ready to drink, safe, clean water from any surface water source. The Frontier Pro can also be set-up in a "gravity flow" mode to filter water unattended while you're out doing something else, allowing the filtered water to flow into another carrier. Additionally, the Frontier Pro contains MiraGuard to prevent the growth of bacteria, fungus, and mold in the filter media when it is stored away — an important feature. (Check the website for more information on MiraGuard.)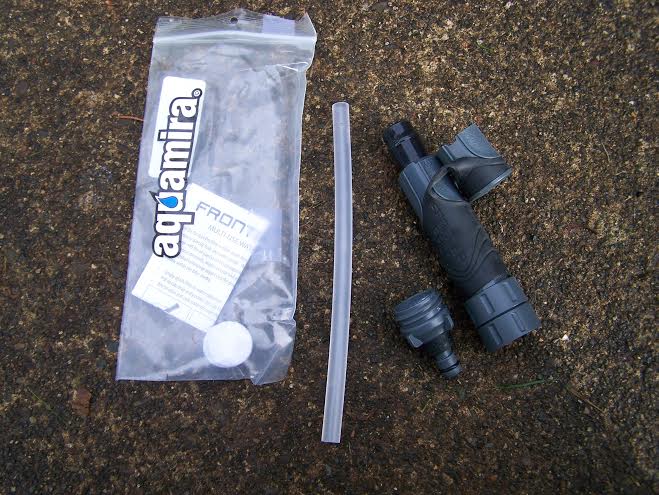 Aquamira also provides water purification tablets to the United States military, and that says a lot out the quality of their products. I keep several bottles of water purification tablets with my GI canteens. Aquamira also has liquid water purification bottles of chemicalsto clean water without leaving a "funny" taste behind. On their website, Aquamira also has some hi-flow water filtering set-ups that no one else has.
The Water Bottle Filter is $29.95 and the Frontier Pro Filter is $24.95. If you don't have a means of filtering questionable water, you'll want to take a close look at the many different products on the Aquamira website. The company offers great products for everyone, even if you don't identify as a prepper or a survivalist. You don't have to be either to justify the need for clean, safe drinking water no matter where you live.

SHOP NOW