Randall Adventure & Training ESEE IZULA Survival Knife Kit
Major Pandemic 12.30.13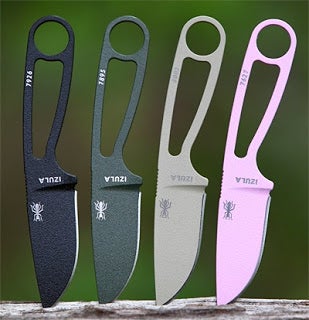 I have lengthy experience with the knives of ESEE (formerly Randall Adventure Training, or RAT), and during a replacement of my old TAK RAT knife, I also ordered a neck knife sized IZULA Survival Knife Kit as well.
The locals in Peru call the meanest, nastiest ant of the jungle by the name "Isula," also known as the bullet ant. The bullet ant is known to be independent, tough, light on its feet, and an aggressive survivor. The IZULA knife is built the same way. ESEE designed the IZULA to be the perfect lightweight survival kit or concealed carry knife, with a modest but stout and handy 2-5/8" blade and a total weight of just 2oz.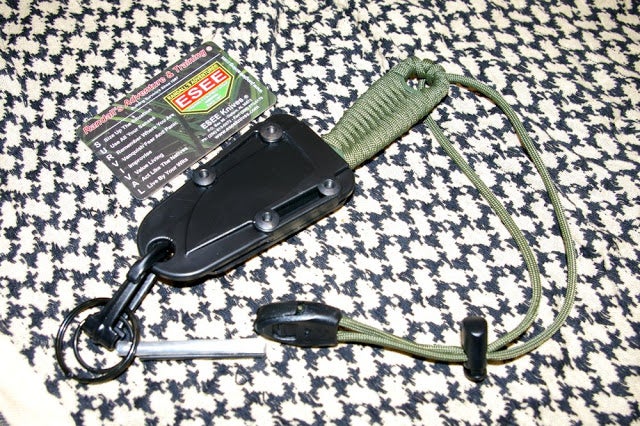 The knife is available in your choice of durable Black, Desert Tan, Olive, and Pink powdercoat finish colors. My choice was olive drab green finish, although I was tempted by the hot pink because it would be totally impossible to lose during a survival situation. The ESEE IZULA knife is available as the knife and sheath only or with a complete survival kit such as the one I purchased. From a price perspective, the knife kit is priced well at $107 MSRP and about $60-$75 street price, well within the financial reach of anyone.
Design and Sheath
The IZULA Kit comes with a very secure Kydex sheath that provides the basis for the flexible mounting systems. Included in the kit are several sheath mounting options, including paracord for neck carry, belt loop carry, or lashing to a pack. There's also a heavy duty ambidextrous spring clip backer for a variety of carry options ranging from MOLLE mounting, to inside the waistband carry, to boot knife carry, and it clips to a variety of equipment. The spring clip is attached to the knife securely via simple Chicago Screws and can be easily removed or reversed in minutes to convert to another carry option. The kit also includes a steel spring clip, which can also be clipped either to the end of the handle or the tip of the sheath. The sheath accommodates both the small and large sizes of Tek-Loks, one of my favorite carry accessories.
I really like the size and shape of the knife blade and handle, however the skeletonized handle is clearly made to be paracord wrapped, and doing so greatly improved the grip and comfort of the knife for me with very little increase in weight. The handle is a good size, not too big or small. This is obviously a well thought out handle design. I see no reason why you should ever be without this knife as it provides for nearly every conceivable carry option in a light easy to configure package.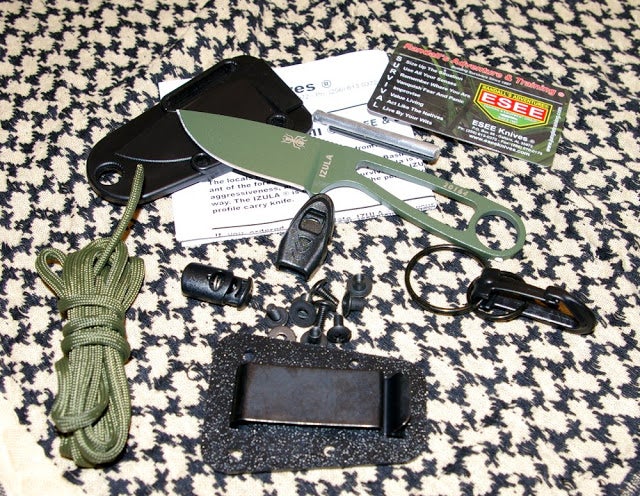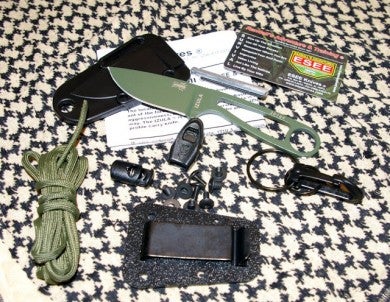 As noted in my other article, I have preached that a crappy sheath system on a great knife makes for a crappy knife package. The ESEE knives I now own, IZULA and ESEE-4, demonstrate an attention to the fact that a great knife needs a great sheath or it will simply be left at home. The flexible sheath system is, in my mind, what makes the IZULA an outstanding knife and was designed by by people who are experienced in knife carry.
Included Accessories
The ESEE does not come in a big, fancy, four color printed box. It comes in a plastic bag, which puts dollars back into the knife vs packaging.
The ESEE IZULA Survival kit I purchased includes more than the standard knife and sheath, with extras focused on the bare needs for survival. The kit includes all the carry accessories mentioned earlier plus a combination magnesium and ferro rod to provide very high heat with magnesium shavings and ignition via the ferro rod. A large and small keyring are included for use in attachment, and when combined with the paracord, it's an excellent base for a snare trap.
Other extras are complete instructions on how to use the sheath system, an ESEE pocket survival card, a number of Chicago screws, a small paracord lock, and a miniature, high output, survival whistle for signaling. It's a very nice survival setup for any trail runner, backpacker, outdoorsman, or survivalist. I have to note a firesteel is a handy piece of hardware and cannot count how many times it has saved the day lighting a campsite or even state park BBQ and picnic. Everyone should have a firesteel with them at all times.


Blade Shape and Blade Steel
For survival, general bushcraft, and game cleaning, the drop point blade shape is one of the best designs. Like the bigger ESEE-4 I reviewed previously, the V-ground 1095 blade with a 20 degree edge is very easy to maintain with just a steel, and it takes a razor sharp edge quickly. 1095 is not high end steel in the land of new crucible steels, but it does have a 57 Rockwell hardness and will take an edge much more easily off river stones out in the field than a super hard crucible steel will.
Testing included my typical bushcraft work and breaking down a whole chicken. The bushcraft involved making a few traps and some light shelter building. The whole chicken breakdown accomplishes a few things. It shows how good the blade geometry is at working through game cleaning, and it also allows me to eat dinner. In all cases the blade geometry delivered great performance despite the size out in the woods and during real world food prep. It is a real workhorse of a little knife.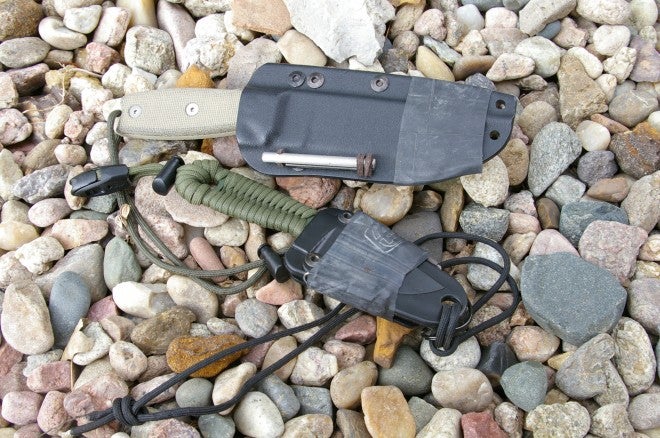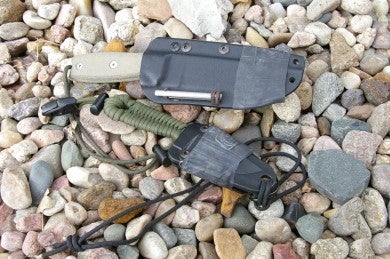 The small 2-5/8" blade is about perfect for general use, bushcraft, personal defense, and field food prep, but you will have your work cut out for you on larger branches, batoning or pounding the spine with a small log.
The 1095 steel is high carbon and will rust, so you do need to keep the knife lightly oiled. Another trick is to coat the exposed steel with Dijon mustard and let it sit for 24 hours. Wash it off well and touch up the edge with a steel. The Dijon mustard will oxidize the exposed steel and prevent any further rusting of all but the fine edge of the blade.
Final Thoughts
I love to support USA made products, and ESEE builds all their knives and accessories right here in the USA. The quality size and features packed into this IZULA survival knife kit are definitely well thought out by people who know, carry, and most importantly, use knives. The IZULA is designed as a neck knife to be carried via the paracord dangled like a necklace, but I should mention that I really liked the ESEE IZULA carried as a belt attached sheath knife with the spring clip.
Another plus is that this is not a huge knife, going for around $75 on the street. It is a very handy size that makes it easy to carry all the time and will not get left at home. It's is useful for everything from defense to daily cutting chores such as opening mail and packages. It also has the perfect blade shape for field bushcraft and survival work. In all, it's great knife that delivers huge performance in a small package.
Knife Specs
O.A Length: 6.25″
Blade Length (end of handle to tip): 2.88″
Cutting Edge Length: 2 5/8″
O.A. Blade Length: 2 3/4″
Maximum Thickness: .156″
Weight: 2 Ounces (Knife Only)
1095 Steel – 57 Rc.
Blade Width: 1.0″
Grind: Flat
Handles: None (Optional Scales Available)
Sheathing: Injection Molded, Black
Pommel: Hole To Accommodate Carabiner
Spine: Thumb Grippers
Finish: Textured Powder Coat
Colors: Black, OD Green, Desert Tan, Tactical Pink
Serial Number On Tang