EDC History: Chatelaines
Ashley 12.31.13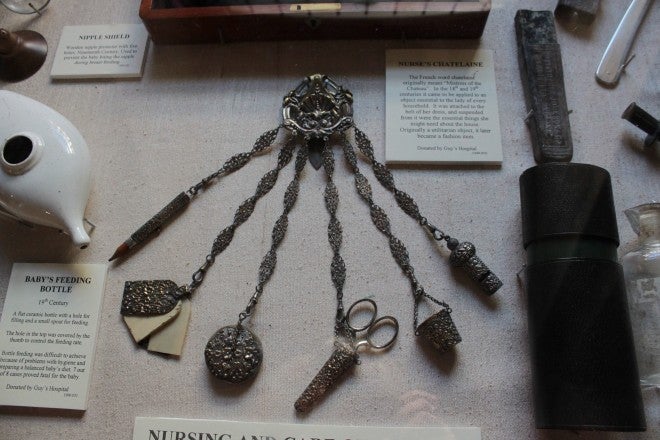 This is part of a new series where we research and discuss EDC items throughout history. If you have a suggestion, email [email protected]
Women who love gear likely understand the frustration of women's clothing, particularly the lack of functional pockets large enough to carry substantial items. This struggle is hardly new, and throughout history, many women came up with unique, inventive ways to carry their important belongings.
One such example is the chatelaine, often referred to as the "Swiss Army Knife of purses." A Victorian-era invention, chatelaines were decorative yet functional multitools, often housing a small pouch for small effects, as well as multiple tools: a thimble, a whistle, a pair of scissors, and a buttonhook, for instance.
According to Genevieve Cummins, author of Chatelaines: Utility to Glorious Extravagance, chatelaines existed as early as the 1500s but weren't given a name until the 1800s. The name comes from the French term "la chatelaine," which referred to the woman who ran an estate and often carried a set of keys to the grounds. Sometimes, chatelaines were also referred to as "equipages," another French word for "equipment."
In an interview with Collectors Weekly, Cummins discussed the existence of chatelaine-like devices throughout the world.
The concept of waist-hung items is almost universal across all cultures. For example, the Japanese wore netsuke and inro or the Chinese wore embroidered purses and pouches. Though purses and pouches preceded the chatelaine—they are mentioned in Chaucer—later purses were very small and dainty. The chatelaine was a more useful addition to an outfit.
Chatelaines were largely produced by popular jewelry companies such as Tiffany and Co. and Lalique, although some took to constructing their own. Almost always made of metal, chatelaines varied in material, from steel to sterling silver to gold.
Different tools and components were included based on need. Some were for nursing such as the one pictured; others were for athletics or artistic endeavors. While some chatelaines appear quite decadent, made from gold or embedded with jewels, women across class boundaries carried the tools. The most beautiful of chatelaines were proudly displayed in public, typically worn attached to the front of a dress near a woman's waist. While chatelaines served as a functional accessory, they also became an outlet for expression. Some designs incorporated symbolic imagery or particular colors as part of a theme.
Cummins said that the most amount of items she'd seen on a chatelaine was "12 or 13." Most chatelaines included an average of five tools. She also attributed the decline to chatelaines to the invention of the wristwatch. Some modern jewelers have taken to recreating chatelaines as accessories. And we think that the popularity of EDC keychain tools is a nod to the inventive Victorian women and men who sought out unique alternatives to standard carry.
For more information about chatelaines, visit here for a list of historical chatelaines and the context in which they were used.