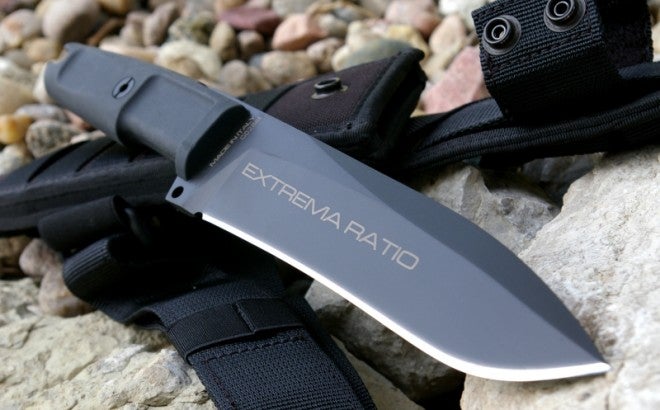 To date, I have reviewed many of the Extrema Ratio knives, including the Selvans, Ontos, Nemesis, and Shrapnel, and have been extremely impressed by their ability to deliver around their task-focused design of survival and defense.
Recently, I picked up an Extrema Ratio Doberman IV Tactical knife, designed to be multipurpose to cover all needs from defense and survival work to game cleaning and everyday property upkeep chores. It's a knife design which delivers a belly for skinning in a more classic drop point blade with a balance of strength and precision with a fine low-aspect edge grind.
About Extrema Ratio
If you're knife nut like myself, you may lust after the sexy Italian Extrema Ratio knives like motorcycle enthusiasts lust after a Ducati 999. Extrema Ratio knives are without a doubt the most exotic of the production knives designed for the actual hard use of the Italian Military and Special forces. Yes, they are different than a typical drop point survival knife: a different blade tip, a different look, a different feel, a more substantial heft, and certainly more money than almost any other production knife. However, this out of the box thinking performs spectacularly and is worth every cent when your life is on the line. If you have the money to invest, the Extrema Ratio knives I have tested have proven to me to be the ultimate performance, fit, and finish when it comes to heavy duty production knives.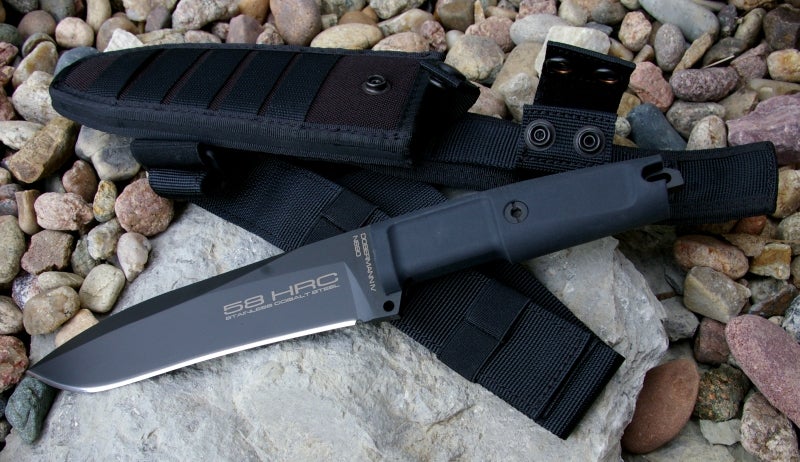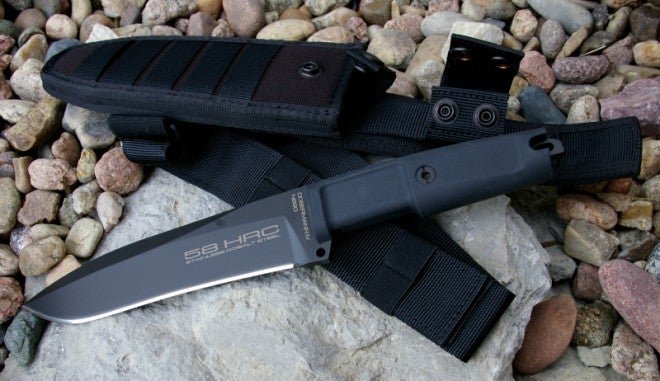 About the Doberman IV Design – Fit, Feel, Finish, and Features
Like all Extrema Ratio knives, the fit and finish of every aspect of the knife, as well as sheath and gorgeous packing box, is impeccable. You know this is something special the moment you lay eyes on the knife. The Doberman balances perfectly at the mid-point of the knife. Slipping the hand rearward on the handle provides plenty of grip and delivers very powerful snap cuts, and a full forward grip delivers a knife with just a bit of a blade-heavy feel.
The Extrema Ratio Doberman Tactical knives have been fine-tuned over several years since its 1997 introduction through the current Doberman IV generation. The Doberman is based on prior versions of this very popular classic knife, with an extended tang creating a window breaker and two lanyard holes. The sheath itself has been updated with a leg strap to anchor for improved stability. Like all Extrema Ratio knives, the Doberman IV Tactical has a Forprene handle that is ergonomically shaped and textured so you have a good grip even with wet or gloved hands and is extreme temperature and moisture resistant.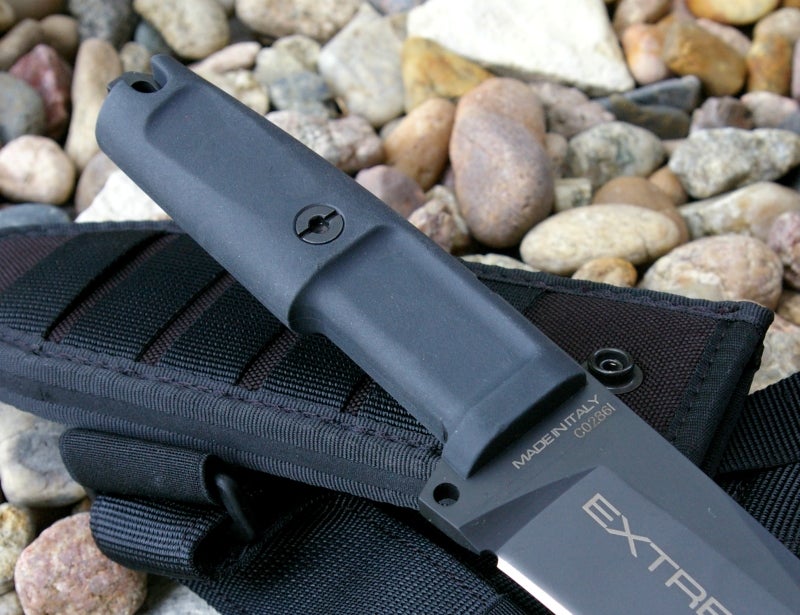 The slight recurve blade shape harkens to the classic Doberman Pinscher heavy-chested look. Although it's a great name for a tactical knife, the design actually dates back to the old world weight-forward recurve Kuki designs, which pushed weight to the tip of the blade to improve the efficiency of chopping/cutting strokes. Today we see many manufacturers offer the Kuki due to its amazing cutting ability in a short package.
This blade shape featured on the Doberman has also proven itself as a highly efficient game skinning and multipurpose blade design over thousands of years. Extrema has added its own design style to the blade, however. For all practical purposes it combines the best attributes of a recurve blade with a traditional clip point into a knife that excels at both slashing cuts and delicate bushcraft and game cleaning. According to Extrema, it's "your hunting knife, your camp knife, your survival knife, your bugout bag knife, your field knife, plus other demanding activities that you might engage in." I could not agree more.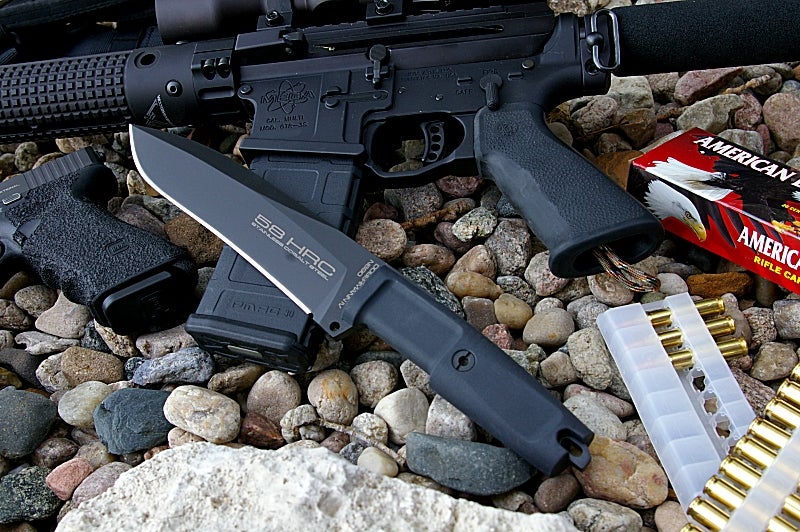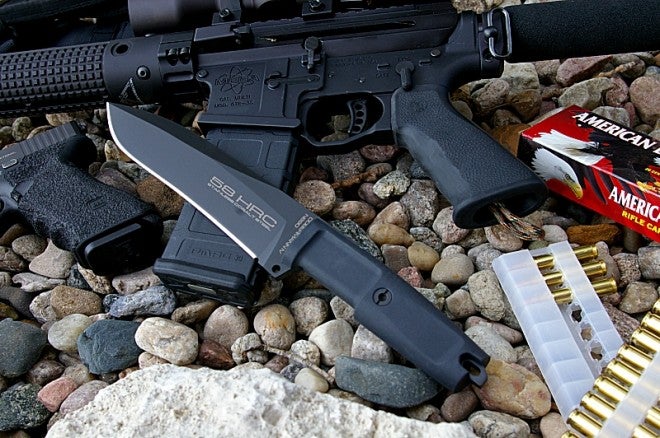 The knife also features subtle tweaks, such as the integrated glass breaker. Also, a 1.3 inch top section of the Forprene handle is cut down a little over a 1/10 of an inch to expose the spine to improve finger comfort and blade control and allow more force to be exerted with an extended finger. There are two lanyard holes, one at the pummel/glass breaker and the other at the finger choil, which allows the knife to be lashed as a spear or simply to lock the knife into the hand more securely with a lanyard.
The Extrema Ratio Doberman IV Tactical shares a few similarities such as look, full tang construction, .25" thick Austrian N690 (58HRC) cobalt vanadium stainless steel blade, Forprene handle, blade grind profile, and base knife sheath platform. This is where the similarity stops and the design purpose of each knife comes into its own. The Doberman, for instance, has a very high blade grind which delivers a sharper/finer cutting edge somewhere in between the Selvans and Ontos survival knife each with very high (finer/sharper) and low (more durable) grinds. Extrema has delivered a great compromise of strength in retaining the .25" width nearly the entire blade length while still delivering a shaving sharp edge.
Sheath Features
The base sheath platform style is shared by most of the fixed blade knives in Extrema's lineup but are tuned to each knife design. They're the best feature-rich, ambidextrous sheath systems I have seen to date. The front and backside are fully MOLLE compatible with loops and clips. MOLLE loops on the front side can be used to attach a small survival kit, removeable/adjustable leg loop with elastic for stretch and give, primary single snap tang knife lock, and a secondary double snap handle knife lock mounted to a removable belt loop. Nearly every fitment aspect of the sheath is adjustable. All that, and the sheath can even be mounted to the belt without belt removal and can be adjusted to any of four belt widths. It's truly an outstanding, versatile sheath with near limitless mounting and carrying options.
Functions
I laid waste to various nuisance cottonwood trees and was able to cleanly cleave through ¾" green trees. The blade geometry was fine enough to whittle up a couple traps and accomplish basic bushcraft needs. In the kitchen, I moved on to cutting up a whole chicken and cutting vegetables. This is one of my favorite tests because it immediately shows the flaws or focus of the knife blade design. Even though the blade is very thick, I was impressed by how well the knife performed these task–almost as well as most chefs' knives. I love the design, especially if you like to eat, and plan on using the knife as a camp knife.
Final Thoughts
I received my knife from XtremeKnives, with whom I've worked with in the past. Did I need another knife or another Extrema Ratio after owning the Selvans and Ontos? Well, no, but as a knife nut I seem to always find a great excuse/justification to add another to my collection. I own Dobermans and that in itself seemed justification enough.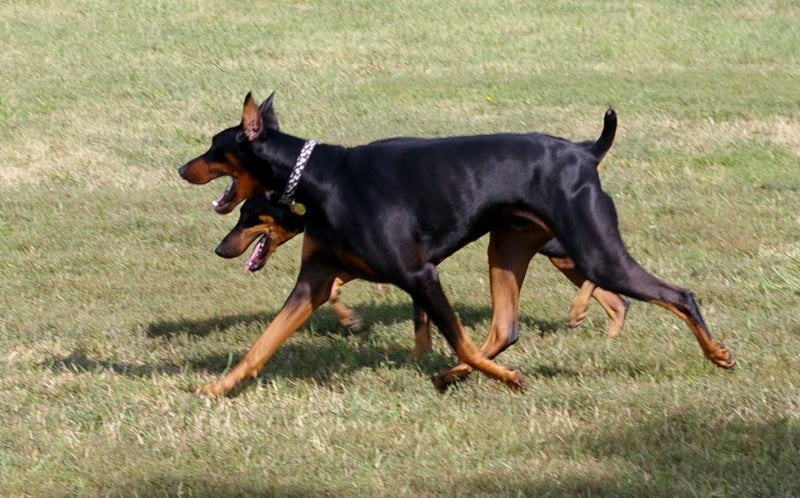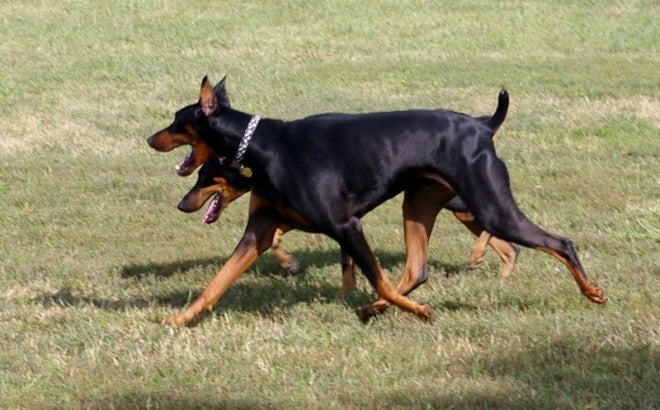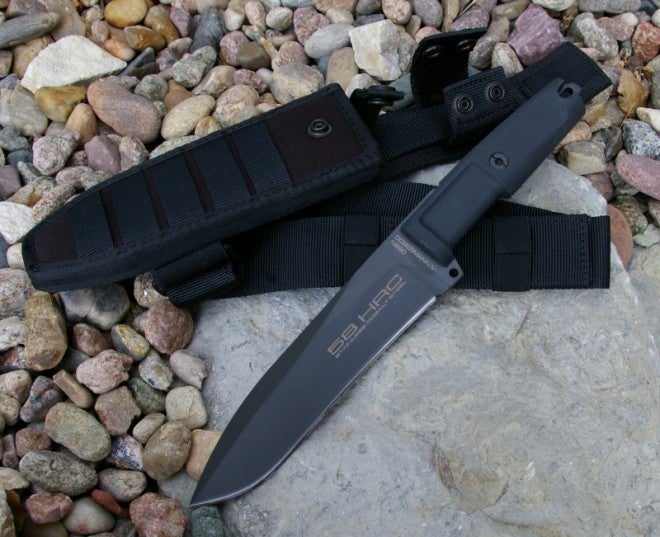 If you're just a one knife kind of guy/gal, I would recommend the Doberman over the Selvans and Ontos. It's a more flexible design that delivers a bit more multipurpose flexibility beyond urban and backwood survival. The Doberman IV Tactical delivers everything I was hoping it would and is a gorgeous, functional knife that can take any beating I can throw at it.
Specs
Length of Knife: mm 314.96 (12.40 inches)
Blade Length: mm 184.91 (7.28 inches)
Total Length of Knife and Sheath: mm 368.30 (14.50 inches)
Weight of Knife: g 354.37 (12.50 ounces)
Weight of Knife and Sheath: g 470.60 (16.6 ounces)
Blade Thickness (Widest Part): mm 6.3 (0.25 inches)
Blade Width (Widest Section): mm 41.91 (1.65 inches)
Blade Steel: Bohler N690 cobalt stainless steel – a high performance steel with excellent cutting and mechanical characteristics.
Blade Hardness: Rockwell 58 HRC
Grinding: Flat grind
Serrations on Blade: No
Handle: Forprene – (NATO Mil-Spec elastomer) has extreme temperature and moisture resistance
Handle Length (Excludes Window Breaker): mm 125.98 (4.96 inches)
Sheath Material: Cordura and rigid polymer
MOLLE Compatible Sheath: Yes
Window Breaker: Yes
MSRP: $413.00
XtremeKnives.com Price: $301.00

SHOP NOW
Sources
Xtreme Knives – http://www.XtremeKnives.com
Extrema Ratio – http://www.extremaratioknivesdivision.eu