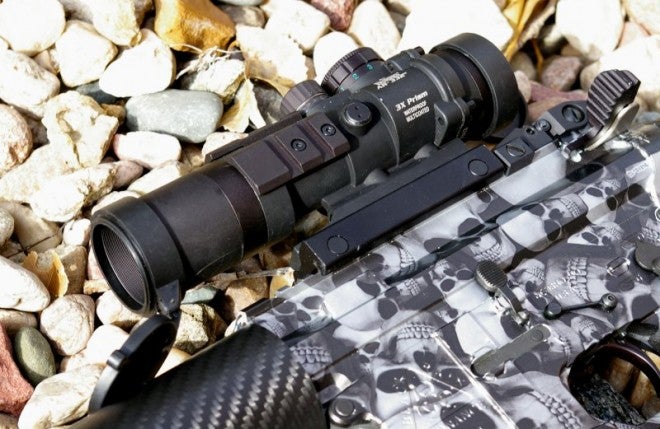 According to the US Army Laboratory Command (Small Arms Technology Assessment: Individual Infantryman's Weapon, Volume I, March 1990, to be specific), 98 percent of all targets across all terrain are engaged at less than 600 meters, 90 percent less than 400 meters, and in urban terrain, 90 percent less than 50 meters. With this in mind, we need the ability to reach out to targets beyond the 15-25 yard lines, but it is unlikely we will ever shoot out beyond 600 meters in a defensive, or even hunting, situation.
Adding even a marginally magnified optic enables more precision and faster target acquisition, and it will deliver all you need to place hits quickly, even way out there when yards adds up. More than a few serviceman and designated marksmen know that the 4X Trijicon ACOG transformed hit ratios within all ranges of combat engagement out to the 600 yard line. However, it also comes with a steep $1,400 price tag. Thus, Burris comes to the rescue with a great $350 option.
Burris AR-332 3X Prismatic Optic
Burris is famous for building rugged bulletproof optics. The AR-332 is a mil-spec brute of an optic, which has stayed compact with a prismatic design. The design is a really nice crossover optic for CQB and scout rifle distances in a durable fixed-power optic. Essentially, the AR-332 is an ACOG but for 60 percent less money. Plus, it includes a dual red/green illuminated BDC reticle. According to Burris, the AR-332 has been a popular buy.
Fit, Feel, Finish, and Features
At first I was wondering what I had committed to with the AR-332. However, after a couple range visits, I was sold on the design. Like all Burris optics, the AR-332 is excellent quality, featuring fog- and weather-proof construction and very clear optics. The donut reticle demonstrates speed and more precision than a duplex reticle at varied distances.
There is a significant amount of refinements and extras on this scope. The AR-332 comes ready to mount right out of the box with a picatinny base included ($50-$100 extra on other scopes here), scope caps that flip open all the way out of field of view, and wire retained windage/elevation caps. If you have an A2 AR-15 with a carry handle, the AR-332 will work right out of the box after the included picatinny base is unscrewed. On top of those features, the AR-332 is a very clear optic with an etched reticle visible as a black reticle after the illumination is turned off. The runtime is expected into the months range, but even when the standard CR2032 battery is dead, you still have 100 percent of the reticle to work with.
Functions
The illuminated reticle works well and is brilliantly bright and visible in direct sunlight. The donut reticle is very fast on target, even at distances under 25 yards or even at 2 yards. Dedicated points from 100-500 yards can make this a bit more precise than optics with just a single duplex style reticle or wider dispersed hash marks when the yards add up. Burris also includes Picatinny accessory rails around the optic to bolt on things like red dots, lights, lasers, and tactical espresso machines. The circle holds marks for 200+ yards work great and allows tiny distant targets to be centered quickly.
The eye relief needs to be a bit more forgiving, as it does not have a wide workable range compared to others here. Plan on mounting the AR-332 almost or at the rearmost position. My stock position is always one detent in. However, for longer armed shooters, you may have to displace your rear back up sight and mount it farther back.
Burris needs to add a super low night vision setting for the illumination, as even the lowest setting is still just a bit too glaring after the lights go out. The reticle is still perfect for CQB ranges at night using the CQB Optic, but it can be a little annoying for shooting night dwelling critters in the pitch black. For those situations, I swapped out to an old half-dead CR2032 batteries for dimmer illumination. Critter hunting with the AR-332 is great way to kill off all those old CR2032 batteries.
With a variety of Hornady and Winchester 5.56 Nato and .223 Remington rounds, I found the Burris delivered all shots on 12" steels all the way out to 500 yards. However, point of impact did vary based on each round. As with all BDC reticles, the aiming points will get you within a few inches, but each round's ballistics differs.
An Odd Observation
For those who need sight assistance, a little 3X magnification can make all the difference between making a shot and frustration at the hunt or at the range. I strongly recommend taking a look at what these low power optics can provide you and your AR platform.
CQB Optic Tip
In a CQB enviroment for those optics with illuminated reticles, cover or close the front scope cover and shoot with both eyes open like you would with a red dot. With the scope objective cover in place, your eyes and brain will figure it out and make the illuminated reticle appear as an 1X lit reticle, regardless of the magnification, even if it's a 32X power scope.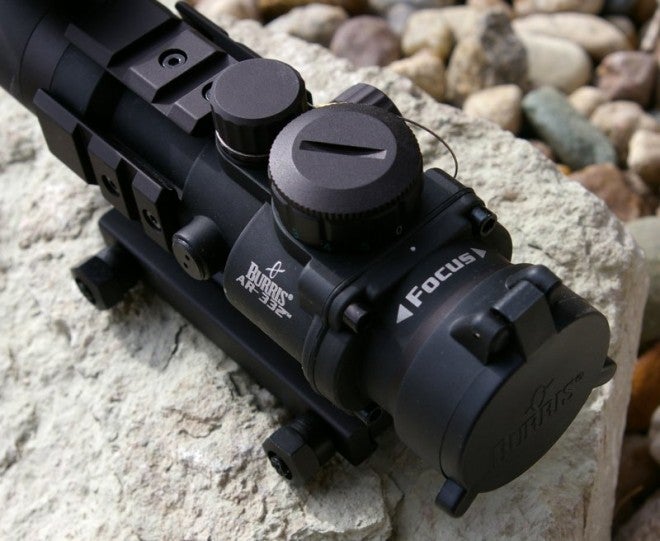 Final Thoughts
Designed for a 100 yard zero with BDC index points for 100-500 yards, this is a fixed-power optic that is exceptionally good at CQB work thanks to that glowing donut. The Burris AR-332 is a great all-purpose optic for an AR owner to extend the range of their AR to allow confident placement out to 500 yards. That big glowing dot provides a great aiming point, even at room-clearing distances. The more I use this optic, the more I like it as a combat defensive scout optic covering the US Small Arms study ranges.
Specs for the Burris AR-332, Item No. 300208
Reticle Ballistic CQ
Matte finish
1.5″ sunshade, Picatinny rail mounting bracket and integrated lens covers
Mounts on an AR carry handle
Field of view (in feet @ 100 yards): 32
Click value (in MOA): .33
Max adj.(in MOA): 60
Height above rail (in.) to optic centerline: 1.65
Length (in.): 5.29
Weight (ounces): 14.2
Magnification 1x-4x
Objective size: 24
Bullet drop compensator: No
Length (in.): 10.3
Weight (oz.): 14.4
Illumination source: Fiber Optics & Tritium
Reticle pattern: Germand #4 Crosshair
Day reticle color: Amber
Night reticle color: Amber
Eye relief: 3.2
Exit pupil: 17.5 to 5.1
Field of view @ 100 yards (ft.): 97.5 to 24.2
Adjustment @ 100 yards (clicks/in.): 4
Tube size: 30mm
Housing material: 6061-T6 aluminum, hard coat anodized per MIL-A-8625, Type III, Class 2 dull and non-reflective
Adjustment range: ± 45 MOA (± 13.3 mils) minimum
MSRP: $349.99