Fans of fixed blades seem to be caught in a sort of mania where there is no rationality to the quest for the ever larger chopper. I love choppers as much as the next person. They are supremely fun to play with, blasting through things like a cannon, but as a recent episode of the Knife Journal Podcast pointed out, they are really substitutes for the swords that we all want to carry but can't. Big choppers can do a lot of work, but after reviewing a couple and stacking them up against smaller fixed blades, I have come to realize that the increased capabilities are not enough to justify a chopper on a purely utility basis. We have choppers, and the chopper mania has grown in large part because they are awesome, not because they are useful. Or more precisely, they're not useful enough to justify their size, weight, and cost.
The Freeman Outdoor Gear 451 proved this point to me over and over and over again. You can do a lot of work, a metric ton or more, with a 4 inch blade, and the improvement in carry over a chopper is hugely beneficial. Freeman Outdoor Gear is a new name in the knife world, but if the 451 is an indication of what is to come, it is time to sit up and pay attention. Jeff Freeman, thanks to his long history making and designing gear, has produced a small batch, fixed blade that does literally every single thing not just right, but exceedingly well. This is a superb fixed blade in every regard.
Description
The Freeman Outdoor Gear 451 is a 4″ fixed blade knife. With sheath it weighs 10.86 ounces. The knife retails for $210. The handle scales are G10, and the blade is made of a 3/16″ thick stock of the premium S35VN steel, a steel I really enjoy using and even don't mind sharpening. The blade itself is a drop point blade, and my review sample is (and not was, note that for later) finished in Cobalt Black Ceracoat.
There is an attached lanyard of 550 paracord that it has been knotted in place and includes a plastic cord lock. The knife also has a molded KYDEX sheath made in conjunction with American Sportsman Pro.
The blade is held in place by friction fit with the sheath and a snap strap across the handle.
The sheath attaches to MOLLE or a belt via a Mike Hill designed belt clip also produced by Amspro.
The knife and the handle slabs have diagonal grooves that provide it with a nice clean visual appearance while also affording a positive grip. The knife has a prominent finger groove for your index finger before the end of the handle scales.
Finally, the handle slabs are "letterboxed" (meaning the full tang steel stands slightly proud of the G10), giving the knife a more 3D feel in the hand without adding significant thickness to the blade.
Testing
A friend of mine indicated that the true test of gear is use in cold, snowy weather. To that end I took the 451 on a few trips into the woods this winter and put it to hard use. I did a lot of chopping, in part because I wanted to see if the smaller blade could handle such tasks. Compared to the Ontairo RD-7 I have, the 451 seemed every bit as solid chopping through both fallen and green wood.
On the fallen limb, the wood was dry and tough, a small oak limb. The thickness of the blade was a tremendous help, allowing for a great deal of prying that I would have felt very uncomfortable doing with any folder. I will admit that the 4″ blade did not blast through material as fast as a larger knife. It was more hacking and prying than true chopping. With that said, though, I could still send up a shower of wood chips when I set the knife to such a task. Here is a piece of wood that I cut first with a bow saw and then chopped in half with the 451:
The task of chopping the 2.5 inch thick tree trunk was not easy. It was pretty tiring and something that I probably would not want to do in a situation where every calorie counts. I would almost always go with a bow saw and a splitting axe over a chopper. Here, with a smaller knife, you can do chopping tasks, but it is not easy.
I also carried the knife extensively while processing wood for the fireplace, doing home maintenance chores, and other tasks. I took the knife on three separate ventures into the woods, twice on my belt and once on a pack (a wretchedly junky pack, a Field Line from Wal Mart I that bought on a lark and regret even though it only cost $12):
This served as an excellent and representative series of tasks for testing the sheath.
In terms of more precise work, the knife was a revelation when compared to beefier blades. The 451 could slice and make kindling very, very well. It shaved tiny slivers of wood for kindling with ease. It cut paper, cardboard, and rope of various kinds efficiently. It even processed food (albeit animal food) with success:
The suet was as grimy a mess as I would imagine you'd face outside of processing an animal, and the 451 cleaned up nicely, even with all of the grooves.
I also tried to test the blade with pine sap. The green piece of wood I cut was absolutely dripping with sap, and after chopping it to pieces, the 451 was caked with dirt, sap, and wood. I cleaned the knife with some citrus cleaner designed to cut through sap and then sheathed the knife, waiting to see if the cleaner would cut through the coating or even rust the blade. Two days later, there were no signs of damage other than the residue of pine sap that scrapped off easily and some major discoloration of the G10 scales. Leaving very acidic cleaner on a blade is not a good idea, but it is a good test and here the 451 passed with flying colors.
Design
The overall design is very much in line with Jeff Freeman's work at Gerber, at least in terms of size and appearance. Jeff was one of the major designers for Gerber in the last decade with his hands on a dozen knives including the LMF II ASEK, Prodigy, De Facto dagger, '06 Auto, DMF Auto, SAH Auto, Freeman Hunter Series, Metolius Hunter series, Gator II, Venture, Instant, Propel series, and all the Bear Grylls knives. Most of those knives are good looking, excepting the Grylls's color scheme, but the quality is distinctly lacking. The fit and finish on the Gerber stuff is atrocious and the materials are dramatically below par for both their price and their competition. 7Cr anyone?
But with his own stuff, Jeff did every single thing right. The look and feel of the blade is similar to some of his Gerber designs, but materials are significantly better. The choice of S35VN for blade steel puts this blade into rarified air among fixed blade knives where carbon steels still dominate the market. As good as the Rowan treated 1095 is from ESEE, Jeff's S35VN is substantially better and virtually rust proof. The sheath is similarly well designed. Sheathes are something of an Achilles Heel for production blades, ranging from horrendous to merely bad. Only the sheath on the Cold Steel Recon was above average among the fixed blades, with which I have long term experience. Here the sheath design is marvelous.
Implementation
The knife was very good in the hand, even under very heavy use. There were no prominent hotspots, but I found that the lanyard was too long as originally cut. A few chops and the problem was both made clear and inadvertently solved.
The jimping was very effective and not offensive. I loved the finger grove and I appreciate the fact that you can sharpen the knife all the way to the end of the edge. I also loved using the sheath. It is, in a word, the best, as in "the best I have ever used," at least among production knife sheathes. Here it is on the belt: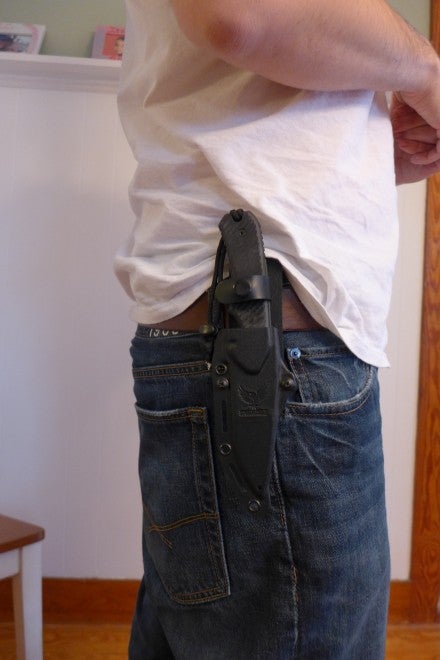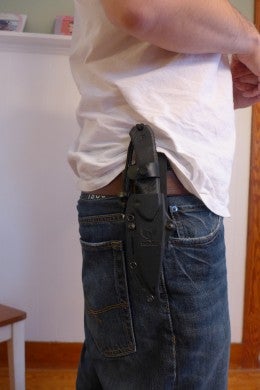 It wore very well, interfering with almost no tasks. (Snow shoveling in a large winter coat and with snow pants was something of an issue, but everything is an issue in that case.)
The blade is a flat ground blade and works well. The cutting bevel is plenty wide and easy to sharpen. The Ceracoat is amazing, truly amazing. I hate blade coatings as most look like garbage after a while, but like with the choice of steel and the sheath/belt clip, the coating here is absolutely top shelf. Here is the knife after all of the testing and two days in a sheath coating with acidic cleaner:
The fact that it looked this good even after prying and chopping and just general abuse tells me that the coating, like the knife, will hold up well under virtually any kind of use.
There are two small things I'd like to see improved. Even though the letterboxing does make the handle more grippy and comfortable in the handle, I'd like to see contoured G10 as opposed to mere slabs. Done well, they make the grip much better and don't add much bulk to the knife. Second, I love the size here, but I'd like to see a very small version of the knife for use as a fixed blade EDC knife, something around 6.5″ in overall length. The 3.25″ version of the 451 doesn't seem small enough to differentiate itself from this knife.
Conclusions
As one of Jeff's two first products, the 451, named for his unit in a wilderness firefighting crew, is a valiant first offering. It makes me really want to take a peek at his folder. It also taught me quite a bit.
The big choppers are nice. They do work, but they are probably not worth the effort, especially when you can do so much with a knife like the 451. I also think that the 451 is worth the increased cost when compared to similar sized blades, especially those with carbon steel. The S35VN is a huge step up. It's tough, it holds an edge as long or longer, and is much more rust resistant. As ground by Jeff, it also makes an excellent pry tool with no damage to the edge during any of my testing.
Between the steel and the superior sheath, I think it is probably worth the upgrade over an ESEE, Ontario, or Cold Steel with a carbon steel blade. This knife is so good it made me rethink what I want and need out of a fixed blade. It also made me think about getting rid of my chopper and in the end, that is an excellent test of gear. Great gear makes other stuff expendable, and the 451 did just that.
I'd love to see how it would do in the hands of a high end survivalist, instead of merely a weekend hiker like myself. If my tests are any indication, it would do quite well.