Del-Ton DTI Mid-length 5.56 AR-15/M4 Carbine Rifle Review
Major Pandemic 01.06.14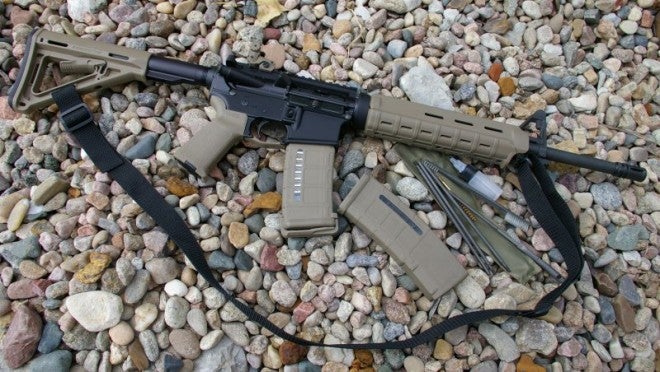 Del-Ton Industries (DTI) is probably not the first name in the firearms industry that comes to your mind when shopping for an AR, but for those in the know, DTI has become one of the most respected builders and suppliers of high value AR rifles and products.
Del-Ton has a wide array of configurations, from $699 basic models to their top end $1,300 models, but a buyer can choose from their entire line of AR accessories to order the gun exactly how they want it. The version I chose was the 5.56 Nato Sierra 316/MOE, which is a standard 16" H-Bar barreled Mid-length gas system AR-15 rifle with a Magpul furniture package and a price of $863.
Unlike many name brand manufacturers, Del-ton DTI lists all the specs of the rifle so you know what you are getting and that the rifle is of goodquality and assembled with a high degree of attention to detail.
Specifics of a Dti Del-Ton Mid-Length 5.56 Rifle
When it comes to picking options for a basic AR-15, I caution everyone not to go nuts. For the average shooter, some upgrades are not worth it in a home defense, training, and plinking gun that will never shoot beyond 100 yards.
For example, a 1:9 twist barrel for the 5.56/.223 caliber rifles will deliver virtually the same accuracy at 100 yards as an upgraded 1:7 twist barrel, and unless you have an extreme aversion to weapon cleaning or intend to subject the AR to extended humidity, a chromed barrel is really not needed.
In the checkbox list of everything a quality rifle should have, Del-ton checks all the boxes with:
Specs:
Barrel:
Chrome Moly Vanadium M4 Feed Ramps
Heavy Barrel Profile
16″ Length
1×9 Twist
A2 Flash Hider
Manganese Phosphated
Phosphated under Front Sight Base
Taper Pins on A2 F-Marked Front Sight Base
Threaded Muzzle
Heavy Mid Length barrel
Chamber:
5.56 X 45 mm
Bolt And Carrier:
Phosphated 8620 Steel Carrier Assembly
Carpenter 158 Bolt HPT/MPI Tested
Heat Treated and Plated
Mil-Spec
Chrome Lined Carrier Interior
Carrier Key – chrome lined, attached with Grade 8 Screws
Properly Staked & Sealed Gas Key
MOE Handguards:
Magpul® MOE Mid-Length
Aluminum Delta Ring
Heat-resistant polymer construction
Upper Receiver:
Forged 7075 T6 Aluminum
Flat Top with M4 Feed Ramps
Hard Coat Anodized
Mil-Spec
Ejection Port Cover and Round Forward Assist
Right Hand Ejection
Bore's surface is coated with dry film lube, over the anodized surface
Lower Receiver:
Forged 7075 T6 Aluminum
Hard Coat Anodized
Mil-Spec
Magpul® MOE Triggerguard
Semi-Auto
Aluminum Mag Catch Button
Magpul® MOE Grip
MOE Buttstock:
Magpul® MOE Stock
Polymer Construction
Mil-Spec Sized Tube
Weight:
6.8 lbs Empty
Length:
36.750″ Fully Extended
33.0 Collapsed
Accessories:
Fit, Finish, Function, Features, and Value
Many folks gauge AR fit by how well the upper and lowers fit together, and my DTI rifle did not offer any wiggle between the receivers. The rest of the parts all fit well and were properly installed with milspec staking of the castle nut and gas key staking.
All the parts were consistently and appropriately phosphated or hard anodized. From a finish perspective, it was nice that the DTI upper and lower anodizing matched perfectly, but I am of the opinion that if all parts are properly finished, then it really should not matter whether the parts match from a cosmetic perspective. Throughout the rifle there were no tool marks or burrs, and the rifle finish was of very high quality.
The Del-Ton AR-15/M4 rifle provides the same functions and feel as any standard AR-15/M4 rifle, so there are no surprises there. After over 500 rounds through the gun, the DTI took the beating and operated perfectly. Throughout the 100 round break-in, the Del-ton seemed a little tight, but never failed to feed, function, or fire. At the range, even a mixed magazine of eight different rounds of 5.56 and .223 ran though the Sierra perfectly.
The trigger was a notch above standard M4 quality and feel, meaning it is not a great target trigger feel, but it was plenty serviceable for a service rifle and was better than most gritty stock AR triggers.
Magazines are one of the most critical and sometimes most problematic accessories affecting reliability. To assure the highest reliability possible, DTI includes a Magpul PMAG magazine, which have become the poster child of durability and reliability. I added one extra mag to to order, but DTI included a note that they were running low on their regular Magpul Pmags and provided me with a windowed version instead as a substitution — no complaints from me there.
Feat and ordering
If you are familiar with the standard controls of an AR-15/M4 rifle, then you will have no surprises with the Mil-Spec DTI-15, which has everything in the right place. My perspective on DTI rifles is that you get a bit more for your money and a higher quality rifle than comparable brand name rifles.
With one phone call, they walked me through my wish list and took my credit card info. You can order any firearms parts from any business, including DTI, and have them shipped directly to your home, as long as the part is not a serial numbered FFL registered part.
If it is a serialized FFL registered receiver or complete rifle in my case, the process is still simple. Order what you want just as normal, but have your local gun dealer fax over their FFL information to Del-Ton. After your rifle is shipped from DTI to your gun dealer, your FFL dealer will call to let me know your receiver or rifle is in and ready to pick up. Usually your local dealer will charge $10-$25 for the FFL paperwork. In my case, the whole process was quick and painless, and I had a made to order gun in my hands in just under three weeks.
Like many companies, DTI now offers a customer rewards program which accrues points with each purchase. Add them up over time, and you can get free stuff by buying stuff, which is pretty cool. I now have a little over 900 points that I can use toward my next purchase.
Accuracy Testing
Although every barrel has its own unique accuracy, my general observation has been that 1:7 twist barrels shoot tighter groups with heavier bullets, and standard 1:9 twist barrels shoot tighter groups with lighter bullets. This was certainly the case with the DTI-15 with my optional heavy 1:7 twist barrel.
I used my Burris Fullfield II 2-14 scope for testing and was able to test a variety of rounds, ranging from handloads to inexpensive and high end factory loaded ammunition.
100-yard average groups
HORNADY TAP URBAN 55GR = 1.4"
WOLF FMJ 62GR = 1.3"
WINCHESTER FMJ 55GR = 1.8"
FEDERAL MATCH 69GR = .82"
HANDLOADS HORNADY AMAX 75GR = 1.1″
I was very happy overall with the accuracy of the Del-Ton DTI-15, but I caution everyone to buy this type of gun based more on reliability vs. accuracy. I have experienced zero malfunctions from the rifle in well over 500 rounds and only two quick clean and lube jobs. Almost any quality AR will shoot sub-1" groups at 100 yards. It is just a matter of figuring out the ammunition it likes best, and from my experience, no two rifle barrels are ever the same.
With more realistic rifle optics of a Trijicon 1-4X scope and Eotech 912, the groups obviously opened up without the higher magnification. With care, the Trijicon 1-4X scope nearly matched the accuracy of my higher magnification Burris scope, but I was surprised to find that careful bench shooting with the EOtech sight would still deliver sub-2" groups with almost any load, even with limited magnification.
Final Thoughts
The Del-Ton DTI-15 is a great rifle at a low price, and from my perspective it sacrifices nothing other than a brand name. The rifle shot well, I had a good customer service and ordering experience, it has a lifetime warranty, and it's made with 100% made-in-America parts by people right here is the good old USA. Maybe DTI should be a household name for you on your next AR purchase. I have nothing but great things to say about this rifle – Highly recommended.