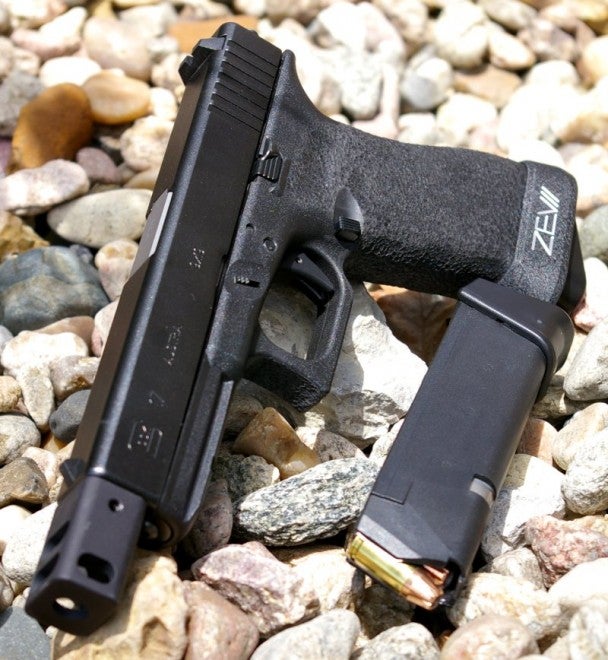 As a shooter and lover of most things Glock, I was intrigued by the DIY transformation process from a stock Glock to a competition Glock in order to make it faster, smoother, and a better shooter. Most people would find it surprising that the Glock is stunningly easy to disassemble and incredibly simple to upgrade with no-modification, drop in parts. One of the most popular upgrade sites for these upgrades is Glockworx by ZEV Technologies.
ZEV TEchnologies was founded to offer Glock enthusiasts and competitors the best Glock performance parts available. ZEV utilizes modern CNC machining and 3D design to create the top-notch, competitive Glock parts. Take a close look at the top Glock competition shooters' guns, and inevitably you will see more than a few ZEV parts on the gun. ZEV Technologies also founded Glockworx as a retail site for all the best Glock parts, including ZEV's own parts and a huge variety from other manufacturers.
The Glock Competition Upgrade
I elected to go all in with about $500 of ZEV upgrades for my Glock 17 Gen 3. These parts included the ZEV Tech Fulcrum Drop In Kit, Speed Feed Magwell, Stainless Guide Rod, Recoil Spring Retaining Washer, Titanium Frame Pins, Titanium Firing Pin kit, Tech Front and Rear sight kit, and both light and heavy Color Coded Recoil Springs. Later, I added a couple Glock +3 round magazine extensions ($20) and topped off the build with a KKM Match 9mm Glock 17 barrel with Compensator ($275).
In the end, I took a perfectly good, used $450 Glock 17 and replaced nearly everything except the frame and slide for a grand total of around $1,245 for a competition-ready transformation. One initial transformation I did make was to remove the Gen 3 finger grooves and hand stipple the grip with a wood burning iron with a ball tip.
Fit, Feel, Finish, and Features
All the ZEV parts arrived nicely packaged and clearly marked, but installation instructions are up to you. That said, all that is required to work on your Glock is a simple 1/8" punch like the Ameriglo Glock Tool I used, a small hammer to tap out stubborn pins, and maybe a front sight tool and hex wrench if you are swapping out sights. In most cases only a punch is required (to completely break down the Glock) and maybe a small hammer to tap out stubborn pins.
Overall, every ZEV part was of high quality, but it should be noted that it would be hard for a non-expert to see a difference between a number of the parts. The difference is that they are lighter and/or stronger, or they improve the overall trigger feel but do not look much different than the stock parts. The notable exceptions are the stainless guide rod, firing pin, color coded springs, and billet trigger shoe. And obviously the ZEV magwell is something new.
Most of the parts have subtle differences, such as the ZEV polished titanium safety, which delivers a lighter, smoother trigger feel. The titanium frame pins are just a bit oversized to provide a tighter fit on older frames, but other parts are obviously different.
The titanium pin is skeletonized, lighter, and polished to improve trigger feel, and the Fulcrum Drop in Trigger Assembly transforms the Glock trigger to something truly competition worthy. Of note, I choose the Fulcrum non-adjustable, marginally heavier Tactical version instead of the competition fully adjustable model. The main reason for this was that I wanted the ability to swap back to the stock barrel and remove the magwell funnel for use as a carry gun. I am an adamant believer that you should never ever have an "adjustable trigger" on a defensive gun. If you want to be in a boatload of legal trouble after defending yourself, have a light, match grade, adjustable trigger on your defensive gun.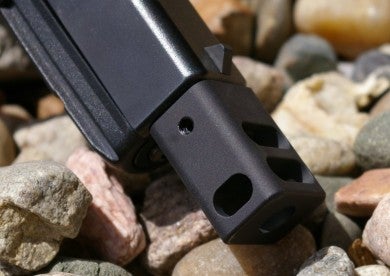 Admittedly, the ZEV Technologies Fulcrum adjustable trigger is lighter and crisper with a shorter trigger throw for the competitor than the Tactical version. For my needs, the Tactical Fulcrum trigger kit was the right choice and still delivered a significantly superior trigger compared to a box stock Glock, but provided a non-adjustable trigger shoe.
Because the Glock is so easy to work on, I was able to play around with omitting and swapping out upgrades to see that the ZEV safety did decrease trigger pull and that the addition of the ZEV firing pin did improve the trigger feel beyond just upgrading the trigger unit. The Trigger and barrel delivered the largest noticeable upgrades, but each of the other parts definitely added bit by bit to improve the feel of my used Glock 17 in some way. In the end it was quite a transformation.
KKM barrels are used by almost every top Glock competitor because they are significantly more precise and accurate than the stock barrels and allow for a low cost cast bullet to be shot for practice. Glock barrels generally have a little "play" in them and the chambers are a bit loose to accommodate imperfections in ammo and improve feeding reliability. All of these things keep a Glock working even when dipped in muck. In the sterile confines of a competition, a high toleranced uber accurate barrel is prefered. The KKM barrel I picked up was threaded for the included compensator/brake, which delivers a flatter shooting Glock when pushing higher power rounds. This beautifully machined barrel will have a dedicated review on its own with more specifics.
Function
When in a competition, speed is of the essence, and the ZEV Magwell lets you shoot mags in significantly faster and more reliably. However, you will need either a magazine bumper extension or at least a 3+ round extension to reliably seat magazines due to the increased depth. Installation was stunningly simple, requiring the mounting of a grip plug and screwing on the magwell. This installation also allows the magwell to be easily and quickly removed via one screw, should you decide to carry the pistol outside of competition.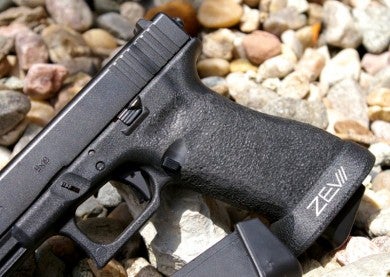 As noted above, the ZEV Fulcrum trigger delivers the most noticeable functional difference with a decreased pre-travel and overtravel and significantly crisper trigger feel. The stock Glock's trigger safety is not spring loaded, but the ZEV model is.
Along with being lighter and offering potentially faster lock times and a smoother trigger feel, the Titanium Firing Pin has an extended firing pin face for improved detonation. I occasionally use Small Rifle Primers in my reloads which are harder, however I had no issues with reliable detonation with this firing pin. The firing pin kit also includes the above mentioned titanium firing pin safety and a new spring for the firing pin, all of which improve the trigger feel.
The stock Gen 2-3 Glock springs are mid-light weighted and perform well with a wide variety of loads, however for competition, the best option is to tune the spring to the power of load you are running to minimize recoil and improve control.
Muzzle brake/compensators need a fairly hot load to feed enough muzzle blast to make the muzzle brake effective. I shot the ZEV G17 with the KKM Compensator side by side with a stock Glock 17, and I would have better luck flipping a coin to decide the difference with light handloads.
Once I slipped in the snappier 9mm loads, the compensator had enough exhaust to work with and provided a significantly flatter shooting gun. Also, the hexagonal rifling on the Glocks appeared to be more forgiving on less premium reloads, but the KKM barrel provided significantly better accuracy than stock with Hornady XTP bullets zipping down the barrel.
Final Thoughts
One would think that it should take far longer than 30 minutes to slip around $800 worth of upgrades into a Glock, but it actually could take far less if you have done it a few times. This is a simple and easy set of upgrades to your stock Glock that can deliver a huge improvement in trigger feel, accuracy, and an overall faster shooting Glock.
Specs
ZT-FUL-ULT-9-TBB ZEV Tech Fulcrum Drop In Kit – TAC BLK/BLK $250.00
ZT-MAGWELL-SM- ZEV Tech Speed Feed Magwell ALL Aluminum $80.00 BLK-AL
ZT-GROD-SS-17 ZEV Tech STAINLESS STEEL Guiderod $24.00
ZT-WASHER ZEV Recoil Spring Retaining Washer $4.00
ZT-PIN-KIT ZEV Tech Titanium Pin Kit $20.00
ZT-SIGHT-KIT-1 ZEV Tech Front and Rear sight kit $75.00
ZEV Tech Color Coded Recoil Spring – Blue 12 lbs (Best for light 9mm) $9.00
ZEV Tech Color Coded Recoil Spring – Red 14 lbs (Good for hot 9mm, 40, & .45) $9.00
Used Glock 17 Gen 3 – $450