Knifemakers Mark Milestones at SHOT with Special Editions
Ashley 01.14.14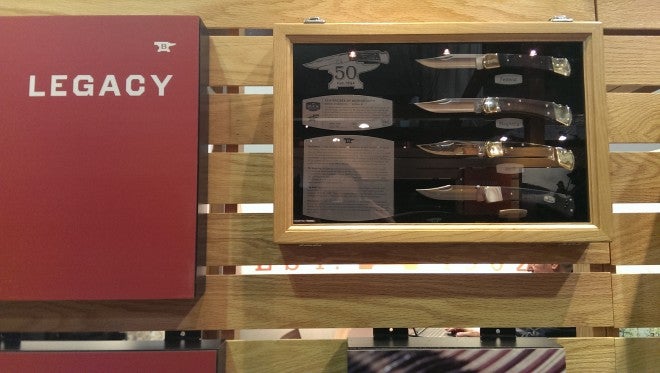 Starting a successful and respected gear company able to weather the storm of trends, fluctuating economies, and incoming competition is no easy feat. It requires a keen eye for design and quality and a willingness to adapt with the times while still maintaining the features that long-time customers expect. This year at SHOT Show, three popular knife companies, Kershaw, Böker and Buck, are commemorating noteworthy anniversaries with new special edition knives.
Kershaw
Kershaw's Ruby model 4040 is the anniversary model noting the company's 40th anniversary, and the date is printed right on the handle. The Kershaw Ruby, currently only seen at SHOT or on Kershaw'sFacebook page, is somewhat flashy with a unique line pattern on the blade and handle. Given that it's the anniversary design, it makes sense that it features the KVT (Kershaw Velocity Technology) ball bearing system. And although it looks like a speedsafe, it's a manual folder with a titanium framelock. It was smart to pair the unconventional pattern with a streamlined blade and handle, and it's a comfortable knife to hold.
On the handle, the new Kershaw logo is printed. It's worth mentioning that this is the first time Kershaw's logo has been changed since 1974. The new logo has received mixed responses on social networking, but I personally don't think it's too different from the original logo. Plus, the modernized design will certainly look nice embedded in upcoming knives.
Böker
An even more impressive accomplishment is Böker's 145th anniversary. Founded in 1869, the German company is now known for its unique selection of knives and high profile collaborations with custom knifemakers. A slew of anniversary knives are available, and some others are available in limited quantities.
The Sport Knife is one such option. The beautiful, classically-designed folder is more of a multitool, and it retails for $240. There are only 1,869 available (a nod to the year of the company's inception), and each comes with a unique serial number and certificate of authenticity. Eight–that's right, eight–additional anniversary knives are also available, ranging in price (~$160 to $325) and style. Six of these eight knives are folders. The Pry Mini is a beefy little fixed blade at just 5.25 in. overall, and the Applegate is a sword-like fixed blade at 10.25 in. in length. All of the knives in this series feature Grenadill wood scales and a silver emblem with the years 1869-2014.
Buck
Although Buck Knives isn't celebrating a notable company anniversary this year (although, as of 2014, the company has been around for 112 years, which is saying something), it's the 50th anniversary of Buck's most popular knife, the 110 Folding Hunter. The classic folder has gone through a few small changes in material and style, but ultimately the best parts have remained constant. The 110 remains Buck's bestselling knife, according to Buck representative Justen Bock. "It was a great knife," he says. "It's solid, it works well, and the style is classic and sophisticated." A special edition pack comes with four variations of the Buck 110 from the past 50 years. An anniversary 110 comes with original Macassar Ebony Dymondwood handles and brass bolsters.
Like Böker and Kershaw, Buck has chosen to incorporate their signature style into their anniversary knife. The ability to incorporate past and present into these special edition knives is indicative of the staying power of these brands and how long they've been competitive players in the knife market. Time will tell what the future holds for them, but if they continue down the path of innovation and quality, it's likely we'll see them around for some time.