New Hinderer Collaborations by Zero Tolerance
Ashley 01.14.14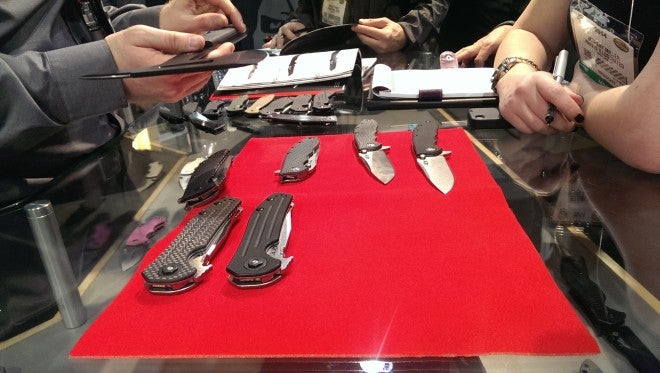 "Accessibility" is an apt term to describe the new folders from Zero Tolerance (ZT). ZT knives are in the KAI LTD. family, and are considerably larger and pricier than most standard Kershaw knives. Despite the size, ZTs are often recommended as EDC knives, which is a good option—if you can afford it. But new ZTs will be both slightly smaller and more affordable, and bring a few new design features to the table to ensure that all users get the best experience with their ZT.


The Zero Tolerance 0562CF
At the Kershaw booth, I spoke with Kershaw representative Jim Macnair about the 0562 and the 0562CF, ZTs newest collaborations with Rick Hinderer. The 0562 features a beautiful stonewashed, ELMAX blade. Although there is some controversy among knife enthusiasts about ELMAX steel, the 0562 will also be available in m390. Macnair says the 0562 series are essentially "two versions–a fancy and a working version."
Aesthetically, there aren't too many differences between the 0562 and the 0562CF–the CF stands for carbon fiber, which is the handle material. The 0562 handle is G10. The reversible clip allows for deep carry. The blade grinds also differ slightly, and the stonewash is more prevalent on the 0562. But the smooth finish on the 0562CF is quite striking.
"It has a beautiful satin finish from the grinds," Macnair says. "You can see it when you turn it in the light."
Macnair says that Hinderer refers to the 0562 blade shape as a "slicer blade," opposed to the standard drop point of the original 0560. "It creates a nice wide slice," says Macnair.
The thumb stud is one of the more noticeable changes. Because of the original ZT size, the thumb stud was reportedly difficult for some users. Thus, the 0562 now features a stop pin, and the thumb stud is narrower, preventing any catching on the thumb.
The price point, too, is intended to be more manageable for those looking to get their hands on a ZT.
"There's definitely a cost savings," Macnair notes. While previous models sold in the $300 range, the 0562 will be approximately $75 cheaper at $250.
According to a poll on BladeForums, the 0562CF is one of the more highly anticipated ZTs. Another new ZT is the 0180 fixed blade, which sports a nice Tungsten DLC coating on the blade and G10 handle scales. New folders also include the black coated ZT 0620 and its stonewashed, carbon fiber-handled partner, 0620CF. All have the traditional ZT look–slightly tactical with subtle classy finishes.
There is a noteable sleekness to this year's models–which I enjoyed, since my hands are a bit smaller than the average ZT user. Within the EDC realm, it's likely the new ZTs will be popular with first time ZT buyers who will appreciate the changes, as well as longtime ZT fans who will appreciate the familiar Hinderer design features.