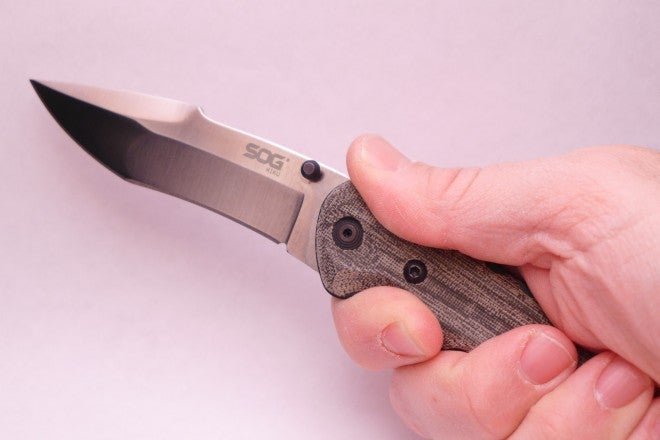 Kiku Matsuda is a custom knife maker of international renown. He not only makes excellent and unique knives, but they are widely appreciated for their ability to withstand hard use. Despite their unusual aesthetics, they are not art knives or show knives. These are pieces designed to do real work.
Up until three years ago, SOG Knives were designed almost exclusively by the company president Spencer Fraiser. Fraiser either borrowed liberally from classic designs, as he did with the beloved SOG Vietnam-era bowie designs, or the knives were entirely his work. It is an impressive output, both in terms of number and quality, but I would imagine all of that design work was exhausting. So, perhaps for the first time, SOG opened up to outside designers, and Kiku Matsuda was one of the first they choose. The first knife of this collaboration was a very different fixed blade. Essentially Fraiser and Kiku worked together on the design, and then Kiku made it for SOG in very, very small numbers, releasing a handful of blades over about a year. After that they scaled up and made a very nice production fixed blade of similar design with a striking hammered pattern on the blade. Then last year, they released a pair of Kiku designed folders–the Large and the Small Kiku folder. This is a review of the small.
Overall it is a very good knife with one big flaw and one smaller one. More than focusing on the flaws though, it is important to recognize what this knife represents–an entirely unique blade in the world of production folders. There is NOTHING out there that looks or feels like the SOG Kiku. So while there may be a few things that need work, overall this is a blade you should at least try. If we only wanted basic utility folders, we'd own one or two knives, but since being a knife knut is about more than utility, the Kiku is worth tracking down.
Description
The Kiku Small is a large folding knife with a blade length of 3.5 inches. The large is even bigger with a blade length of 4 inches. The blade is made of high satin polish AUS-8 steel. It has a very complex grind, perhaps the most complex grind I have ever seen on a production knife. There is a flat ground swedge on the spine of the blade, a convex ground tip, and a hollow ground recurve. Overall, it is a beautiful look and an impressive technical feat.
The handles are the classic Kiku style, very rough media blasted micarta with an organic, almost random cut out pattern and a deep groove down the middle.
The micarta scales are letterboxed and rests on two thick stainless steel liners. The knife is locked open by a liner lock. There is a left or right hand tip up over the top pocket clip. The knife opens with a thumb stud and rides on a wonderfully smooth pivot. The detent is strong enough to allow the user to flick open the blade, but I would prefer to see a bit more blade retention when closed.
Testing
I carried this knife for a few weeks and did regular EDC tasks with it–food prep, opening boxes, and the like. I also used it in my workshop as a utility blade and marking knife. I took it with me on multiple winter day hikes where I used it to whittle and again some food prep. Finally, I used it for fire prep tasks like making tinder. I did some paper cut tests with the knife, and it came sharp enough to shave hair and has remained relatively sharp, especially given its relatively soft steel. Sharpening the knife has been limited to stropping thus far, but I am dreading the time when I need to do a full sharpening as the grind is very daunting–a recurve AND a compound grind.
Design
The Kiku is a truly beautiful knife, thanks in large part to the very rough finished handles and sinuous, undulating blade.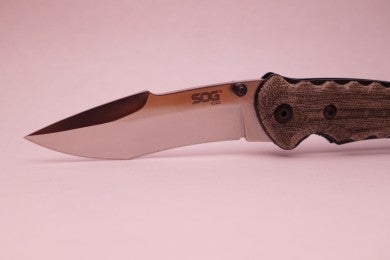 My understanding is that the handle scales are cut into traditional canvas micarta, which is then very heavily media blasted to give it a worn, textured finish. The overall impression is one of used, lived in, imperfect beauty, synching up quite nice with the wabi-sabi tradition in Japanese culture. It is also largely unique among production folders. The appearance of the handle is one thing, but the blade is something else. There are few things that make as loud a statement as the triple compound grind, recurve with a distinctive harpoon shape. It looks like a shark or other fast, aggressive sea creature and, like the handles, makes the Kiku stand out.
The pocket clip's design is also noteworthy as it is simple and, thanks to a second clip included in the box, suitable for right or left hand carry.
It is a very solid, over the top design that drops the Kiku deep into your pocket. More on that later. Finally, though the small is long at 3.5 inches, the overall knife is quite slender. This is due in part to the relatively narrow profile of the blade and to the fact that the blade sits low in the handle. It makes the larger than average blade seem like it fits in a smaller than average knife, something that is obviously impossible, but the illusion comes out of superior design. On paper this is one hell of a blade.
Implementation
It's in the implementation that the Kiku hits a few snags. It's not enough for me to write off the blade, in part because the design is so striking, but it does give me pause. First, the combination of incredible tension and coarse material under the clip makes retrieving the Kiku in a pocket virtually impossible to do easily. Even in slick dress slacks, the Kiku didn't want to let go. In jeans or heavier, coarser material it was virtually impossible to retrieve one handed. That's bad, but fixable. You can simply take the clip off and carefully bend it to a less high tension position. The second ding I have on the Kiku is the fact that the liner lock is both pokey and hard to engage.
Even after extensive use, the liner lock was sticky. The pencil trick can help, but the surface you touch to pull the lock out of place is pretty uninviting for your thumb. Those are the two dings and they are, as I said, not deal breakers.
The grind is a SOG grind and, as I have written about before, that means it is simply as good as you will find on a reasonably priced production knife. Here that greatness is taken a step further. This is a wickedly complex, multifaceted design, one that I am not sure how it could be done at this quality level in mass production. Certainly this is a multi-step process. The results are spectacular to look at and a joy to run your fingers across. Deployment is easy and fast thanks to a silky pivot and good thumbstuds (with good placement). You can readily kick the blade out using a "coin flip" flick of the thumb. Cutting was also well above average. I liked using the Kiku as I felt like I had a grind for any need, but the recurve, while aggressive in material, will likely be a bear to sharpen, especially on systems that don't use rods. The handle scales are well contoured, but over time, the thinnish liners caused hot spots in your hand, especially in high force applications like whittling and tinder making.
This is a folding knife and the handles are quite good, but they aren't perfect.
Conclusion
Overall, the Kiku is a knife that is easy to recommend even if it is larger and more complex than my tastes usually run. This is not the most utilitarian object on the planet, but it is certainly one of the most eye catching production knife designs on the market today. There's room for tweaks and improvements, both at the factory and once you get the knife home, but none of the flaws are killers. If you're tired of the steady stream of black handled, bead blasted blades, the Kiku is a welcome detour.