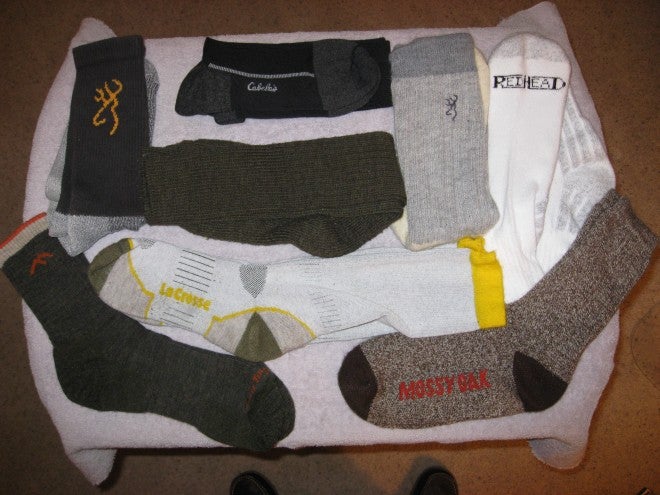 Forty years ago when I started deer hunting, the standard for hunting boots were either army surplus leather boots, lace up work boots, or rubber farm boots, none of which were considered insulated. If they were advertised as "insulated" then all that meant was a layer of thin foam was put between the outside leather and the inner sock liner. They were not warm, and they soaked up water like a sponge.
If that were not bad enough, most hunters wore cotton socks. You might as well keep bare feet as to expect cotton socks to keep feet warm. As you walked, usually your feet sweated and there was no where for that moisture to go but into the socks. Cotton absorbed that moisture until finally your feet felt like they were encased in a block of ice, which was not too far from the truth if the outside temperatures were that cold.
I forget when the first truly modern, hunter designed boots came on the market. Brand names like Browning, L.L.Bean, Kenetrek and others broke the ice. Later Muck and LaCrosse introduced high quality insulated rubber pull on boots. Slowly but surely decent boots did arrive and hunters were quick to adapt to them.
Scientifically engineered insulation materials began to show up, too. Today we know them by the trade names like Thinsulate ® in various gram thickness layers or insulations like thermal foam, or wool inserts such as in Schnee boots. We also have advanced waterproofing shields like Gore-Tex ® or other water resistant applications like Red head's Bone Dry or Rocky Waterproof. Boots are definitely made to be warmer and totally water resistant.
Socks are simple. Wear wool. There are some liner socks out there made of silk or some other thin synthetics that feel great against the skin and help keep feet dry. Wear those under the wool socks. Forget cotton socks for hunting, period. That is if you want feet to have a chance of being warm.
Boots should fit to allow toes room for movement. If your foot and toes are jammed into a boot and it's clearly too small, then your feet will get cold quicker and stay cold longer, because there is no flexibility for movement to allow ample blood flow. Make sure you can easily wiggle your toes inside any hunting boot you buy.
The reverse is a boot that is too loose. That causes excessive foot movements from front to back or side to side causing a potential for rubbing and blisters. I have had goose egg sized blisters before from walking up and down mountains in boots that were only slightly too big.
So the lesson here is to buy boots that fit right. Especially keep this in mind when buying boots for kids. Youth can be hard to fit and have a difficult time recognizing when a boot does not fit well. Your normal street shoe size may not always be the best size for hunting boots either. You may have to go up a size or a width to get the best overall fit.
As you get older, your feet may change too. I used to wear nothing but 11D, but now I have to have an EE width or sometimes an 11.5 or 12 to find a good fitting boot. If it's slightly loose, I wear thicker socks. I wear a larger size in rubber boots than leather ones.
When temps finally fall below 50 degrees in Mississippi, a slight breeze blows from the north, and the humidity is high, then it is cold. Sitting for hours in a tree stand or in a duck blind can take its toll on foot warmth. You need good quality fully insulated and waterproof boots with wool socks. That is the best combination starting place to keep feet warm no matter where you hunt even in deep snow or icing conditions at high elevations.
For an added touch of warmth on really cold days, those chemical foot warmer pads really work quite well. I put in one pair in the morning and a fresh pair in the afternoon and my feet stay toasty. Try it.