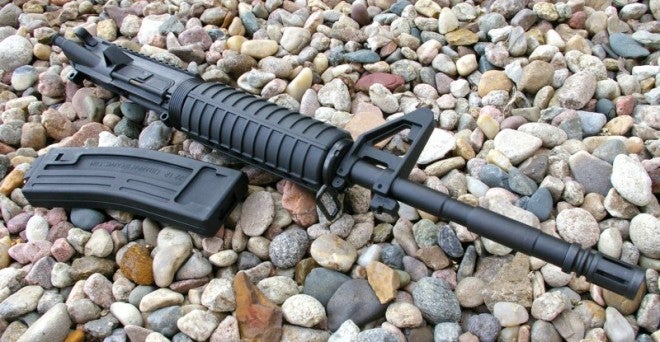 We all love to shoot those wonderful 5.56 and .223 caliber AR-15s, but I can almost hear two quarters being shot out the ejection port with each round fired. AR shooting is fun, but it can get expensive if you are just screwing around plinking, doing short range training, or want a versatile preparedness or hunting accessory for your AR-15. The cheap-to-shoot .22LR calibered alternatives have become a compromise for shooters when they want to save a little money.
Dedicated Upper vs. Other Options
There are dedicated .22LR AR-15s, drop-in conversion kits, restocked 10/22s, and dedicated .22LR AR uppers. The ATI – Chiappa M4-22 upper is the later and is a complete .22LR upper that you can just bolt up to your existing milspec AR-15 lower. Dedicated uppers are very similar to drop-in bolt/conversion kits operationally and use the same Black Dog (brand) compatible .22LR magazines, but dedicated uppers feature a dedicated .22LR barrel.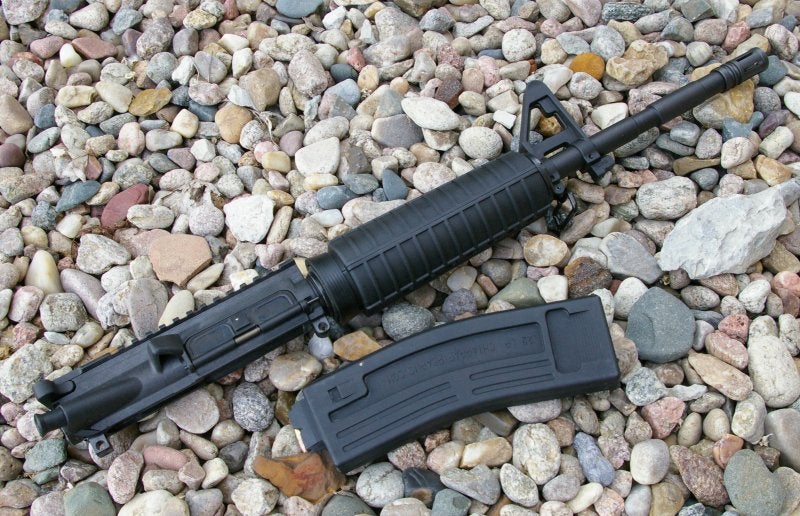 The primary advantages of dedicated uppers are the enhanced accuracy and the ability to properly zero the upper and leave it. Drop-in bolt conversions, by comparison, can require users to change zero between shooting 5.56 and .22LR rounds. Other benefits are that you can use your existing lower receiver, which ergonomically has the biggest impact on the shooter as well as developing perfect muscle memory of the same grip and controls you would use with your standard 5.56 upper. From my perspective, a dedicated upper provides a complete and reliable conversion of your AR-15 into a viable .22LR hunting rifle rifle while saving you big money on the range.
Fit, Feel, and Features
I am not going to candy coat this: there are more expensive and higher quality .22LR dedicated uppers out there, but all cost $100+ more, and the really good ones with match grade barrels are twice that price. The ATI performs far better than its specs and finish would suggest. Like the S&W MP15-22, the upper receiver is polymer but it seems a little more flexible when not attached to the lower. Pin the upper to your AR-15 lower, and the polymer upper becomes rock solid without wiggle or flex.
The barrel attaches in the same manner as any AR barrel: with a barrel nut and delta ring assembly that holds on the milspec-looking handguards. The upper will not accept milspec charging handles and is prominently labeled as .22 caliber on top of the picatinny rail (to assure someone does not us the upper later for a 5.56 Nato build).
The Chiappa design is 100% compatible with any free float forend you want to attach. After testing I installed a rifle-length Black Rain Ordnance free float quad rail forend to make this upper a perfect analog for my Black Rain, Barnes Precision, and JP uppers and rifles I own.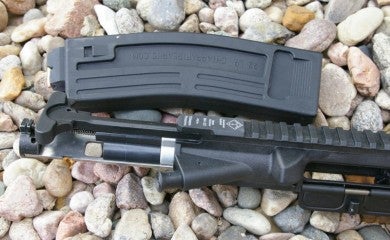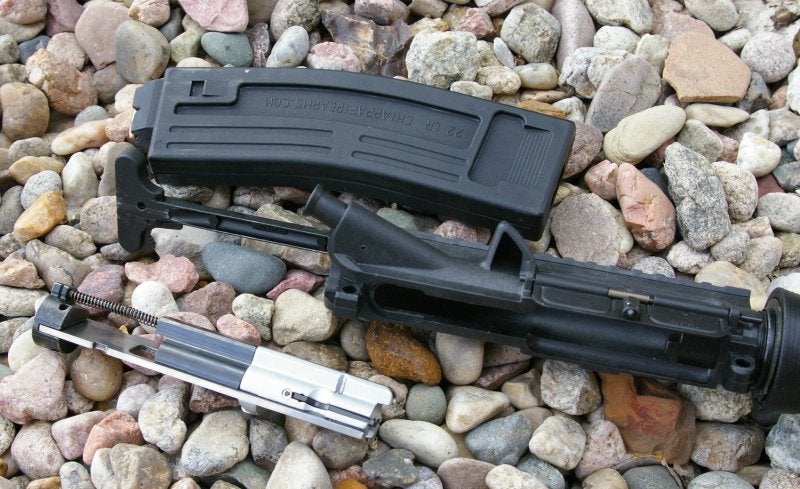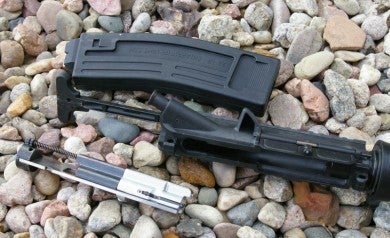 The barrel is not threaded for the flash hider. Instead the flash hider is retained with a hex set screw, as is the front sight. The front sight is metal, but on my version it was canted a bit and delivered shoots way to the right. This nearly maxed out my rear sight adjustment. Unfortunately, the sight's hex set screw has a detent cut in the barrel and the screw re-centers itself, so you cannot just center the front sight and retighten the set screw. Most users willl install an inexpensive red dot sight anyway.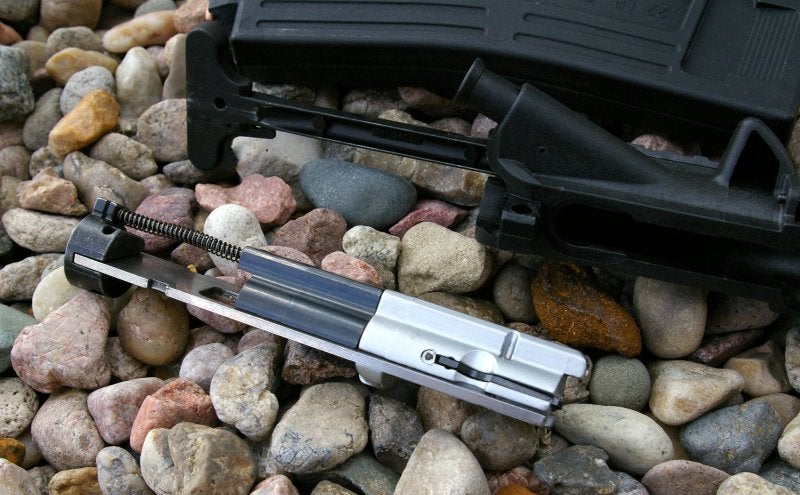 Obviously this and other similar .22LR uppers do not operate on gas pressure, so a gas tube is not required or attached to the front sight. The bolt and carrier assembly was similar to what I have seen in many .22LR uppers and is based loosely on the original Atchison drop-in .22LR conversion design. The ATI M4-22's bolt group adds tweaks such as the bolt follower, which is noted to improve reliability and lesson functioning issues and has been actively updating the bolt design. I had a problem at one point with my early generation upper, and ATI provided a free replacement (under warranty) with a noticeably different bolt. Since that update, I have had flawless functioning.
The included magazine is Black Dog compatible, but it has some features I like. It is lighter and has thumb assists on each side of the magazine to speed the reloading process.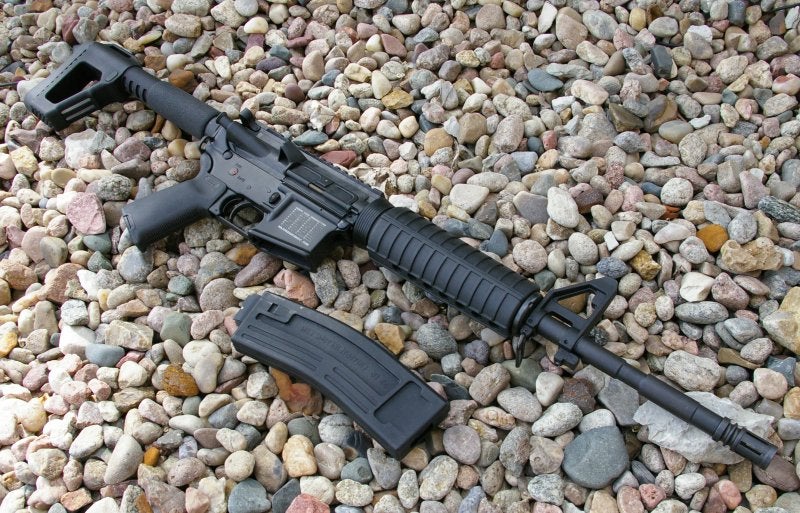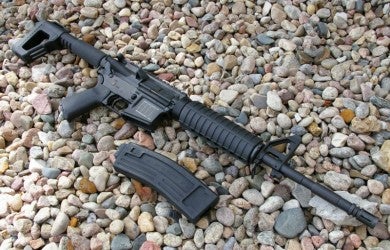 It should be noted that, as with any polymer upper, you should only be hand tightening the barrel nut or forend. Do not use a wrench or you will strip the upper receiver threads. The Black Rain Ordnance Forend has a proprietary patent pending barrel nut that is designed to be easily tuned to deliver a gapless upper to forend fit. I recommend adding a free float forend as it did improve accuracy and also allowed the front sight issue to be corrected. I had the Black Rain forend waiting for a project, but I am sure you could find a used tube at a gun show for cheap.
Functions
If you have shot any .22LR converted or versioned AR-15 fed by Black Dog compatible magazines, then you know how this one works. Unpack the Chiappa M4-22 upper and pin it to your existing lower AR-15 spec receiver, insert a loaded Black Dog compatible magazine, pull back on the charging handle, and start shooting. The forward assist is just for show and does not "assist" the bolt in any way.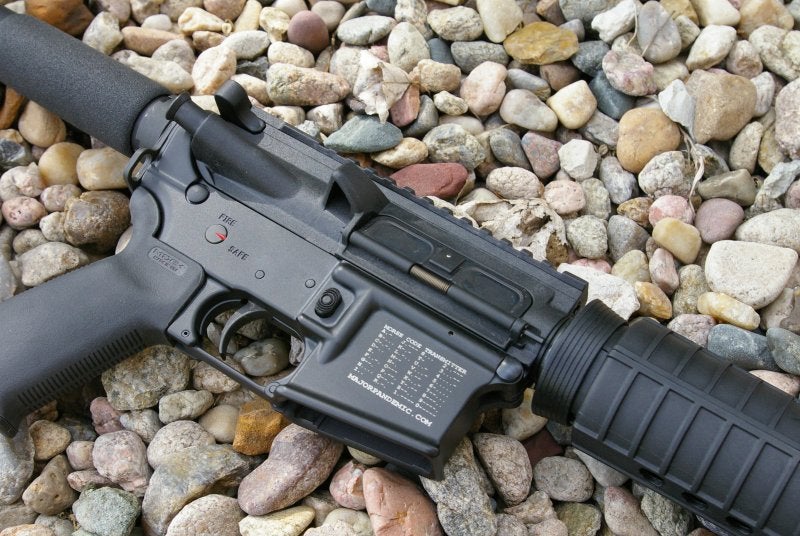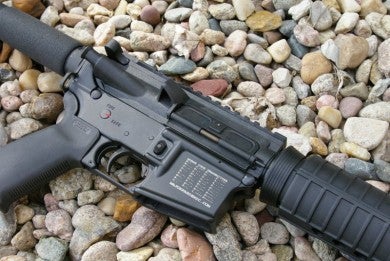 As with all similar style .22LR uppers and conversions, the bolt release does nothing. Instead, the magazine follower holds the bolt back after the last shot. Pull the now empty magazine out and the bolt slips closed, pop in a fresh mag, rack the charging handle and you are back in business just like you would with a Ruger 10/22. This is a variance from the normal drop mag, insert mag, hit bolt release, and start shooting manual of arms for AR-15, but it is the compromise of these types of .22LR uppers and conversions.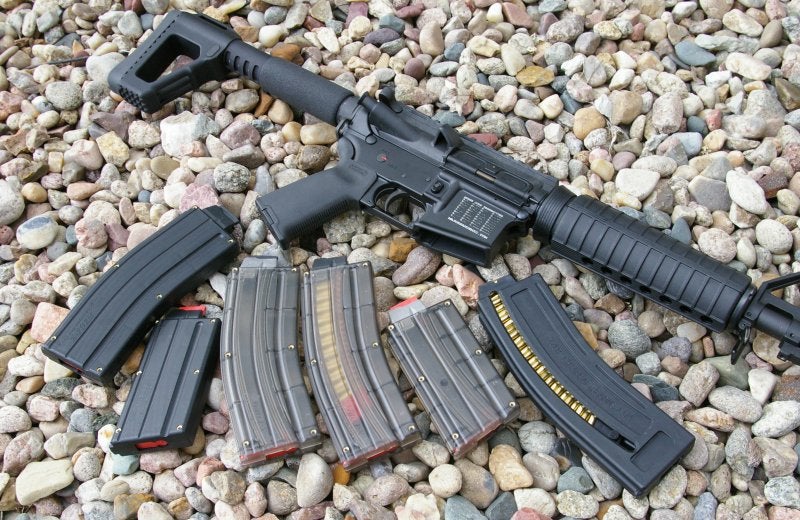 I mounted my Chiappa M4-22 to a variety of lowers, including the custom Double Star lower shown, as well as my Barnes Precision lower. All worked perfectly without an issue. The one magazine included goes empty really fast, so I picked up an assortment of Black Dog magazines that I can also use with my drop-in conversions or any other Black Dog compatible .22LR upper I may pick up.
Accuracy and Final Thoughts
With the exception of the misaligned front sight, the upper shoots extremely consistently delivering 1" 25 yard groups off the rest with open sights and a few .6" 25 yard groups with a scope on 5X and after I added the free float tube. Keeping in mind this is a complete .22 upper for far less than the $350 MSRP, it is not going to deliver match grade groupings. However 1" groups are more than acceptable for this type of .22, and the scoped .6" groups show that this upper can be far from just a plinker.
Some of the picky shooters will not be exceptionally excited over the least expensive dedicated .22LR upper on the market with non-threaded barrel, a front sight out of whack, and a polymer upper receiver, but it does exactly what Chiappa designed it to do. It may sacrifice a few features, but I think they choose wisely to assure cost cuts did not impact accuracy or reliability.
Street prices range from $250-$300, which is money well spent. On my best day I can find .223 ammo at $0.30 a round ($5.99/20), which is $29.95 per 100 rounds. For same $30, I can pick up around 600 rounds of my standard go-to Winchester 333 boxed ammo. That same 600 rounds of shooting in .223 would cost me around $180, so for every 600 rounds of .22LR I shoot instead of .223, I am saving about $150. That means dedicated .22LR uppers pay for themselves in a hurry if you like to shoot a lot.
From a survival rifle perspective or if you are a one gun AR-15 family, there are a ton of advantages to having a dedicated .22 upper. It is an inexpensive shooting training tool for the skilled and unskilled, and it converts your favorite AR into an accurate small game hunting platform. The end result is a really versatile kit that can provide both defense and hunting. Though the Chiappa M4-22 may be a budget dedicated .22LR upper, it performs as well as any standard .22 I have shot and will pay for itself in a only a couple afternoons of plinking and training. This is a good investment for any AR owner, and if you want to get fancy, you can even add a nice free-float forend like the Black Rain Ordnance Quadrail pictured below.
Specs
SKU: ATIM42228
Includes: Upper & one 28-round magazine
Barrel: 16.125", 1:16 " twist, 6-groove
Weight: 3.68lbs
MSRP: $349.95
Street: $249-$300