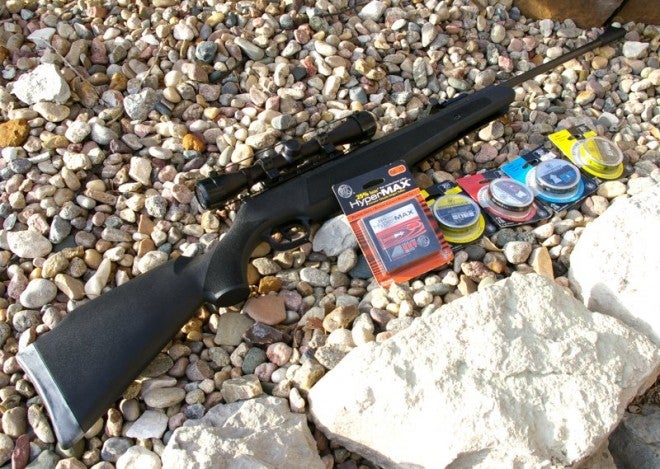 An air rifle is a great tool to aid in learning skills, from basic shooting to hunting small game. They're also handy for city dwellers to manage unwanted pests. I prefer pump or single-stroke pneumatic piston air rifles that do not rely on pre-charged air canisters or CO2.
Simpler is better. Reliance on an external charging system could present big challenges in a survival situation. Hand-charged air rifles never require more than a strong arm to charge and a pellet to shoot. Previously, the most powerful air rifles were those that relied on pre-charged air canisters. Fortunately we are seeing a new crop of affordable spring piston break-barrels, such as this Ruger AirMagnum .22 Pellet Rifle
, with substantial velocity and power.
About Ruger Air Rifles
Like many of the quality air rifles such as Hammerli, RWS, Walther, Beretta, and Browning, Ruger's air rifles are made and distributed by Umarex and distributed here in the US by Umarex USA. In this case, the Ruger AirMagnum is made overseas, but it's made to Ruger and Umarex's standards. Umarex has been a leader in the air gun industry for some time and has lead development of air rifles designed around each brand's designs and features.
Fit, Feel, and Finish
The Ruger Air Magnum is an especially powerful .22 caliber air rifle with an all-weather synthetic stock. The all weather stock is not much to look at, however, it's impervious to any elements which would otherwise influence a wood stock in extreme weather conditions.
The Ruger Air Magnum is designed as a high-power workhorse air rifle and not the showpiece you'll see in other expensive wooden stocked air rifles. Although the barrel and receiver have a very nice finish and the stock is very comfortable and functional, this isn't a product known for its aesthetics.
Like any of the firearms and air guns I have seen from Umarex, the Ruger AirMagnum is of nice quality, fit, and finish. The stock is comfortable and allows for an easy artillery hold, which is required to maximize accuracy for any pistol driven air rifle.
Features
The $165 street-priced Ruger AirMagnum Break Barrel Pellet Rifle has comfortable all-weather stock, adjustable fiber optic sights, and includes a fixed power 4×32 scope. However, what makes it most special is its ability to deliver blistering 1,200 FPS velocities from a .22 pellet. There's no doubt that 1,200 FPS (feet per second) is class-leading performance. Even with regular lighter grained lead pellets, the supersonic crack is present, which means that velocities with standard pellets are still in the 1100 FPS range. Very impressive.
The AirMagnum features a blued barrel and receiver and a rifled all-steel barrel. The dial adjustable fiber optic rear sight allows for easy sighting adjustments, and the fixed fiber optic front sight is picked up quickly when sighting. The front sight assembly is also integrated into a muzzle protector, which I think is a great feature for an air gun like this that will see hard use. An automatic safety, rubber recoil pad for comfort, and adjustable trigger are essentials for safety, comfort, and accuracy. It's not a big deal, but the rubber recoil pad on my rifle was pretty well covered with white oxidization. Fortunately. some silicon spray will recondition the rubber.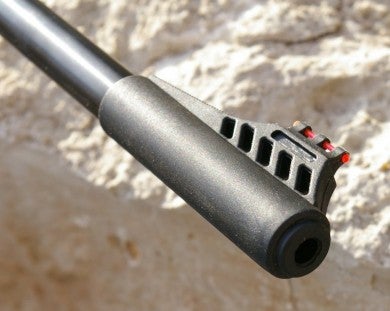 The Air Magnum features both barrel-mounted adjustable fiber optic sights and a 4X scope. Generally I would favor a 4X scope, but there are times inside a dark barn shooting junk birds that a set of fiber optic sights is preferable. The scope is clear and seems higher quality compared to the typical variable powered optics included with air guns these days. A four power scope is all you need for a general purpose air gun.
Function and Accuracy
There has also been great discussion about how a bullet or pellet destabilizes once it drops back to a subsonic level from any firearm. This is fairly well documented, and for this reason I've noticed that most high-powered air rifles tend to perform at extended ranges best with heavy pellets that force subsonic velocities at the muzzle. At shorter distances, the lightweight pellets provide flatter trajectories.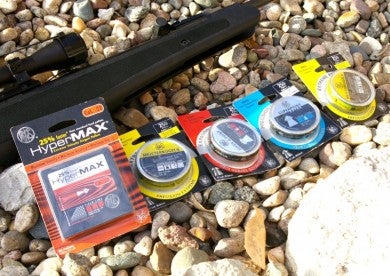 The massive piston release once you pull the trigger impacts accuracy. The challenge is that with more power comes more of a disturbance the moment of the shot, and this negatively impacts accuracy compared to competing models that only achieve subsonic velocities. Some rifle designs compensate with an overall heavier design, but the Ruger is not that heavy comparatively to its power.
This has positive and negative results. The pellets I tested (about a half-dozen brands) did consistently print groups of less than 1" at 25 yards on the bench with a few group right at .6″ groups.
However, when comparing that to other premium air rifles I have tested, the accuracy lacks a bit of precision.The good news is that with that extra power, your pellets pack one heck of a wallop. If you use something like the Skenco Newboy Senior pellets weighing in at a class leading 28.6 grains, you feel like you're shooting 20 lb. cannon balls compared to typical 10-16 grain pellets, and the impact on everything from cans to rodents is dramatic.
Umarex is the US distributor for the RWS line of premium pellets, including the HyperMax high velocity pellet, which seemed like a screamer of a round and seemed to be the most flat shooting of the pellets tested. I also tested RWS's Precision Extreme pellets, which delivered my best group, as well as their hollow point and super point pellets, which also performed well. Two of my favorite pellets have been the Newboy Senior (which are hard to find) for knock down power and the Predator Polymags for penetration (available anywhere). The RWS were more accurate, but the Predator Polymags are just easier to find.
The .22 caliber air rifle has been a favorite hunting rifle of mine for some time because it has substantially more knockdown power than a typical .177 caliber pellet, so I will take the trade of a little less accuracy for a power upgrade. If you're going to be a serious air gun hunter, you need at least a .22 caliber air rifle as it provides much more humane kills.
Final Thoughts
The Ruger AirMagnum is not a target air rifle, but it still has great accuracy. It's one heck of a knock around critter-getter that will set by your back door and be ready when a target of opportunity. It's not so finely finished that a scratch will bring a tear to your eye, and its tank-like build will take a beating.
Typically, the super accurate match rifles generally do not pack the punch, but the Ruger AirMagnum does in a big way. The power factor is where the Ruger excels and puts it on target with good accuracy. The class leading power delivers flat shooting trajectory, and with heavy long distance pellets, you can deliver the power even at extended ranges. What makes the Ruger AirMagnum .22 a slam dunk for the common sense prepper: you get all this power for about a $165 street price.
Specs
Brand: Ruger
Caliber: .22
Action Break Barrel, Spring Piston, Single Shot
Barrel Length: 19.5 in.
Safety Type: Automatic
Rear Sight Type: Adjustable Fiber Optic
Front Sight Type: Fixed Fiber Optic
Length of Pull: 14.25 in.
Recoil Pad Type: Rubber
Barrel Type: Blued
Cocking Effort in pounds: 42
Trigger Type: Adjustable, 2 stage
Trigger Pull in pounds: 3.5
Ammo Type: Pellet
Velocity- FPS: 1,000
Stock: All weather composite stock, rubber recoil pad
Scope: 4 x 32 air gun scope with mounts, Picatinny scope rail
Manufactured under license from Sturm, Ruger & Co., Inc
MSRP: $199, street: $165