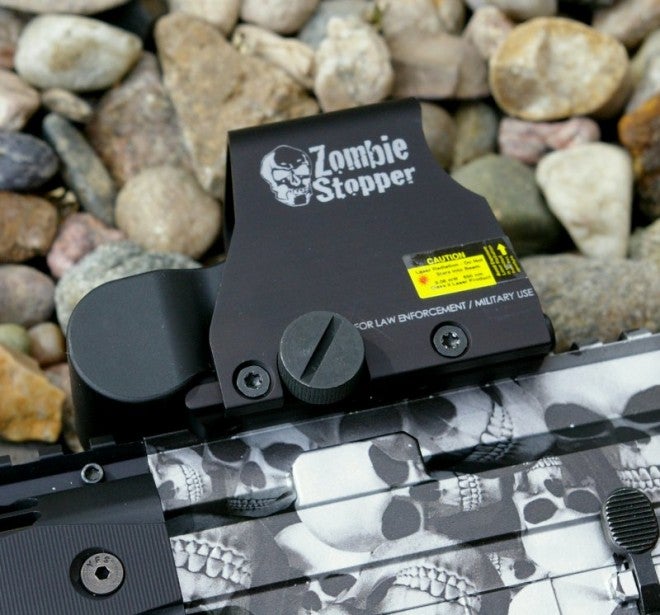 Zombies require a shot to the brain to stop them, so with that in mind, precision shooting is more important than ever when you have an infected horde coming to eat you. As has been proven in military studies and by the special operations community, EOTech sights help you put shots on target better than just a red dot. There is just something to that circle-dot reticle, and EOTech decided it could be even better for the suppression of blood thirsty zombie attacks. I thought perhaps it was time I procure a dedicated zombie attack optic, so I slapped down the cash for the EOTech XPS2 Zombie Stopper.
Fit, Finish, Feel, and Features
Like all EOTech sights, the XPS2 Zombie Stopper
is a mighty fine quality sight that can take the beating and handle the rough exits you'll make outrunning a rogue zombies. The finish is impeccable, and it's fed by only a single, transverse loaded 123 battery. The sight is essentially the widely popular EOTech XPS2, but with biohazard logos and EOTech's circle-dot standard reticle we all love modified and expanded to a biohazard design. Absolutely the coolest reticle you will ever shoot from.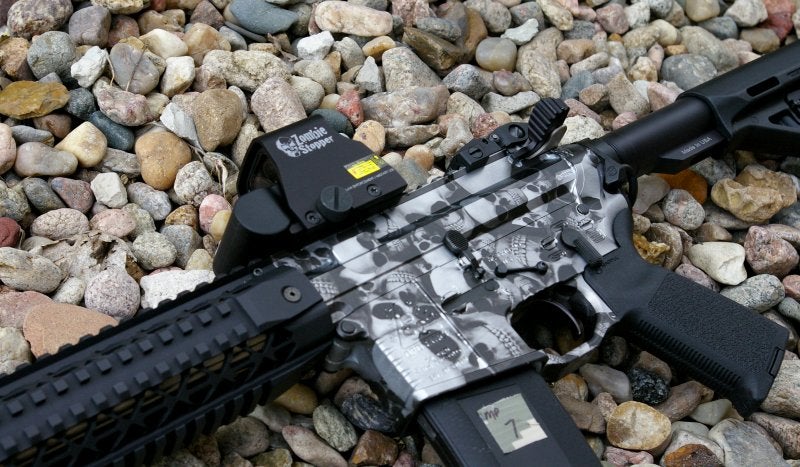 The big features I love on EOTechs are that they have pristinely clear optics and unlimited eye relief, so they're parallax-free from zero to infinity. So if a zombie suddenly appears in from of you at 5 yards, the 3-8" of parallax error at that distance will not throw you off your mark and make you into zombie dinner.
At only 3.5"x2"x2.4" and 8oz, the sight is both compact and lightweight. Providing over 600 hours of continuous operation on the normal setting and much longer if the sight is shut down when not in use, you have realistically a 6-12 months of battery life to keep you shooting.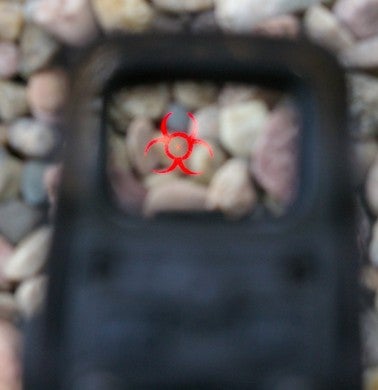 Function
Functionally there were no surprises. It works just like any XPS2 but with a far cooler reticle. Press either of the rear operating buttons, and the sight biohazard reticle jumps to life instantly. Then the intensity can be adjusted up or down using the two controls. To turn the unit off, simply hold down both buttons for more than four seconds. To conserve battery life, the sight auto shuts down after 8 hours on inaction, but it can be programmed to auto shutdown after four hours.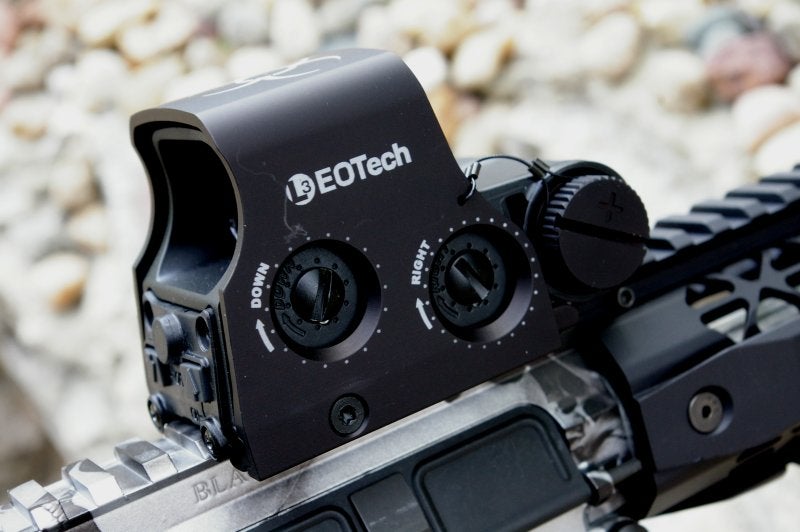 Final Thoughts
I have heard more than a few people emit various four letter words when seeing the price of the XPS2 Zombie Stopper, but it is the same exact quality as a standard XPS2, just with the biohazard reticle and logo. This is no play toy or a dumbed down version; it's is a real deal EOTech XPS2 that can handle the recoil of everything from .22LR to .308 and larger calibers. Hey, it even works on a Mosin Nagant for those surplus arms and ammo types.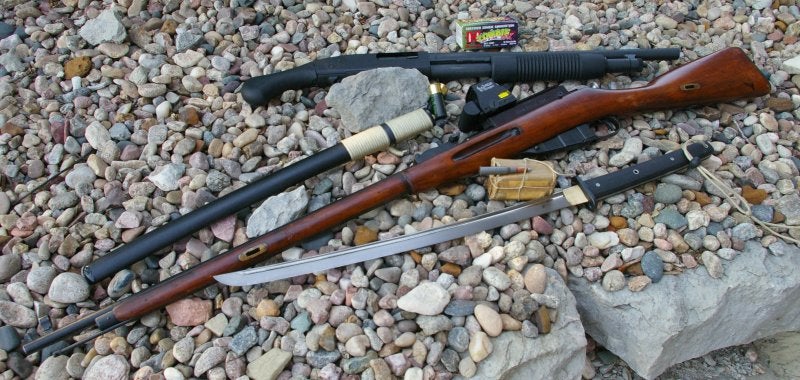 Specs
New BIOHAZARD reticle
Single transverse 123 battery to reduce sight length
Shortened base only requires at most 2 3/4 inch of rail space
Battery cap is a simple O-ring, tethered cap that offers a better seal
Average battery life at brightness level 12 is roughly 600 hours
Suggested Retail from $559.00
Operation
Optics: Transmission holography – parallax free
Magnification: 1x
Eye Relief: Unlimited
Length/Width/Height: 3.5″x 2″x 2.4″ (88.9×50.86×60.96)
Weight: 8oz (227 grams)
Temperature: -40 to 150 F
Waterproof: Submersible to 10 ft depth
Sealing: Fogproof internal optics
Adjustment (per click): 0.5 MOA (1/2″ at 100 yds)
Adjustment Range: +/- 40 MOA travel
Mount: 1″ Weaver or Picatinny (MIL-STD-1913) rail
Return to Zero: Repeatable to 2 MOA after re-mounting
Night Vision Comatibility: none
Heads-Up-Display Window
Optical Surfaces: Anti-glare coating
Window Dimensions: 1.20″ x 0.85″ (30 x 23mm)
Front Window Material: 1/8″ solid glass
Rear Window Material: Shatter resistant laminate (3/16″ thick)
Field of View (100 yds): 30 yds (28m) at a 4″ eye relief
Electrical
Brightness Adjustment Range: 146,000:1 brightest to lowest
Power Source: (1) 123 lithium battery
Battery Life: 600 continuous hours at nominal setting 12
Brightness Settings: 20 settings with scrolling feature
Auto Battery Check Indicator: Flashing reticle upon start-up
Auto Shut-down: At 8 hrs- programmable to 4 hrs