At some point we all have owned a 10/22, and if you're an AR owner, you may have wished for an AR format 10/22. Of course, Ruger made a valid effort to address this market demand with the rebranded Nordic 10/22 AR chassis, but Troy's T-22 Chassis overshadows the Ruger version with a cool factor that only Troy can deliver.
Troy Industries should need no introduction, but if you are not an AR nut, you may have have missed that Troy is considered arguably the most popular premium AR rail and accessory manufacturer in the world. Troy pretty much defined the free float AR accessory rail category and has continued to evolve it beyond where anyone has thought to go. For example, who would have thought a profusely perforated, slim, non-quad rail forend like their new Troy Alpha Rail would be so stunningly popular? Troy was the first to offer the design.
Troy is also a leader in OEM manufacturing and produces the handguards and sights for the Ruger 556 series of rifles. There are certainly a number of quality AR rail and accessory manufacturers out there, but Troy's sales volumes indicate people are choosing Troy more often because they are strong, rugged, light, versatile and comfortable. But most of all, Troy's designs such as the T-22 10/22 chassis are just badass.
Fit and Feel
Troy took their awesome Alpha Rail, added in integrated front and rear flip up sights, and then married it to a one-piece drop-in 10/22 lower sub-chassis. They then added in a standard AR-15/M16 spec A2 grip and 6-position buttstock and tube, and you have everything you need in one $299 chassis to convert that old forgotten stock 10/22 into something truly fun and fast handling. The T-22 is the coolest 10/22 chassis I have ever seen, and even Mrs. Pandemic said it was pretty cool looking. She has been using it to hunt the coons that ate (yes ate) four of her mousing cats around the house. They were very big coons.
Don't get me wrong, I am a fan of wood stocked guns, but this stock changes the way the 10/22 feels to something like an AR, all while maintaining that rock solid 10/22 reliability.
My old "all metal era" 10/22 needed an upgrade from the beat and battered Butler Creek folding stock. That old stock gave me kind of an AR feel, but the 2.3lb steel folding mechanism made it a little butt-stock heavy. Plus it has seen a lot of abuse. Based on the full billet chassis, you would expect the Troy T-22 to be much heavier, but by comparison the T-22 Chassis is unexpectedly light at 2.7 lbs. The package is 5 lbs total with a Ruger 10/22 receiver with Tactical Solutions Barrel and Timney Trigger.
As you would expect, the fit is the same exceptional Troy quality you see on any of their other products, and once your 10/22 action is dropped in there is zero wiggle, rattle, or movement just as if it was locked in any other rigid stock.
Build Specs
For this build I used the Troy T-22 10/22 chassis, my very old Ruger 10/22, which had been upgraded with a $220 Tactical Solutions 16.1" threaded and fluted barrel, and a $220 Timney Trigger unit. The Tactical Solutions barrel has proven to be very accurate and light, but it was the Timney Trigger unit that really allowed the barrel to show what it could do. The Timney trigger unit adds a wonderful crisp trigger, automatic bolt release, and extended magazine release. These are two simple upgrades that dropped weight, significantly increased accuracy, and made the gun a lot more fun to shoot.
Installation
Your complete, assembled action drops into the lower subassembly and is secured via an included hex nut at the same point it would be with any Ruger 10/22 stock. Technically, the gun is fully functional before the top rail is installed. The billet upper and lower chassis key together at just below the rear sight and at the rail lower subassembly union. Tighten down the rail after you have added a little Lock-Tite, just like you would with any of Troy's Alpha rails. Troy notes this should be tightened down so the the gap is no narrower than a nickel, which seemed more than tight enough to me.

I rarely, if ever, do anything more than use a cleaning spray and a pull a Barrel Snake through the bore to my 10/22, but if you like to fully disassemble everything for a full cleaning, simply reverse the process for disassembly. The entire assembly or disassembly process takes about 2 minutes tops. A big benefit of this chassis is that it free-floats the barrel, so even your old stock barrel my shoot significantly better just by upgrading to this chassis.
Features and Function
The Troy T-22 chassis is a machining work of art. Everyone who has shot it loves the fit, finish, and feel of the chassis. Even the complex curve union between the subchassis and forend is perfect. Functionally this shoots just like any 10/22, but with the Troy Alpha rail, it is so comfortable.
I added a set of Troy's Squid Grips which are little rubber grommets that fit into the holes in the forend. Once in they arethe most comfortable grip add on you will find for an AR forend.
The integrated front and rear sights work perfectly and deliver the same sighting plane as an AR, so you will get the same practice/training hold off as you would with an AR with a 25M zero. Although Troy is famous for their top end sights, I do not feel like they really reduced the quality by that much for the sites. The sites are aluminum versus steel, but they pop up with the press of a button and lock in place solidly, and they're clearly designed to be used as full time iron sights if needed. I slipped on my Eotech Zombie Sight, which in my opinion is the perfect option for this chassis and further encourages fast shooting.
The intent of the design is to allow you to add any standard AR stock or grip you want, but Troy starts you off well with a standard 6-position stock and standard grip. Of course, Troy is also a great source for grip and stocks to further accessorize your T-22 10/22 chassis. I already am working through the next level of upgrades so stay tuned for future articles.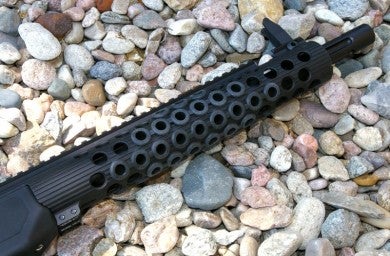 Shoulder up the T-22 chassis and your mind thinks you are shooting your tricked out AR until the magazine changes. This is where I had a little issue. The Troy magwell has one extra little 1/64" shelf that requires you to either wiggle your mags in each time during a reload, Dremel polish the edge off the shelf so that magazines slide in, or put a chamfer on the top right side of your magazines. Occasionally, I have had issues with aftermarket chassis being a little too tight, and this was simply one of those situations.
The shelf is needed to properly align the magazines, but it needs to have that crisp, precise, machined edge removed so that the mags will insert and drop free without issue. Being handy with the Dremel, I opted for the Troy receiver modification and took just enough of the edge off that the magazine changes seat easily and fast. Push forward on the Timney extended mag release and the magazines drop free, slap in another magazine, rack the bolt, and you are back to shooting.
Final Thoughts
As with any AR-type weapon, this is just the starting point because with the AR compatibility, you have complete flexibility on how you want your T-22 to look. Want to mount up a big heavy 20-22" match barrel with sniper style grips and a stock? The chassis provides that same flexibility even if you want to go light and compact. Don't forget that since this does not need a buffer and buffer tube, you can use some of those really cool AR folding stocks out there as well.
On my list of wants, I would of course like to see Troy tweak the magazine area because some Ruger and other aftermarket magazines are cast a little sloppy, and if one is a little out of spec it can be too tight. I would have also liked Troy to mill in single-point QD sling mounts on each side above the pistol grips. There is plenty of metal in this area for an integrated mount.
The T-22 is extremely cool, and it converts even a stock cheapo 10/22 into something totally bad-ass looking. I see this chassis updating and bringing new life to loads of old forgotten 10/22s. This is a must to build for any 10/22 owner.