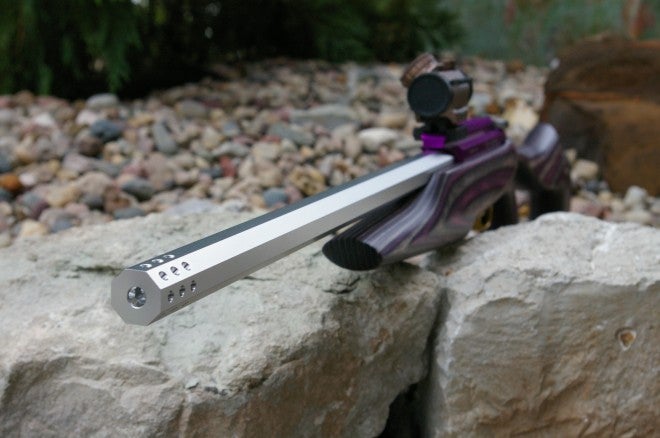 So there I was, buying and reviewing all manner of 10/22s, when I started getting emails about whether I had particular barrels. I received several recommendations to check out the WhistlePig. A whistlepig is a nickname for a rather invasive and destructive ground squirrel which emits a high pitched whistle as they communicate.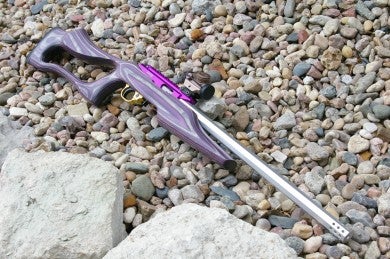 About WhistlePig Gunbarrel Company
The company was founded in 2001 to develop a lighter, more balanced and more accurate tool to help in the disposal of rodents. WhistlePig was actually the first company to develop and produce aluminum sleeved 10/22 barrels.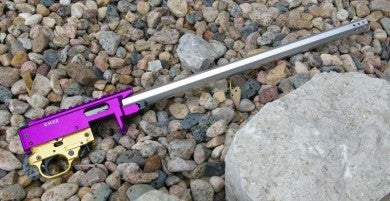 WhistlePig's barrels all feature 4140 stainless steel barrel liners with Benz .22LR chambers sleeved with 6061 T-6 aluminum, which both reduces weight and increases overall barrel stiffness. This design delivers a barrel up to 70 percent lighter and a rifle which is up to 50 percent lighter than comparable bull barrel, 100 percent steel barrel rifles. In addition to the light weight, the match Benz chamber and precision rifled barrels deliver outstanding accuracy.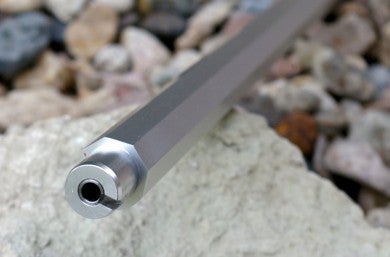 Over the years, people requested various barrel lengths, then different anodizing, and even different profiles like octagonal barrel profiles, integrated compensators, and graduated anodizing for a one-of-a-kind custom 10/22 rifle barrel. Without a doubt, no other manufacturer offers more custom barrel options than WhistlePig.
The company offers 16.5", 18", 20", and 22" barrel lengths; matte, satin, brushed, aluminum finish, polished, fading/rainbow, and marbled anodizing; and round and octagonal profile, fluting, and even a whole bunch of muzzle options. WhistlePig also offers threaded, compensated, or target crowned muzzles. There are plenty of custom options. Depending on features selected, the barrels range from $182-$357.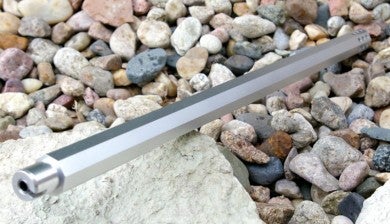 Fit, Finish, Feel and Features
For my WhistlePig barrel order, I wanted something that would look nice contrasting against my royal purple, anodized Tactical Innovations CH22 top charge receiver with gold anodized trigger group nested into a purple Boyd's Evolution stock. After cruising the WhistlePig sight, despite the wild and crazy options, I thought the octagonal profile made enough of a statement and the clean satin finished 18" barrel with integrated compensator was the right choice for my build. Though the .22LR hardly needs a compensator, it looks cool and mitigates any remnants of recoil.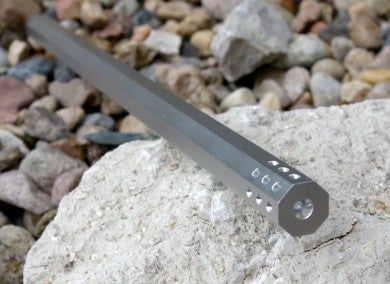 All of their barrels are a standard .920" bull barrel profile, which allows it to fit any bull barrel profile or fully floated stock such as a popular Hogue Overmolded, Boyds Tacticool or Evolution, Bluegrass Stock, or other free floated 10/22 stock. The barrel receiver shanks are .001" oversized to allow a tighter fitting than stock barrels. On the TI CH22 receiver, the barrel slipped in tightly without modification. However, WhistlePig includes a little strip of sandpaper should you need to sand the barrel shank down to tweak the fit.
When comparing to a 29 oz. stock carbine barrel, as you would expect, the 18 oz. barrel is surprisingly light and delivers a light and fast handling rifle when mounted. I tested the barrel on a number of the above mentioned stocks, and the octagonal barrel profile fit the same as any bull barrel profile.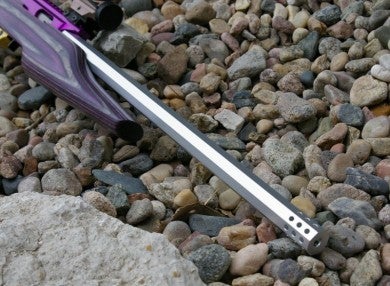 Accuracy and Functionality
Though the WhistlePig barrel line can be showy, they're designed first and foremost for accuracy. With my Leupold V2 3-9x33mm scope topping the rig for testing, I managed a nice tidy .207" 5-shot 50-yard group with Wolf Ammo. Averaging all the ammo tested, it delivered a .694" average for the twelve 5-shot 50-yard groups. I will keep my ever-growing Google Spreadsheet with accurate results, however, one of my favorites was CCI Standard Velocity ammo, which consistently delivered groups around .5" group. From my perspective this is very good and highly accurate barrel.
Final Thoughts
This barrel has consistently outshot my Tactical Solutions barrel. In addition, the WhistlePig barrel offers a huge variety of length, profile, finish, and muzzle options. Will it match the accuracy of the super premium match barrels like Fedderson, Kidd, or Force? Pretty close. In fact, so far I printed a .207" and .253" 50-yard group, which is definitely in that Super Premium Match range. In time, I may be able to tighten those WhistlePig groups up even more.
The WhistlePig barrel certainly does the job that is was designed to do: deliver exceptional accuracy in a lightweight package to put bullets accurately on target. Extended offhand shooting is far less painful than with a long heavy bull barrel, and less weight means less pain when carrying the rifle all day. What sets WhistlePig apart is their lightweight barrel design and the huge custom array of barrel options. Nowhere will you find more options to build your perfect custom tack driving 10/22.
SPECS
18" Octogonal 10/22 replacement barrel
Gun barrel stock: 6061 high-quality aircraft aluminum
Barrel lengths available: 16.5", 17", 18", 20", 22"
Barrel lengths available in all calibers: 22 L/R, Mag, .17HMR and .17HM2 (some without compensator)
Rifle liner ends ¾" from the muzzle end in barrels with compensator
Rifle liner runs the full length in barrels without compensator
Factory barrel is 18.5″ in length
Diameter: .920 Bull barrel style
Shank Size: .001 oversized (may require minor hand fitting)
Chamber: LR Bentz chamber * (standard)
*22 LR Bentz Chamber: Can use standard or match grade ammunition. Hypervelocity ammo (such as CCI Stingers) are not recommended
Liner: 4140 steel / .050 thickness on LR & WMR liner, 6 groove / .065 thickness on .17HMR & .17HM2 liner, 6 groove
Rate of twist: 1:16 – 22LR and WMR / 1:9 – 22LR sub-sonic (40, 50, 60 grain ammo / accuracy range 25-50 yds. max) / 1:10 – .17 HMR / 1:9 – .17HM2
Weight: 18 ounces – 18″ LR Fluted & Compensated Barrel (1 oz. per inch)
Caliber: 22 Long Rifle, 22 WMR Magnum, .17HMR and .17HM2
Compensator: Standard feature–built-in, non-threaded Style
Fluted Barrel: Standard feature