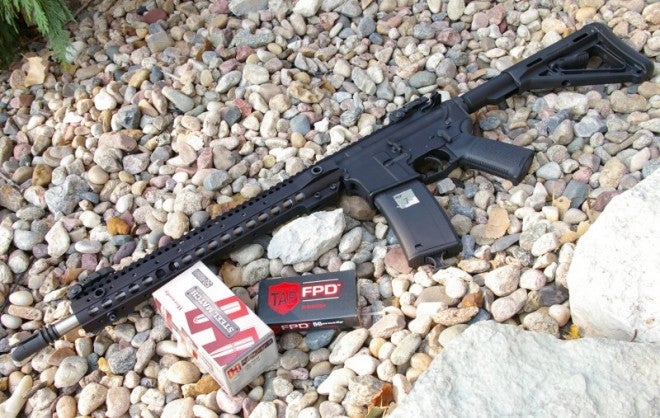 As a guy who has owned a little over two dozen AR-15s in the last year or two, I have seen and reviewed almost everything from simple stock to crazy custom, carbine to rifle length gas systems, adjustable gas systems, and piston systems. I've reviewed both factory builds and my own creations. Of those rifles I have kept, I have always found myself preferring the "lean and mean" configurations, even in the custom builds.
Ultimately, I've come to the conclusion that the best general purpose AR-15 defense and sporting configuration for the money is just a standard, well built AR with rifle length or longer free float forend, mid-length gas system, high grade stock trigger, stainless steel match grade barrel with a decent flash hider, Magpul flip-up sights, and your grip and stock of choice. Everything beyond this is an upgrade and is an un-needed luxury and a potential liability in a patrol or personal defense rifle.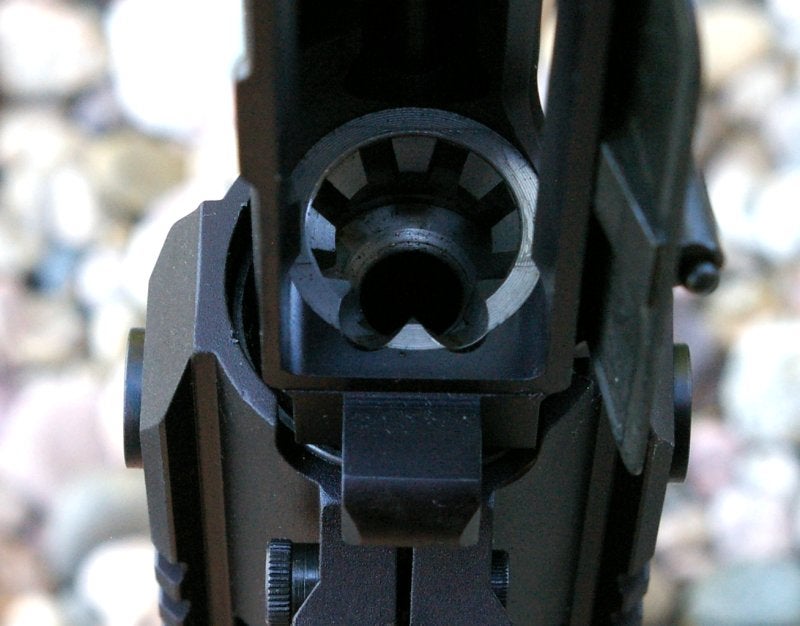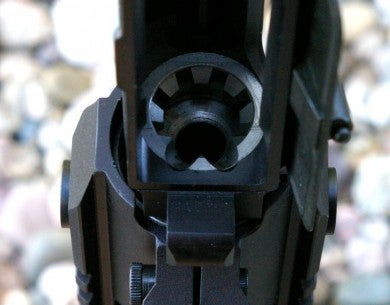 Barnes Precision Machine (BPM) concentrates 100% of its price into everything you need in a high grade AR-15 without the expensive "tacticool" upgrades that net little in terms of accuracy or functionality. My buddy and I proved that this BPM-15 was up to the task by delivering reliable hits on the 500 yard gong from prone position with only an Eotech 512 and Atlas bipod attached. If you are exterminating little rodents, I would definitely slip on some higher power optics to take advantage of the BPM-15's half-MOA accuracy.
So far, this probably sounds like any AR you can get from just about any AR manufacturer that offers an upgraded package. Oh, but there is so much more to the story of this capable rough and tumble AR and the manufacturer.
Barnes Precision Machine is different
Almost all AR manufacturers buy their finished, ready-to-assemble parts from a very limited number of manufacturers in the industry, like barrels from Wilson, triggers from DPMS, and receivers from Aero or Mega… etc. This is true all the way down to springs, which pretty much everyone sources from just one manufacturer.
Is this a horrible thing? No, but it does limit the control a manufacturer has on the quality, originality, refinements, and origin of the parts. The origins of small parts, for example, are pretty tough to regulate. Those companies who do manufacture parts on site tend to have a pretty significant edge on quality.
Not to crush anyone's beliefs in brand X with great marketing fluff and $15K advertisements in the lastest gun magazine, but well over 90% of the AR manufacturers are just buying 100% of their parts finished and bolting them together. Yes, some certainly do a better job than others, and some use better parts than others, but there is a huge range in quality.
Even fewer manufacturers do any finish work at all, such as final anodizing, component marking, or light machining. Almost everyone buys the little bits and parts such as detents, bolts, extractors, and flash hiders. And then there is a very, very small number of manufacturers who truly make everything possible in-house.
BPM is one of the select few who actually make almost every single part in house for their own branded ARs. What is even more impressive is that outside of the raw receiver forgings, springs, carrier, buffer assembly, trigger group, and Magpul components, all other parts parts are made or finished on site.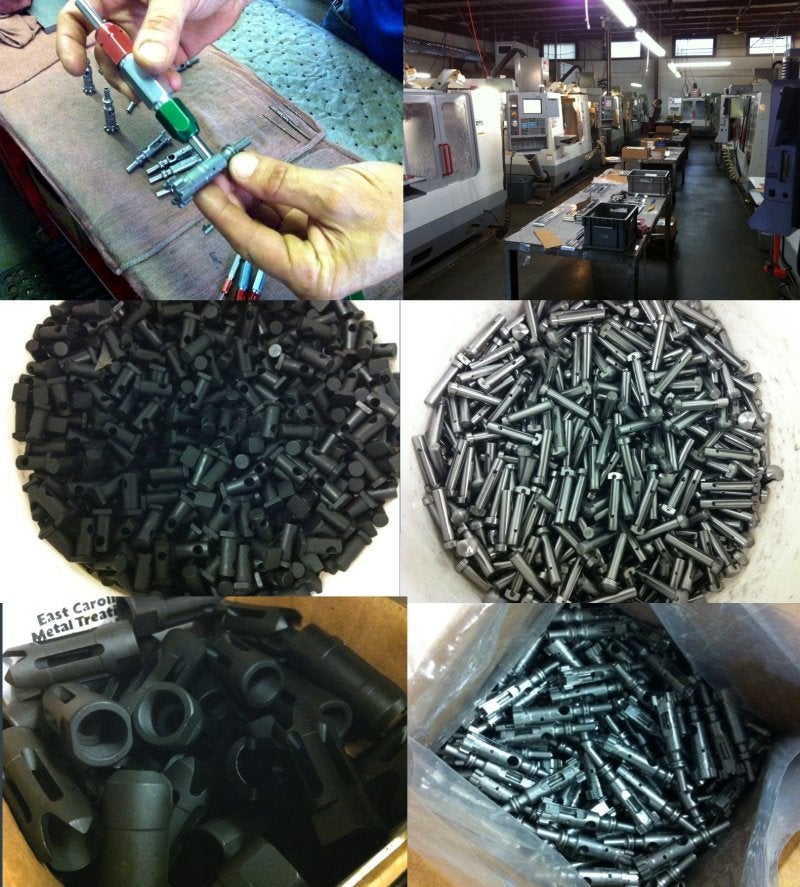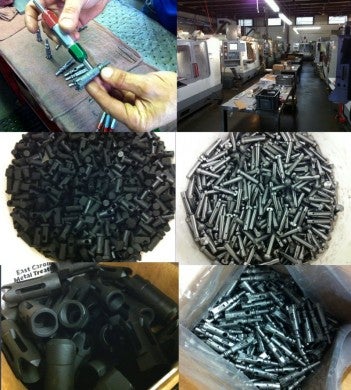 Barnes Precision Machine was founded as a North Carolina tool and die machining company by Andrew Barnes in 1992. Like so many other OEM firearm manufacturers who started in machining, the company's business grew to the point where BPM was not only producing nearly every major part of an AR in house, but also had a booming AR-15 Parts business on its site.
During my factory tour, I saw five gallon buckets being filled full of detents, takedown pins, extractors, bolts, flash hiders, and gas blocks rolling off machines. Let me tell you a bucket full of detents is impressive — but oily. Barnes even manufactures its own barrels from blanks and its own forend and proprietary barrel nut. I have toured a few manufacturers, and usually I see boxes of parts which have been shipped into an assembly room. But at Barnes, I saw piles of raw materials at one end of the shop and finished parts at the other end of over two dozen machines.
Barnes offers four basic rifles, but those rifles have a huge number of options. Chamberings are 5.56 Nato in 11"-14" barrels and .223 Wylde chambered in 16"-18" barreled models. I choose the basic CQB Patrol Rifle with a 16" .223 Wylde chamber. As tested, the 100% USA made rifle was still a very competitively priced at $1,309 (about $100-$200 less than any comparable model I could find). Of note is that Barnes only charges about $200 extra for the Nickel Boron coated receiver and flash hider model – not a bad deal.
Fit, Feel, and Finish
The CQB Patrol Rifle BPM-15 arrived without dazzling packaging, packed simply in a hard plastic, foam-lined, lockable Patriot Case. Inside the case was a color operation manual, a full sized catalog, and one 30-round Magpul PMag.
The gun has a high quality deep black Type III hard anodizing, similar to what you see on any other high quality black rifle. The feel is really unique to the rifle and is exceptionally well balanced. This is partially due to Barnes' unique barrel contour behind the gas block, and the overall effect is a feel that's lighter than a heavy Mil-Spec barrel but just a bit heavier than a M4 profile. The BPSFFRS 12" Ultralite Extreme Rails are now included on all of BPM's models. This makes for a very comfortable, small circumference forend, and it marries perfectly to the upper receiver.
Features
The BPM-15 really is a cleverly disguised, lightly upgraded standard Mil-Spec rifle. Those innovative refinements I noted earlier really add up to a stunning performer.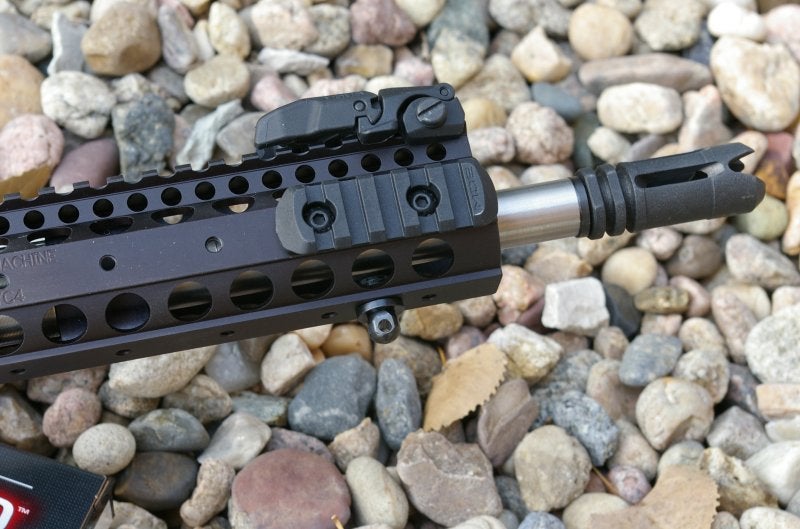 The new forend also has a number of unique features, including being the only free float forend which readily accepts Magpul MOE picatinny rails and integrates four QD-sling studs. The forend is also one of the most sturdy long forends I have ever used. The proprietary barrel nut is nearly 2" long and provides more support and stability to the forend than any forend (with the exception of Geissele's). The net result is one super stable forend.
As noted previously, the match grade barrel blanks are bored, button rifled, hand lapped, and polished by Montana Rifleman. BPM contours to a weight reducing profile and machines the barrels to concentricity to the bore. They then use a match .223 Wylde reamer to cut the chamber.
Moving down the barrel, BPM also makes the crush washers and flash hiders in house. The flash hider design is unique and effective. It's a zero dust signature A2 style flash hider with prongs for bolt, wire, and lock breaching.
Although the lower receiver may appear standard, there are a few refinements. The BPM features a captured spring for the rear take-town pin, which is a nice touch for a part that seems to get lost a lot. The other feature included in the Barnes lower receiver is an "accurizing" set screw that allows the user to tension the upper and lower for a very tight fit even after the upper and lower receivers begin to wear and loosen.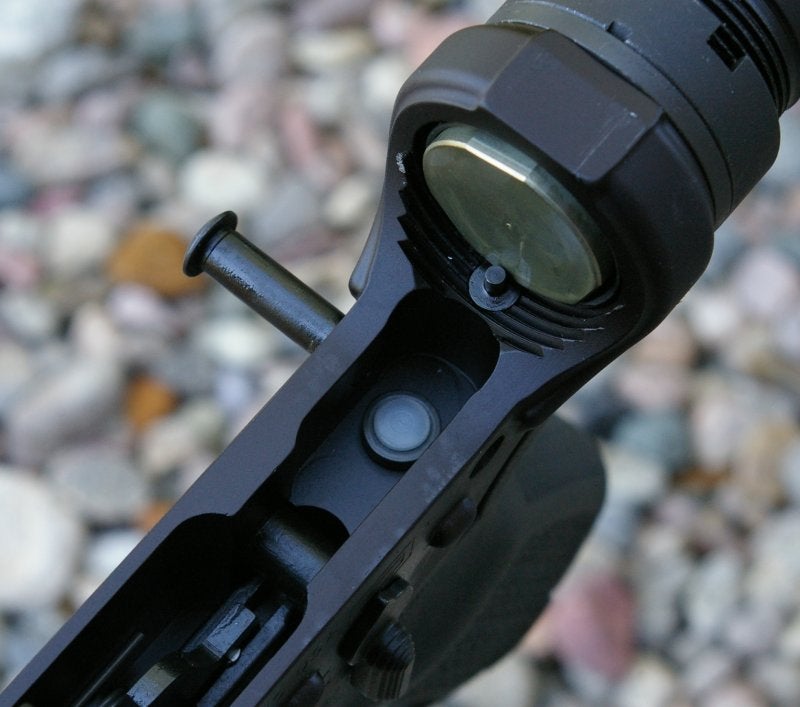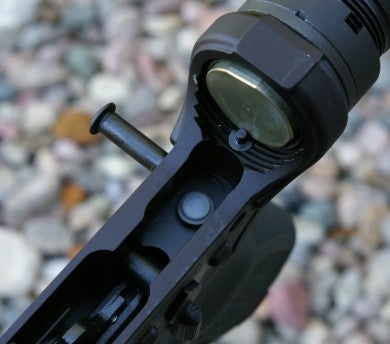 Barnes also makes a low profile gas block and take-down/pivot pins, but it is the bolt that deserves special attention. There are only four AR bolt and extractor manufacturers in the world, and only three including Barnes who use Carpenter 158 steel MPI (Metal Particle Inspected) bolts. It is without a doubt the most challenging part to make on the AR and the most critical. Instead of peening the under-side of the bolt to prevent incorrect cam pin assembly, they simply machine and precision short-stroke ream the hole, which increases strength and cam pin alignment and accuracy.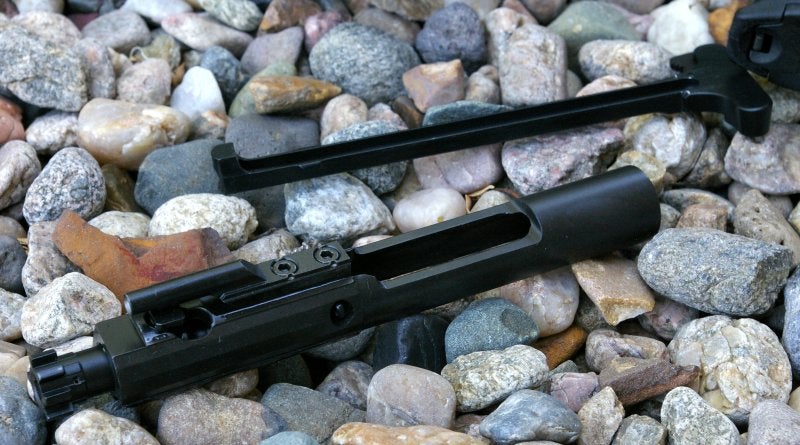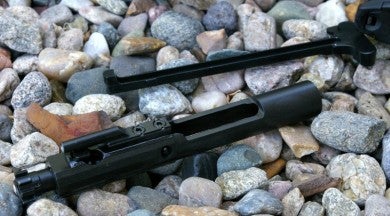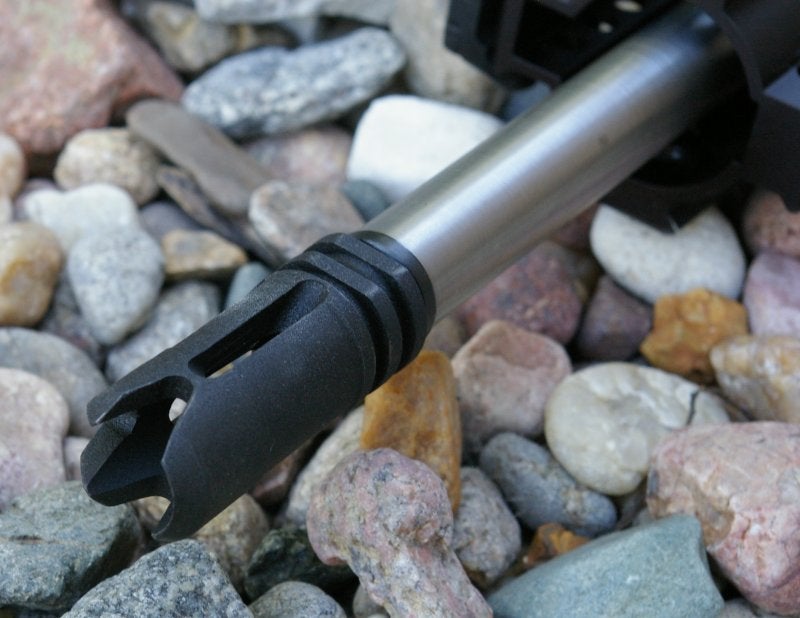 All the remaining typical components look and perform just as they would on any other Mil-Spec rifle, but all the little bits had just a hair tighter fit. From my experience, the bolt and barrel locking lugs are very tight and do require break in. Barnes does use Doublestar trigger groups and selectors, which I consider to be among the best feeling stock triggers on the market.
Function and Accuracy
Barnes builds a really fantastic AR for around $1,400, and in fact I would suggest that it is better than LMT or Wilson for 30% less.
At this point I have run just over 2,000 rounds through the gun and only cleaned it initially at the 150 round mark. After the break-in, the rifle ate everything from inexpensive steel case ammo to high quality Hornady Steel Case ammo, to 3GunAmmo.com Reman loads, to various Hornady premium rounds.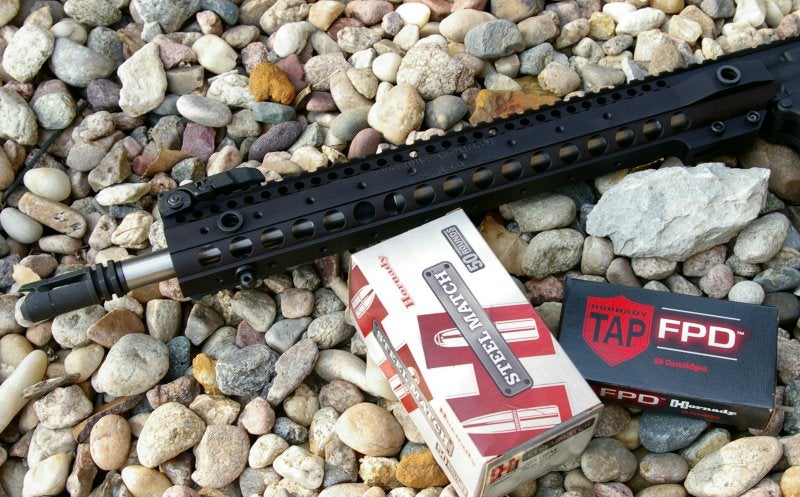 For accuracy, my best 5-shot 100 yard prone position group was a very respectable .43" group with Hornady .223 75gr TAP FPD. Hornady Superformance rounds delivered .67" and .71" groups. As shown, I used my Nikon 8-32X Monark scope on a quick release Precision Reflex Gator Grip mount. The BPM-15 is certainly prairie dog accurate out to 200-300 yards with a powerful optic like the Nikon.
Final Thoughts
Is the BPM-15 a showy AR with all the cool parts? No, that never was the intent. The cool parts are limited to the forend and the Magpul MOA furniture, but even cooler is the super accurate half-MOA capabilities all for just over $1,200.
After experiencing the capabilities of the BPM-15 for the last year, I purchased a second. I like the direction and dedication Andrew has put into the development of this summation of in-house made parts that have become a rifle, and I feel compelled to support his business. The BPM-15 is arguable one of the only 100% American made ARs and certainly an incredibly fine shooting tool.
Specs
16" BPM stainless steel match barrel
Barrel – 1:8 twist
Chamber – match precision .223 Wylde
Bolt – 158 carpenter steel MPIU tested – NiBo coated
Mid-length gas system with stainless steel low profile gas block.
BPM A2-style flash hider (muzzle brake / breaching tip).
BPM PSFFRS Ultralite Extreme hand-guard with sling swivel options.
Receiver 'accurizing' set screw.
Magpul MOE Grip, stock and flip-up sights
Hardcase included
1 – Magpul 30-round PMAG included
Street $1,309