We love to customize our 10/22s with custom triggers, barrels, receivers, bolts, and stocks. There are almost as many aftermarket stocks for 10/22s as there are aftermarket 10/22 accessories. For classic to wild styles, Boyd's Gunstocks are some of the best values in the market at only around $120 for a solid hardwood stock. Boyd's Gunstocks have four different models for the 10/22, including the Rimfire Thumbhole, Blaster, TactiCool, and SS Evolution stocks. All the models (with the exception of the TactiCool stock) are also available in a rainbow of seven colored laminated hardwoods, and most are also available in the same textured black finish shown on the pictured TactiCool stock.
If you have read any of my previous 10/22 reviews, chances are high that you have seen one of my 10/22 Boyd's Gunstocks featured. Pictured is my Tactical Machining/Kidd build dressed up with a black TactiCool Boyd's stock, Leupold VX-2 3-9x scope, a Tactical Innovations/Whistlepig barrel with a purple laminated SS Evolution stock and Nikon 2-7 BDC scope.
Fit, Finish, Features, and Functions
The fit and finish his been excellent on both the stocks. The laminated wood used by Boyd's is beautiful, and in addition to being available in seven color variations, it has a significant advantage over a traditional hardwood stock. The laminated hardwoods are up to two or three times stronger than natural solid hardwood stocks, less prone to warping, and are less affected by moisture changes.
Boyd's finishes off each stock with a tough, protective, solvent- and oil-resistant finish, and a brass action screw collar. Boyd's TactiCool stock is only available in a tough, textured black, "tactical" finish, but the finish is also available on other models. This construction adds up to a stock which will deliver both good looks and more consistent accuracy all for not a lot of money.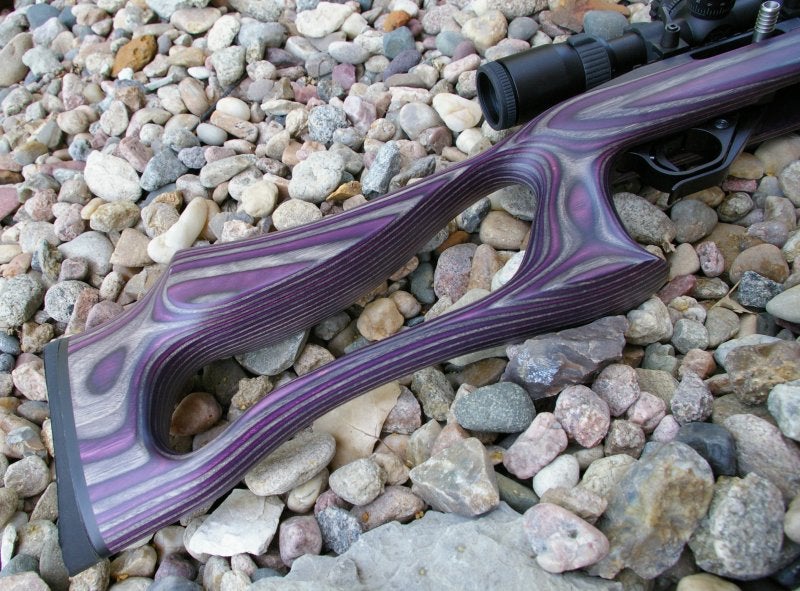 SS Evolution Stock – The 10/22 SS Evolution stock is extremely lightweight and designed as an offhand shooting stock that free floats the barrel. This stock is great for a build aimed at plinking, action type shooting, and small game stalking. I found the completely ambidextrous Evolution provided a top heavy feel, which is good for unsupported shooting, but I struggled a bit with it on the bench until I attached a swivel stud and bipod.
TactiCool Stock – The TactiCool Hardwood Stock was designed by Boyd's to meet the requests of customers looking for an affordable, free-float barrel, tactical design for their 10/22 rifles. The beavertail forend allows for greater stabilization while shooting off of bags, but it's still trim enough for general purpose shooting.
Three sling swivels are mounted and provide points for bipod and sling attachment. The Monte Carlo comb brings the shooter's cheek up for use with larger scopes, and it comes with an ambidextrous grip that allows either hand to assume a more natural position.
Final Thoughts
Oddly enough, Boyd's took a lot of trash talk from the rest of the industry when they first introduced radically designed and colored 10/22 stocks such as the Evolution and TactiCool models shown here. Today. these wild and crazy stocks remain their best sellers.
Specs
Boyds SS Evolution Stock – $99.99
Boyds Tacticool Stock – $99.99