I know what you're thinking: the AR-15 pistol is the hard partying fratboy of the AR-15 family, and it's really just a toy. Of course, to spew many dollars worth of .223/5.56 ammo from the pistol's ejection port produces a grin from ear to ear. Yeah, you gotta love the party frat boy, but what if I told you it could be your next precision hunting handgun, a very effective personal defense gun with one simple modification, or a perfect survival/hunting pack gun that will fit in even small day packs? Surprised?
What's even more surprising is the level of innovation that you simply would not expect on a $449 street priced polymer firearm marketed to the masses. I will be very frank: I never expected to go all nuts over a short barreled pistol format AR-15, but let me tell you, this gun changed my mind when I was delivering nice little .25"-.5" 25-yard groups and ringing the 300-yard 12" plate.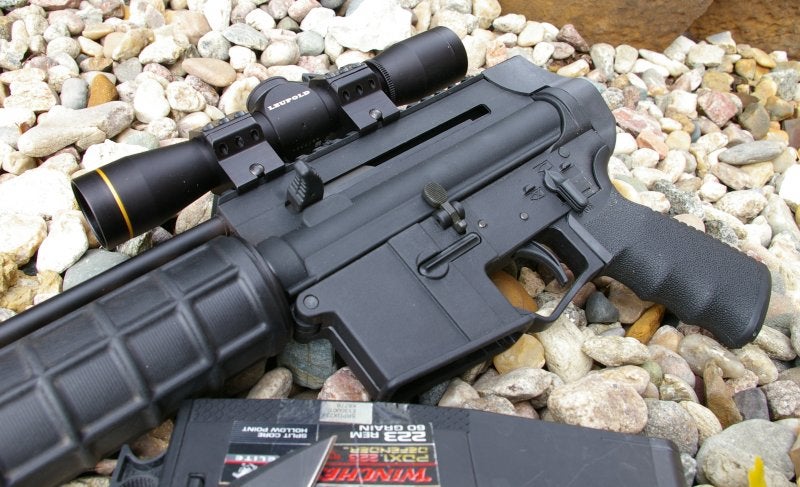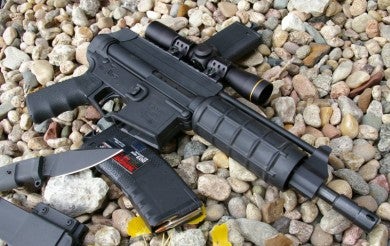 About the Extar EXP
I ordered one of the EXP-556 AR-15 pistols from Extar and had it shipped to my local gun dealer, where I completed my paperwork and skipped home with my new pistol. With a few exceptions, the EPXP-556 is more or less a standard AR-15 chassis with the obvious absence of a buttstock and very short 8.25″ barrel. It should be noted that this is not a short barreled AR-15. It is classified, manufactured, and registered as a pistol, and converting it to shoulder fired rifle could create significant legal headaches for owners. To further prevent someone from attaching a stock, the EXTAR has a molded in rear mounting plug, which secures the rear buffer spring housing. As is, the EXP-556 pistol is a whole bunch of fun and utility all wrapped up in a small pistol format AR-15 package.
Fit, Finish, Feel, and Features
I reviewed New Frontier's Polymer Lower reciever back in early 2012, and I was surprised to find that it worked perfectly. The only real difference was that it was polymer and a whole lot lighter. An updated V2 receiver version similar to New Frontier's was used as the basis of the Extar EXP AR-15 pistol.
The black, molded-in color will not chip, fade, or come off, and it matches well to standard Type III anodized upper recievers. In this case, the EXTAR EXP-556 has a new, proprietary upper and lower (with the molded in buffer tube plug) for the pistol that eliminates the need for a short or extended buffer tube. It uses standard direct impingement without the need for a heavy piston system. The end result of an all polymer upper receiver, polymer handguard, polymer based charging handle, polymer lower, polymer trigger assemble, polymer Mission First Tactical grip, and short proprietary bolt is stunningly light 2.98lb AR-15 pistol. Compared to anything else in the industry, it is the lightest by over 2lbs and the shortest by 6"-8", and it does it all for $449, which is about a third of the Rock River LAR-15.
Part of the genius of the design it the heavy reliance on an adjustable gas block, which allows a minimally long and very light bolt to function perfectly with just a small top piggy-back riding spring hidden under the tall upper receiver. The adjustable gas block allows EXTAR to tune the gas way down to deliver only the required gas pressure to cycle the now much lighter BCG and lighter tension buffer spring. It all works marvelously — actually brilliantly.
Obviously, moving away from a standard AR-15 upper design also requires moving to a side charging format. A reciprocating polymer/steel hybrid charging handle on the left/weak hand side provides fast and efficient charging of the EXP-556. To further improve control, EXTAR added a very aggressive muzzle brake.
Ergonomics were great thanks to the Mission First Tactical grip and polymer forend. The polymer forend worked perfectly and shields the heat generated from magazine after magazine of ammo.
Functions
When we look at all the polymer on this AR-15 pistol, we have to take pause and realize this is a pretty groundbreaking accomplishment from a design perspective.
I shot the EXP-556 single handed, but the general consensus was that a shooter can get a significant accuracy advantage via an extended grip with the support hand gripping the magwell. During testing I left the adjustable gas block alone, but later on I played around with it a bit and found that I would turn down the gas pressure a bit more with certain loads. For most, I would leave the setting where it was to assure reliability.
I had zero reliability issues, and it fed just like you would expect any other AR-15 platform, chewing up over 300 rounds on our first day at the range. From a setup perspective I would recommend mounting the scope mount bolts to the ejection side to avoid interference with bolt charging.
The muzzle brake is highly effective but also very loud and generates a huge 18" fireball upon firing. At dusk, we found ourselves wondering, "Did I hit it? Because I lost the sight picture in the fireball." For non-defensive shooting, the brake delivers single handed squirt gun level recoil, but I would move to an effective flash hider for defensive use to kill some of the fireball. The stock muzzle brake makes a it blast to spew mag fulls of 5.56/.223 rounds downrange.
Included in the very nice custom foam cut box was the EXP-556, a steel mil-spec 30-round magazine, and instructions. Already attached and zero'ed was a rear peep sight that worked extremely well to drill a lineup of pop cans and golf balls at 25 yards, but not scoping the pistol is doing both you and the pistol a huge disservice.
Accuracy
Following that party boy image, most AR-15 pistols are a lot of fun but are generally thought of as less than accurate big boy toys. I was definitely in that mindset before I was shooting at, and hitting, golf balls at 25 yards offhand. What convinced me more was installing an EOTECH 912 on the top and printing a nice tidy little 1" group at 25 yards.
Then I boosted the accuracy even more by slipping on a Leupold 4X handgun scope and watching the EXTAR EXP-556 deliver 25-yard .25"-.5" groups from the sand bags all with just Military XM193F Ball (FMJ) ammo. I printed a sub-1" group at 50-yards and was even able to hammer the 300-yard gong 10 for 10 with just a 4X scope. After spending some time with a higher quality Hornady match ammo, I increased accuracy by about 20%-25%.
Throughout testing, I found myself scratching my chin and muttering, "I am pretty sure you could hunt with this." In fact with this accuracy, you easily could. My other testers both noted that it was plenty accurate for hunting, especially with the Leupold 4X mounted. One of my testers noted that it would be an outstanding coyote gun with a bipod added. In reality you only get one shot at them anyway, so the muzzle blast and concussion is irrelevant.
I ended up zeroing at 20-yards, which put zeros roughy 6" high at 50-yards, 8" high at 100-yards, 12" high at 200" (where we were ringing the 8" gong) and dead on at 300-yards.
Why You Should Own an AR-15 Pistol
Maybe I've convinced you that you should own an AR pistol by talking about the frat boy fun, stunningly low price, reliability, innovative design, and accuracy, or maybe you need a bit more convincing. Despite that beer can crushing party boy image, the AR-15 has some extremely redeeming and interesting qualities.
The AR pistol has a combination of power and capacity that makes it a winner. It delivers an impressive energy level somewhere around a .41 S&W Magnum, and it has a power level between a .357 Magnum and a .44 Magnum. And it can accept 5-round to 100-round magazines. That is a whole lotta power in a 3lb, 18" overall length gun. When in bear country, would this not be a really good option?
Final Thoughts
The $449 MSRP will pull you in, the 2.98lb weight will sell you, and the accuray will make you love the EXP-556. As a long-time handgun hunter, this gun very quickly moved mentally from a fun gun to a hunting tool. Seriously, this thing weighs the same as a loaded 1911 and is 8″ shorter than any other AR pistol on the market. How can you not love it?
Specs
Lightest 5.56/.223 pistol in the world
Made In USA
Compact design with no buffer tube
Ergonomic pistol grip
Integrated MIL-STD 1913 picatinny rail for easy mounting of optics and accessories
Extremely low recoil – can be held and shot with one hand with virtually no muzzle climb
Crisp trigger pull of 5.5 lbs
Reversible safety to accommodate left handed shooters
Why pay extra for parts? Comes standard with front anti-slip, free floating hand guard and muzzle brake!
Integrated winter trigger guard
$449 MSRP
MFG – EXTAR
Model – EXP-556
Type – semi automatic gas operated pistol
Caliber – .223 / 5.56 NATO
Magazine – standard MILSPEC AR-15 magazine
Weight (unloaded) – 2.98 Lbs (48 Oz)
Weight (loaded W/ 30 Rd AR-15 Mag) – 4.06 lbs (65 Oz)
Overall length – 18" (45.72 Cm)
Barrel length – 8.25" (20.96 Cm)
Barrel length including muzzle device – 9.25" (23.50 Cm)
Barrel twist – 1:9 standard ½-28 threaded barrel with included recoil reducing muzzle brake
Width – 2.25"
Fixed sights — sight radius of 12.38" (31.43 Cm)
Pistol grip screw – 3/16" standard hex head